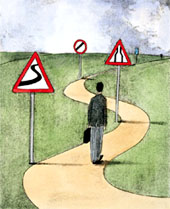 Last Wednesday the foreign ministers of Russia, China and India concluded their talks in New Delhi. Most of the media reaction was predictable. It was also misguided. After the joint press conference several analysts concluded that the meeting concretized emergence of a new trilateral arrangement to contain America. Some observers perceived an implicit reprimand to America by the foreign ministers.
The three did issue a reprimand. But it aimed at the neoconservatives, who had directed US policy in Bush's first term. In the second term, as has been repeatedly stressed in this column, the Bush administration started to change direction. The goal of a unipolar world was quietly replaced by the realistic acceptance of a multipolar world. This process started well before the Democrats captured the US Congress and Senate.
The central theme of the trilateral meeting was to make United Nations the apex of a multipolar world order. This was the original US objective when the UN was formed. It was the neoconservatives who subverted the objective and openly rubbished the UN. But things changed after America's disastrous invasion of Iraq. The neoconservatives were replaced. US Secretary of State Condoleezza Rice started damage control from the day she assumed office.
Readers might recall this column consistently ruling out an invasion of Iran; commenting on the conscious movement towards a Middle East peace; and on the glimmer of a new chapter of constructive cooperation among America, China and Russia. This view was diametrically opposed to views expressed by some very prominent columnists in the west.
But consider the current situation.
Forget the rhetoric and posturing indulged in by the world's leaders.
What is happening on the ground?
In Iran President Ahmadinejad blows hot and cold even as Iran's powerful opposition leader Rafsanjani, Iran's Supreme Leader Khamenei, and others are making placatory gestures and statements. The resolution of North Korea's nuclear dispute is all but tied up. In Palestine for the very first time the militant Hamas government has resigned to form with its rival Fatah party a coalition government of national unity. This marks a decisive step forward for negotiating an agreement with Prime Minister Olmert of Israel.
Last week this column recalled Israeli PM Olmert's visit to China where his grandfather and father had received sanctuary. Olmert conferred with President Hu in Beijing. The obvious question is: can these forward movements towards peace occur without other powers cooperating with America? If either Russia or China had wanted to play spoiler, could this forward movement have taken place?
To appreciate duly the pace of peace activities underway, recall the important diplomatic meetings after Mr. Pranab Mukherjee visited Iran on February 6th.
On February 8th Iran's former foreign minister Ali Akbar Valayati, acting as Khamenei's personal envoy, returned Russian Foreign Minister Igor Ivanov's visit to Tehran and met him in Moscow. On February 11th Iran's Ambassador to Saudi Arabia met with Saudi Prince Wali bin Talal Abdelaziz. On the same day, President Putin visited King Abdullah, Crown Prince Sultan, Riyadh Governor Prince Salman, and Saudi Foreign Minister Prince Saud Al- Faisal in Saudi Arabia. On February 12th China announced its decision to sign a $20 billion contract with Iran to develop its Pars natural gas field.
Does this flurry of activity signify an impending war, or does it speak of a peace settlement? And if these big powers are striving for a peace settlement, rest assured they are not doing it for the sake of America. The driving force that impels them towards a collective effort for world peace is their need for energy and the prospect of unprecedented economic prosperity.
However, there cannot be peace until the ogre of terrorism is slain.
And that is where last week's trilateral meeting of foreign ministers is notably significant for South Asia. The foreign ministers laid special emphasis on eliminating terrorism irrespective of motivation, place and identity-label. They agreed that collective action would be undertaken under UN's coordinating role to combat "this grave threat". India is a victim of terrorist violence in Kashmir and the Northeast. Russia is a victim in Chechnya. There are indications that China is shedding its past ambivalent role of encouragement to terrorism by its People's Liberation Army. The recent crackdown on the pro-Al Qaeda East Turkistan insurgents in the Pamirs plateau was conducted by China's police, not by its army. The fight against terrorism must eventually zero in on Al Qaeda and Taliban located in Pakistan and Afghanistan.
Meanwhile, last week, it might be recalled, this column referred to Petroleum Minister Murli Deora's assertion that the Iran-Pakistan-India gas pipeline would be signed by June. This, it was pointed out, presupposed that the 475 miles of Balochistan through which the pipeline passed, would first be normalized. Is the Indian government confident of this happening before June? Or is it characteristically leaping without looking?
Last Saturday there was a terrorist attack in a court-room in the Baloch capital, Quetta. On Wednesday there had been a bomb attack on a gas pipeline in Sui. In 2005 there were 400 bomb attacks against pipelines in Balochistan. There is no indication that such attacks have reduced. What, then, gives the government its confidence to proceed with the pipeline?
President Musharraf, for his part, is urging a quick solution for Kashmir. How will a Kashmir solution, howsoever desirable, help in defusing the crisis within Pakistan? Apart from Balochistan, there is equally great potential danger in NWFP.
Very recently, the leader of the opposition in Pakistan's national assembly, Maulana Fazlur Rehman, who heads the Muttahida Majlis-e-Amal (MMA), made an astounding statement: that Mohammed Ali Jinnah, the founder of Pakistan, was not a freedom fighter; that Jinnah had done nothing worth remembering. He dropped Jinnah's name from the list of leaders to be honored during special conventions planned by his party to honor the 'real freedom fighters' who fought for creating Pakistan.
It may be recalled that Maulana Fazlur Rehman visited India in June 2003 and met, among others, senior leaders of the BJP and RSS. The Maulana rubbished the Kashmir struggle and said India-Pakistan cooperation could eliminate US influence in South Asia.
What does the Maulana's move imply? If Jinnah's Pakistan is spurious, which is the real Pakistan? There are 40 million Pushtuns in Pakistan and 10 million in Afghanistan. The Durand Line Agreement, whereby Pushtun areas were to revert back to Afghanistan after the treaty lapsed, remains unimplemented.
President Musharraf might usefully focus more on NWFP and Balochistan than on Kashmir.
The international consensus against terrorism which emerged in the trilateral foreign ministers meeting last week should induce in him some very serious introspection.