Chetan Bhagat: One Indian Girl
Publisher: Rupa Publications India; First edition (1 October 2016)
ISBN-10: 8129142147 | ISBN-13: 978-8129142146
Pages 280 Price: - Rs 176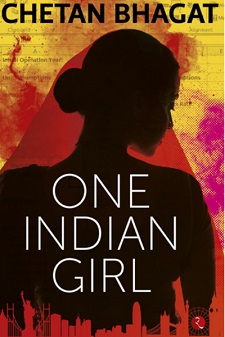 Chetan Bhagat is the author of six blockbuster novels. They are Five Point Someone, One Night @ the Call Center, The 3 Mistakes of My Life, 2 State, Revolution 2020, and Half Girlfriend. Chetan's books have remained bestsellers. Since their release a number of his novels have been modified into successful Bollywood films. One Indian Girl which is the author's first effort to write from a woman's perspective. One Indian Girl - as it is signifying, the title of the book suggests that it is very interesting and seems to be related to feministic approach.

In An Interview, Chetan said:
"All my earlier books were about a middle class Indian male character but in this book I took the perspective of a modern Indian girl and wrote from a female first perspective. For the research, I interviewed around 100 girls to know their strengths and pains."
Chetan Bhagat has also touched upon the topic of feminism in his new book.
"Feminism is a very broad topic and I couldn't have dealt with every portion of it in a limited page frame. So I've covered the things I've seen in my life happening to determined, opinionated, independent women."
The book takes you to its story through its chief character Radhika. Radhika worked in New York, had a boyfriend went for a live in relationship. But her boyfriend didn't marry her because he thinks about her that she is a professional girl and she can't be a good wife. But the basic question is one Indian girl fulfills feministic approach? , One Indian Girl never set out to be a feminist book. Feminist is a skewed word for this novel. I felt this book has been written like a blockbuster movie plot because there are more movie scenes than typical Bhagat writings.

Bhagat has tried to take on a huge number of women issues like corrosion of a woman's success, career women being forced to decide between employment and residence, all are very pertinent. Only in the last few pages that you can see the real feminism in the book when Radhika ultimately takes control of all include her life. The main story starts with wedding scene of the protagonist Radhika Mehta. Everyone was very happy and both families have decided to stay in the Goa Marriot hotel. All of sudden Goa's C M came there for an event. Hotel staff has reduced the no of rooms booked be Mehta's family. At this Radhika suggested relocation for the boy's side but everyone has denied and all the relatives said: that we have to compromise then Radhika said:

"Do not use this 'girl's side and "boy's side logic with me again. I don't like it".

We will have to adjust because they are the boy's side. Is it correct? But in, India it's like a tradition to expect all the adjustment from a female side. And here the author tried to make you understand the female point of view.

The novel rotates approximately ambition, career, relations - love - heartbreak, marriage from the girl's perspective. The book is fairly delightful and the modernist angle to it is excellently done. The novel delineates the importance of girl points of views. This is a good book and I would certainly recommend this to everyone who loves to read women's issues and modern views.

Is she a feminist? She can have many boyfriends some of married have sex with them and break up with them. She goes to other countries and then after agrees to an arranged marriage and then cancel it, as she is women so she can do all these things. Is she feminist? I don't think so. So it can be said that the novel is not based upon fully feministic approach but it is based upon humanistic approach.

The story has the typical relation of enjoyment of movie as the description of Punjabi wedding sex talks, Sex on exotic beach, Locations in New York, Hong Kong and London break-up etc. You can say it's a typical Bollywood type of masala scriptwriting in this book. Author has used simple characters and a touch of peculiarity; this is why I love reading what he writes. Radhika is supposed to be an envoy of the modern Indian woman. The names of the novel propose the articulacy of novel and also the simplicity of its theme material of normal Indian girl.

The novel begins with a wedding scene which suggests the general beginning of the 21st - century masala movie where we usually distinguish the sudden opening without giving any sort of an aspect. The way Chetan Bhagat has launched and developed all characters independently by giving them a nice attractive recitation shows the universal nature of Indian story-telling and customary sequence in which we surely understand the message of the novel. The writer has used the conversational language according to the reader's logical state of mind of the accumulation readers. The use of the famous Hindi song also makes the novels very close to the reader's choice like:
Chittiyan kalaiyan ve, o meri chittiyan kalaiyan ve
Chittiyan kalaiyan ve, o meri white kalaiyan ve.
The target of his criticism is that we should understand the liberty, rights, and views of women. The author challenges the readers for an improvement on the challenging points. The describing of a theme is so striking that one can read till to the last end to find the conclusion.