There is a domino effect theory in war. The collapse of one bastion can lead to the fall of others one by one. Can that theory work for peace? The developments related to South Asia and Iran could demonstrate this. In the pursuit of singular interest each nation might interact with others to help defuse fire after fire leading ultimately to world peace. To consider this mind-boggling imaginary scenario let's begin at the beginning.
The press quoted Pakistan Foreign Minister Kasuri revealing that there existed a secret 'K Plan' regarding Kashmir which was known only to five individuals in Pakistan. Some observers zeroed in on President Musharraf's proposal of joint control of Kashmir by India and Pakistan. But that was widely publicized and not secret. That proposal has not been shot down. It remains alive. This column has argued previously that the proposal can succeed only if preceded by agreement on a larger framework ' of joint South Asian arrangement, including defence. Could Mr Kasuri's 'K Plan' relate to some such idea?
If this guess has substance, the proposed plan differs widely on one detail from what was envisioned in this column: the framework would at the outset include not members of the SAARC organization, but only India, Pakistan and Iran. And the impulse to create this framework emanates not from wise and visionary statesmanship, but from pure self-interest of each of these three nations as they pursue profit. The catalyst of course is the Indo-Pakistan-Iranian gas pipeline deal.
Petroleum Minister Murli Deora jubilantly told the press that pricing details had been sorted out with Iran and the pipeline agreement would be signed by June. Foreign Minister Pranab Mukherjee in Tehran quickly scotched this statement and snubbed Deora by saying that nothing yet had been finalized. However the lack of coordination and the characteristic confusion within the Indian government is unlikely to imperil the deal. The stakes are simply too high.
India's urgent need for energy needs no reiteration. But for Pakistan's growing economy the need for natural gas is equally urgent. It is estimated that Pakistan with one of the world's fastest growing populations will need to increase its use of gas dramatically within the next two decades. By next decade not only will India's gas demand almost double but its declining reserves will compel heavy import of gas. Iran has the world's second largest gas reserve. It neighbors both nations. A prime bargain seems tailor-made.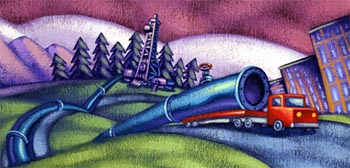 India has three options for importing gas from Iran: shipping it as Liquefied Natural Gas (LNG) by tankers over sea; getting it through a deep sea pipeline; or transporting it over land. A land based pipeline would be four times cheaper than any other option, even after including transit fee payments to Pakistan. It is an unbelievably sweet deal for all three ' India, Pakistan and Iran. The project is estimated to cost around $4 billion. A third of the gas would be for Pakistan, the rest for India. But here is the complication which could bring into play the domino theory for peace: the pipeline will have to pass through 475 miles of Balochistan.
Indo-Pakistan tension over Kashmir and terrorism had prevented India from accepting the deal earlier because of dependence on Pakistan. Now, either because of economic compulsions or international pressure, India seems to have overcome its reluctance. But what about the Balochistan problem inside Pakistan? Balochistan is home for Al Qaeda leaders as well as for indigenous Baloch insurgents seeking some measure of self-rule. The two groups have conflicting interests. Before the pipeline can become viable Pakistan will have to expel Al Qaeda and redress Baloch grievances. President Musharraf has the power to grant Balochistan requisite autonomy. How will he deal with Al Qaeda? Is that why he is reported considering imposition of Emergency?
For Iran the pipeline is its lifeline. Not only does it need the broad South Asian market for its gas. Iran has already passed signals that it hopes India will play a mediatory role in defusing its nuclear dispute with the West. Equally, Iran's relationship with Pakistan is strategically crucial. With American troops stationed in neighboring Afghanistan and Iraq, Iran would like to defuse all tension with Pakistan, with which its past ties have been uneven. That is why Iran Foreign Minister Manouchehr Mottaki repeatedly described the gas project as the 'peace pipeline'. That is why the representative of Iran's Supreme Leader Khamenei met the Indian ambassador urging India to intervene on Iran's behalf in its nuclear dispute with America. That is why Pakistani Prime Minister Shaukat Aziz described the gas pipeline as "a win-win proposition for Iran, India, and Pakistan".
But for this euphoria to translate to reality, the 'domino effect theory for peace' would have to bring peace to Balochistan and defeat to Al Qaeda. This is a tall order. And that is not all. For normalization to endure, Iran's nuclear crisis will have to be solved. For that, India could conceivably be a conduit for uranium, and guarantor of Iran's peaceful nuclear programme. But Iran's security concerns would also have to be met. A few months ago Iran specified that it would renounce nuclear weapons if India and Pakistan renounced them too. Does that not indicate the necessity of India, Pakistan and Iran arriving at some agreement involving mutual guarantees for nuclear security? Can India and Pakistan ever normalize between themselves without some such tangible agreement? The domino effect theory therefore must of necessity ensure solution of Iran's nuclear dispute.
If Iran's nuclear dispute with the west is resolved the decks would have been cleared for ending the Iraq crisis. Already the leaders of Iran and Saudi Arabia, the two most powerful influences respectively of Shias and Sunnis, are in touch at the highest level. Iraq's Sunni insurgents have made overtures for talks. They seek a new constitution and a share of oil revenue. A federal Iraq seems feasible. That would allow America to withdraw troops which ought never to have invaded Iraq. This would be the last but one domino of discord. If it falls a final settlement of the Palestinian problem would become a distinct possibility. That would be the last domino on the way to achieving over-all Middle East peace.
Does all this sound wildly fanciful? Probably it is. To imagine that a gas pipeline from Iran to India through Pakistan could have such far-reaching implications does sound crazy. But consider the potential, not the prospect. And if the potential for South Asian nations to exert such global influence while pursuing their own interests exists, surely our national leaders should close ranks?