Prolegomena and Transformative Articles on Literary Translation
Dr VVB Rama Rao | Authors Press. 2015 | ISBN 978-93-5207-134-0 | Pages 169 | Rs 800 | $ 40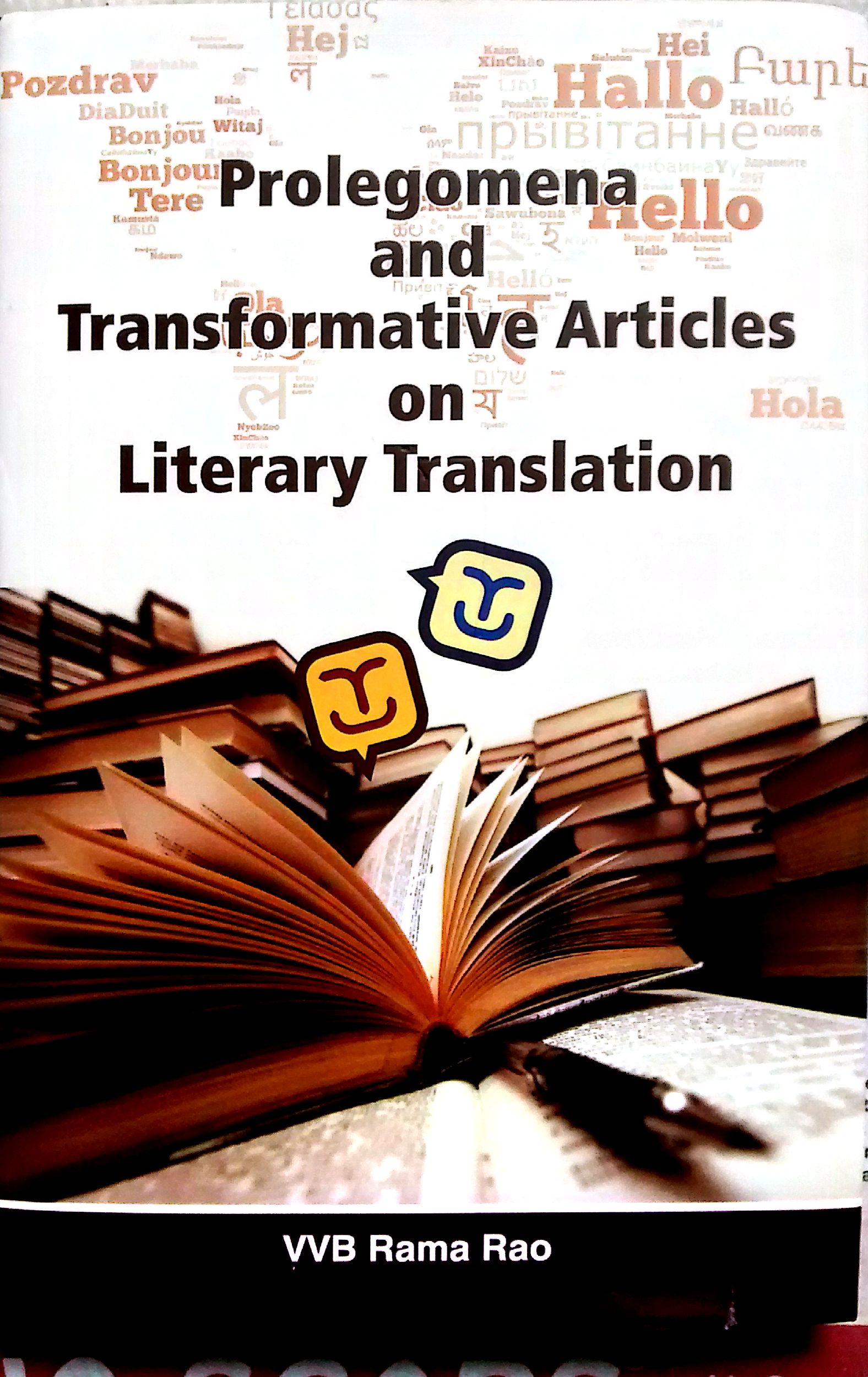 Prolegomena and Transformative Articles on Literary Translation is a comprehensive and stimulating treatise by Dr VVB Rama Rao, a great scholar and well-known writer with more than 60 books to his credit, besides being a good translator. Though he says that there is no universally accepted or applicable theory of translation, the book under review is full of precise information on almost all aspects of translation. He broadly categorises translation into three kinds – pragmatic, utilitarian and literary. He says translations of news items and religious texts come under the pragmatic; and those meant for conveying factual information come under the utilitarian. This treatise is mainly concerned with the third kind, namely the literary translations.

Literary translations include those of poetry, novels, plays, playlets and short fiction. If the merit of the pragmatic and the utilitarian translations is precision and logical clarity, the merit of literary translation is beauty. A literary translation, especially of poetry from one language to another, is an instance of aesthetic exercise. The translator of a poem has to communicate as much of its beauty as possible through the target language. In the process he may have to take reasonable liberty justified by the contextual demand and resort to meaningful and purposeful trans-creation taking utmost care at the same not to let in any distortion or major deviation from the original. Short-sighted linguistic fanaticism may sometimes impose dogmatic fidelity to the text, but that doesn't carry conviction or effect. In a literary translation fidelity by itself is not a great virtue. What is great is to achieve beauty, and to so achieve it one must be prepared to garner beauty at the expense of fidelity a little if necessary rather than fidelity at the expense of beauty. As poetry is an imaginative writing, no one can successfully and effectively translate poetry simply by virtue of one's command of both the languages, the source language and the target language without having poetic sensibility and a high sense of beauty.

Translations from one cognate language into another are easy, but those between two languages with different cultural and heritage backgrounds are difficult, almost defying but not impossible.

Dr Rama Rao has not only a perceptive intellect but also the heart of a gentleman, and so he counsels restraint and sympathy while judging a text of literary translation. Dr Rao, himself a translator of repute, knows under what great pressure a translator works on literary translation. And he even says that literary translations are frequently read not to pick holes!

It is good if, as Dr Rama Rao says, literary translation is taken as the next best, the original being the best; but in my personal experience, at least a passage here and a couple of lines there, sound, mean and move at least as well as the original if not better, though definitely not throughout the translated work. As I say this, giants in translation like Duvvuri Rami Reddy, Gurram Jashua and Bollimunta Sivarama Krishna flash on my mind. As we read their translations we feel they are so good that we forget they are translations.

Dr Rama Rao advises translators to scrutinise and take special care of style, social level, cultural variety, register, technical terms/jargon, regional variety/dialect etc to ensure coherence and harmony. He also says that they had particularly see as they revise whether they have done over-translation, under-translation, mis-translation, and whether they have successfully brought out cultural nuances.

While some people think literary translation is not a sacred sin and a necessary evil, it is a pleasant exercise indispensable to promote the emergence of universal literary culture. Dr Rama Rao warmly encourages translation enthusiasts to work in earnest on their translation projects and assures them of success if only they have a passionate liking for the job.

It is a highly readable and richly valuable book on translation. It instils great confidence in translation enthusiasts and emboldens them to undertake worthwhile translation projects.