Phenomenal Literature & Verbal Art - Our Needs and Our Journals
(Review by Dr VVB Rama Rao)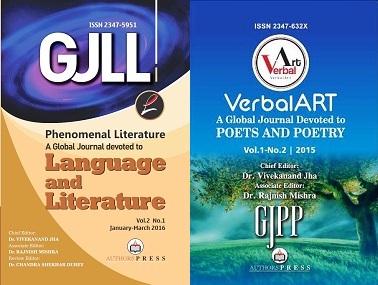 There are many kinds of journals in different languages for various kinds of readers. Literary Journals are for writers to express their views on the books, articles or poetry they have read. Each journal serves its own readers in publishing what they wish for their own purpose. For students and lovers of literature literary journals are necessary.

In recent years students of literature in colleges and universities find reading of journals necessary, important and even essential. Those aspiring for posts in language faculties in higher educational institutions have to equip themselves with the knowledge of contemporary as well the earlier literary works. Literary Journals deal with literature of various languages. Students need to read the journals which deal with the language they are interested in. Educational institutions assess the candidates' knowledge acquired not just in the classroom but also by using the reading room or library which provide reading material. Journals play a big role in promoting reader interests by offering them a platform for expression and displaying scholarship. All journals are not of equal standard.

Literary journals publish all forms of writing, prose, poetry, literary criticism etc. There are some journals which intend promoting young writers giving them an opportunity to come up without charging exorbitantly. Self-publishing and vanity publishing are denigrated and then there is no chance of selling though some spend large amounts of money out of 'vanity' to be published writers. Literary journals of name and fame edit the submissions professionally and copy-edit them thoroughly. Journals like VerbalArt and Phenomenal Literature being brought out by editors like Dr Vivekanand Jha, Dr Rajnish Mishra and Dr Chandra Shekhar Dubey have a prestigious standing. They are supported by an established organization and publisher, Authorspress which is encouraging even beginners along with established writers, usually 'established' because of the leadership and dedication of Mr. Sudarshan Kcherry.

Not all journals are conceived with the aim of providing poets a forum with high ideals. In the context of employers seeking valid proof of deserts for encouragement writers would do well to depend on really established publishers. These are devoted to poets and poetry the world over – not limited to a region. VerbalArt caters to the service of readers of poetry by the up and coming as well as the established. It is already claimed truthfully: 'VerbalArt is totally, completely, holistically and whole heartedly about the aesthetic of words about poetry.' Only a very few journals come forward to encourage new and promising authors by publishing them.

Things have come to such a pass where journal put forth announcements and advertisements that the writers would get advantage by merely publishing by paying big amounts of fees. Established writers are angered by such since they don't need payment after spending lots of time in writing articles ensuring high quality. Peer reviewing is only a claim or a promise, but the decision depends on payment of fees. The budding young do not or cannot pay a fee for getting their articles published. Publication should not be winning game for getting rich. Scholars may expect payment for their dedicated hard work but would not spend money to see their names in print. They look for standard and reputed journals which are the need of the writers. There are very few journals which respect their writers and encourage them by publishing without expecting any payment from them.

As a septuagenarian and an author of all genres both in my mother tongue and English with a publication of sixty books, hundreds of articles, reviews and poems, I break into laughter when I see journals specifying fees to get articles peer reviewed and printed. I feel it is an insult to pay for the publication. But institutions set up conditions for employment or promotion to show publications without having the time or patience to go through them for judging their quality.

Publishers like Authorspress Group have a competent staff to assess the writing, to edit and copyedit the books they receive for possible, eventual publication.

Writers, be bold and work hard to write. Chin up for publication: there are good publishers too with qualified and competent staff. Though not very easy, look for them and choose the most suitable who can sell your and their books.

*************************************************************************************

Dr V.V. B. Rama Rao (b.1938) is a retired ELT professional. He has published more than fifty books several genres both in English and Telugu: Novels, Short Fiction, Biography, Hagiography, Criticism and Review. He has translated extensively from Telugu to English and English to Telugu. His poems, essays, short stories and novel-excerpts have also been carried in Kohinoor, Re-Markings, Indian Book Chronicle, Academy of Indo-Asian Lit on the Internet and online journals.