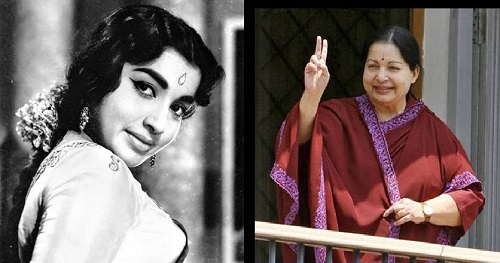 I am sure the entire media is flooded with endless and innumerable elegies on Tamil Nadu former Chief Minister Jayalalithaa by now. What I am writing here is certain questions which had risen in my mind as I am a contemporary of Jayalalithaa and one who had been watching her raise from day one to the day she went to the grave. As mentioned umpteen times as an enigmatic personality, a reluctant actor/ politician who is tempestuous, cold, mercurial, unpredictable, whimsical and positively arrogant many times by many journos who have met her.

True, Jayalalithaa is someone whose life is as complex and enigmatic as she had been and her behavior that absolutely suited her personality. She entered the filmdom at the age of sixteen as the heroine of famous Tamil director CV Sridhar's movie 'Vennira Aadai' (White Dress) as one who suffers from delusions after a road accident on her marriage day where her husband dies on the spot and she turns psychic. She falls for the young psychologist who comes to treat her only to understand that she doesn't love her and she is also a widow. The crucial decision she takes is the climax. Surprisingly, that movie was given an A certificate by the censor simply because of the reason that the heroines in the film wore sleeveless jackets. Ironically when the movie was released Jayalalithaa was not allowed to enter the theatre because she was below 18.

Such things are possible only in a strange land like India! Well, she was immediately chosen to play the lead role of heroine in the legendary MG Ramachandran's movie 'Ayirathil Oruvan'. The hero and heroine had an age difference of 3 decades! What followed of course was history! MGR and Jayalalithaa starred in 28 movies where most of them were big hits. Her film career was an instant success. However, her political journey was not. She was inducted by MGR as propaganda secretary of AIADMK and was not given seat to contest in the elections, thanks to her adversaries in the party. Again the MGR-Jayalalithaa relationship went through many ups and downs and when MGR died she was brutally humiliated. Probably that scar made her enter politics with vengeance and consolidate herself. Though she had started her political and film career with MGR, MGR did not anoint her as his successor. That was a pitched battle which brought the lady the AIADMK party and its two leaves symbol.

Now veteran Mu Karunanidhi became her arch adversary. Once he understood that Jayalalithaa is formidable, he turned into all dirty and vituperative abuses on her to get her out. But, alas, they all made Jayalalithaa more adamant and stronger. She became a sworn enemy of DMK and Mu.Ka. She had been sworn in 6 times as CM for four terms. The last term, she abruptly left her successful journey via 75 days of hospitalization with multiple problems all attacked her simultaneously and surprisingly.

What I want to share here is her personal life; I know it is unethical to discuss one's success of personal life openly. But, what I am going to discuss is nothing to do with ethics. It is the question which disturbs my mind regarding the Hindu religion and their interpretations in conjunction with the life of Jayalalithaa. On many personal interviews she had accepted that she had neither wanted to be an actor nor a politician. Both were forced on her; films by her mother and politics by MGR. Personally, she wanted to be well educated, get married and to have a happy family. This completely eluded Jayalalithaa notwithstanding the fact that she was beautiful had wealth, name, intelligence and fame. Marriage, family life and children were never bestowed on her. For all that, she was a strongly a religious and pious person with a lot of sentiments.

Her arch rival even today Mu.Ka is 24 years elder to her with a very happily married life with sons and daughters through three wives, grand and great grand children. When he is like a banyan tree in spite of the fact that he is more a vicious and ruthless politician, rationalist and a staunch atheist. His barbs on Jayalalithaa were many times not just harsh but shockingly crude also. Here we have a lady with a failed personal life and believer of God and an arrogant rationalist who is successful both in personal life and politics and still kicking around whereas the poor lady passed away after 75 days of struggle in the hospital.

My question is whether longevity of life is a boon and death is a bane or vice versa? We normally wish everyone with long life so it has to be a boon. Death is though inevitable is considered as an end after which there is nothing exists except for some obscure philosophical explanations.

When Jayalalalithaa was in the hospital lakhs and lakhs of her followers prayed for her recovery to Almighty in all possible manners. Because as a political leader she brought more welfare schemes for the poor than Mu.Ka whose great concern was always his family. Yet, the one who reposed a lot of faith in the existence of God and Justice had left the world while the one who ridicules the believers leads an enviable life.

The question in my mind now is who is the blessed; those who live or those who suffer and die early? Who is the decision maker as good and bad? And what is good and what is bad? Are prayers really answered or it is just a helpless pleading?

Do we have answers for this in our Holy Scriptures or philosophy? The answer I expect is 'Karma'. But, sorry folk, that is just an excuse not an explanation.