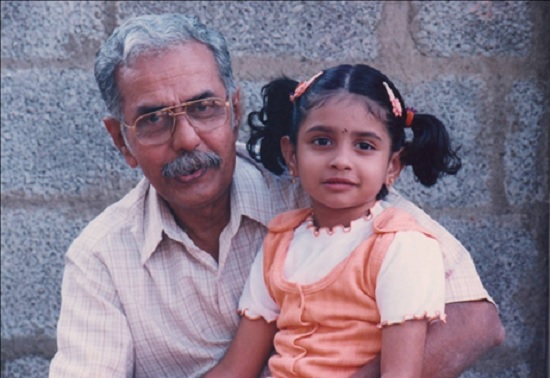 My granddaughter Sanjana does not know yet that I am her biggest fan. I marvel at her adventurous spirit and exceptional creative energy. I have always found something fascinating in whatever she does. Something that makes me say 'Wow.' Right from her tiny tot days to her teens at present.

I am quite sure she would not consider me as the best model of a grandfather around. I have always been finicky, too much cautious about her safety, giving most unnecessary and mostly unwelcome instructions, the Do's and Don'ts of life. In other words, in the eyes of a growing teenager I am a good specimen of a meddlesome grandpa. And I have good company in having by my side an equally doting grandma.

She may say that my favourite words in the dictionary are 'No' and 'Don't.' When she was a child I had used them quite, quite often, whenever I found her sliding down the rail, or scaling the parapet, or jumping or running inside home or climbing trees outside. She loves butterflies, and as a teen has taken eye-catching close up photos of many a butterfly, but in movement she is more like an arrow that is shot than a butterfly gliding in the air in slow motion. As she used to flit across the room at breakneck speed, jumping down a few steps at one go, I would look up in horror and shout 'Don't.'

When she goes to the beach with her parents, my stern advice always used to be 'Keep off the waves.' An advice totally disregarded by her as she frolics in the waves. This habit of giving unwanted advice has never waned as far as I am concerned. Nor has the passage of time made any change in her adventurous streak either.

Well, I do not know how in my old age I could be more teen friendly when it comes to letting her do what she wanted as it pleased her.

But her father is so unlike me. He would let her do whatever she wanted, in whichever way she wanted. If she is daring and indulges in dare devilry, it is only because of him.

Her parents Hari and Parvathy always take her to some tourist centre or other during annual vacations. One such a vacation was in Goa and I almost skipped a heart beat when I saw photographs of her suspended high above in the sky, wearing parasailing gear and being towed by a speedboat down below. Another picture of a similar tour showed her within a huge inflated balloon floating on water, slowly being pulled ashore by a rope. After the instant shocks that these pictures give me, I think for long how safe these gadgets and boats and ropes are and how prone they are to malfunctioning or accidents. Whatever be my scary thoughts on such avoidable sports, it goes without saying that she enjoys every moment of those thrilling, memorable escapades.

So what do we have now? A girl who is supremely confident of herself, one who is, I feel, multi-talented, whose creative energy knows no bounds. Right from her childhood, she showed how good she is in designing and making things. She would never buy any birthday gift for friends. She would make them, each of her creations excelling in novelty and ingenuity. Sometimes useful gadgets, sometimes eye catching jewellery and what not. In every gift she gives there is a stamp of her personality. So is her room in the house. She would not let a painter do the walls of her study. She would paint them herself, further beautifying them by painting exquisite murals.

I do not know if she has learnt any lesson from me. But I in fact have learnt a lesson or two from her. Frugality, for instance! She would never waste any money and would never allow me to spend anything on her. She would sternly chastise me if I buy her anything without getting a clear 'yes' from her. That goes even for her birthdays.

I always like my rooms to be full of light and full of ventilation. So whether we are in the room or not, there would be lights and the fans would be turning full speed. Even as a child she would never condone wasting energy and would constantly rush in, and rush out at equal speed, after turning off all the unnecessary lights and fans.

Years have passed by and now she is a grown up girl, pursuing a college course of her choice, Designing, in distant Bangalore. She is her own master there, without any Do's and Don'ts from me or her grandma.

But how I miss her! In the thick of a heavy academic and extra-curricular schedule, will she have time to miss this meddlesome grandpa?