Meeting My Soulmate: (A Collection of Poems)
Poet: Dr Sonia Gupta,
Rs.: 300/-, Year: 2016
Publisher: The Poetry Society of India, Gurgaon
The fountains mingle with the river
And the rivers with the ocean,
The winds of heaven mix for ever
With a sweet emotion;
Nothing in the world is single;
All things by a law divine
In one spirit meet and mingle.
Why not I with thine? — from Love's Philosophy by PB Shelley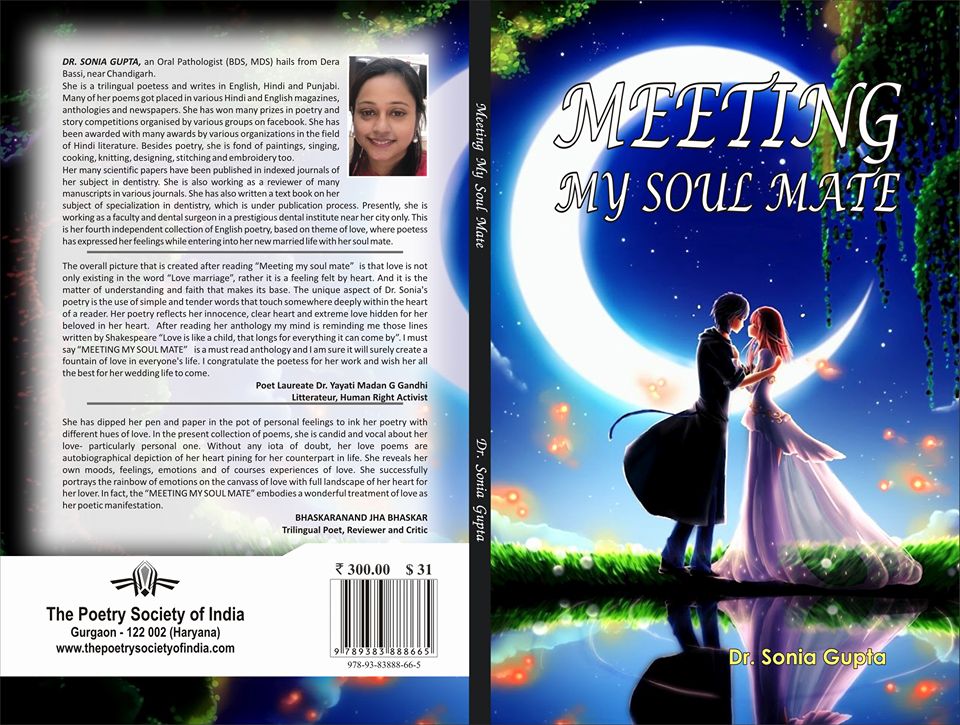 Love has been a favourite theme of poetry since ages. It is the quintessence of human life and the exuberant force that satiates the creative urge of the poet who feels the height of romantic feeling with full of emotional intensity. This sort of poetry- romantic poetry- is ever afloat on the high waves of imagination, sometimes touching upon the reality, flowing through the banks of joys and sorrows, passions and pangs, ecstasy and agony, longing and belonging. It bubbles out from the bottom of heart with full profundity and intensity.

The poetry of love is basically a romantic expression of powerful spontaneous feeling. It is imbued with the poet's simplicity and purity of heart and intensity of impulses marked with sincerity, loyalty and innocence. However, as a mode of subjective outlet her poetry is also a self-revelation of romantic desires and scarlet thoughts and deep agony and anguish of the romantic heart. It is abundantly enriched with imaginative meandering and whirling of sensibility in the beautiful sky of heart.

After successful popularity of her previous collections of poems like Zindagi Gulzar Hai (2015), Ummid Ka Diya (2015) in Hindi and Canvass of Life...With My Pen (2016), Fountain of Inspirations (2016) and Spectrum of Life (2016) in English, Dr Sonia Gupta, this time appears before her readers with her fourth English collection of love poetry entitled Meeting My Soulmate. She has dipped her pen and paper in the pot of personal feelings to ink her poetry with different hues of love. In the present collection of poems, she is candid and vocal about her love- particularly personal one. Without any iota of doubt, her love poems are autobiographical depiction of her heart pining for her counterpart in life. She reveals her own moods, feelings, emotions and of courses experiences of love. In fact, the present collection embodies a wonderful treatment of love as her poetic manifestation.

Heart is the breeding ground for love which takes its root into soft and tender feeling and pulsates with lovely beats to soothe our senses. Love exercises psychosomatic impact on our total well being. It purifies our desires through the process of sublimation and purges our thoughts all sacrosanct. The philosophy of love is a must to comprehend life and realise our sole objectivity through subjectivity of existence. Love is a wonderful feeling. In the very first poem Heart and Heartbeats, she lays bare her heart and divulges-
When two hearts meet each other
There is really a wonderful creation!
She is very right when she says- True love is a blessing of that almighty. In love, as she points out-
Two unknown souls meet together
And make each other's life their own!
She also defines love in her own terms taking support from her thoughts and ideas about the tender feeling of heart. It is deep 'bonding of faith and love' and calls true love a mirror, a symbol of 'God's reflection'. In her poem Definition of Love , she has rightly articulated-
Love has got no definition
Always it is full of passion!

No boundary
No limitation!

No casteism
No discrimination!

No particular language
Just two heart's connection!
Search For Someone is a very sweet poem about the sweetness of search and find of love. Her ultimate find is a' precious diamond' to be studded in the "ring" on her finger.' His pure heart and faithful intuition' mesmerises her to the extent of her 'inner satisfaction'. She is thankful to God for meeting her 'life partner' who has come into her world as " a God gift', 'a treasure' to be preserved for ever. She is very appreciative of her new-found love'
Whose presence has filled my life with happiness
Passion, joy and all lovingness!"
It is very much interesting to note that her poetry is a 'love story' dealing with the longing and aspirations of a feminine heart to facilitate all the joys and pleasures of life. In Let Us Begin This Story she believes in unconditional love with freedom at most. Since she is a modern heart, she puts stress on freedom in love and life, sans any ego clashes. She represents all the women searching for their life partner. She suggests-
Let us erase this "I" and "YOU"
There should be just a single word "WE"
You are my life O' dear, and I am yours
A garden of blooming love flower, Let this life be !
Romance is the essence of life. It is the lovely stuff for two in love to feed on. It fosters surging desires to culminate into wonderful experience of love. Romantic love makes a way for them to move on along the crusty path of life with smiles on face and peace in marital life. A staunch believer in ideals of marriage she advocates through her poem A Strange Love Story for
Admiring each other's passion
Aspiring for each other's ambition
Giving supporting hands to each other
Each day adding a new chapter!

Trying to build up a strong relationship
Based on faith and friendship
Sharing each other's thoughts
Moving together in every hardship!
Her A Strange Question wonderfully presents the journey of aspiring woman from her parental home to the new world of life she is destined to step into. She is ecstatic and enthralled to think of jovial embrace of new life. She expresses-
A girl turning into a woman
Becoming a life of someone
Wonderful is this experience
Mixture of joy and emotions!
Another beautiful poem Listen Soulmate also echoes the wishes, longings and aspirations of a girl-
Every girl has a dream in one's life
When will she become someone's wife!

So many wishes, so many desires
With her life partner she admires!
Love, in all its shades, need to be nestled and nurtured so that it is borne with fruits of joy and peace, that it provides some soothing shade to the love birds. This is what she has referred to in her poem A Tree Of Love & Care. She suggests
Let us sow the seeds of love and care
That will grow into a special tree here!

With our lovable words
Let us nourish its roots!

With the joyful thoughts
Let us color its petals!
In addition to the poems discussed above, other poems also deserve our heartfelt appreciation because of the exuberance of romanticism. The poems are simply her heart's outpourings for her love. Love apart, her dreams, idealism, marital perspective, new challenges to be dealt with, her feels and thrills, questions, curiosity etc also find a better treatment in abundance. Her poems are romantic and sanguine green with blushes, soulfully enthralling, and melody of imagination to be into the reality.

Dr Sonia Gupta's poems as presented in the present anthology are an honest and sincere manifestation of her variegated feelings and emotions, and tones and moods. She is all praise for God and destiny to pave the path of love for her to tread on. As a woman poet of love she seems to have marked her footprints for the coming generations to enrich their love life.

In short, she successfully portrays the rainbow of emotions on the canvass of love with full landscape of her heart for her lover. Dr Sonia also declares Yes, I am in Love-
I have sowed a seed of love and care
With which I will grow a blooming flower
That will smile like anything
And will take away all pains forever!

Yes, I am in love
Let me be in love only
Yes, I am not alone now
Please do not call me lonely!
Most beautiful feature of her poetry is the simplicity and felicity of her expression marked with common diction and emotive imagery drawn from the world of nature. Barring exaggeration, she has adroitly made use of apt similes and metaphors to bring home her point.