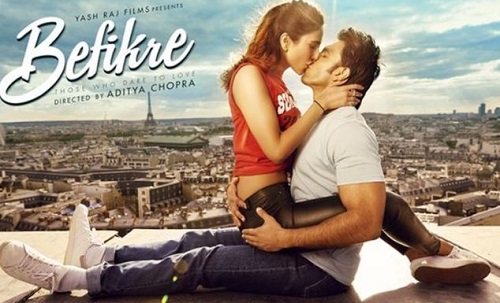 The concept of chastity and sex only for procreation and not pleasure concepts have been flushed out of Hindi cinema. So we have many stories making rounds on 'sex before love', 'live in relationships', 'friends with benefits' types of stories have started pouring in. Nevertheless, India and Indians do have their 'moral values' and 'codes'. Therefore, whatever may be the relationship and strains, finally the hero and heroine unite in matrimony. (Sigh! Still we have some long way to go!)

To say precisely 'Befikre' is a silly and careless movie as the title suggests.

The instant mercurial love between a desi Delhi launda and an Indian but French born girl passes through a lot of upheavals because each one acts on whims. Dharam is a philanderer but good at heart and 'loves' Shyra; Shyra too loves Dharam. They show it by prancing, dancing, frequently kissing and having sex and living together. But, they break but keep bumping on each other to unite again in a very awkwardly mounted stupid climax.

The film has nothing to impress except the pleasing visuals of Paris. Ranveer Singh shows off his sexy and masculine anatomy and Vani Kapoor does the same. But the former makes one drool over him and his unbeatable energy and unfortunately, there won't be any takers for Ms.Kapoor.

A few songs are hummable. It is superfluous to tell the technical aspects of a present day film that too from the house of Chopras are exceptional.

If you feel bored you can go and watch 'Befikre'; you will keep laughing and watching for some time but ultimately feel frustrated.