Aamir Khan is a different raconteur. Earlier he had chosen cricket and entertained and established a sort of patriotism. Now, he had attempted a similar one with women wrestling, a game that is not that popular; but, Aamir had selected a real life success story and transformed it into a reel life with the necessary emotional trappings to appeal to all sections of the society. Here too the underpinning of patriotism is obvious.

In the present day Hindi film scenario, moralistic discourses sans romance has every chance of bombing at the box office. Life and approach to life and its values have changed even from 'Lagaan' days. So it requires enormous guts for one to make 160 minutes movie simply focusing on wrestling and the interaction between just 3 to 4 characters.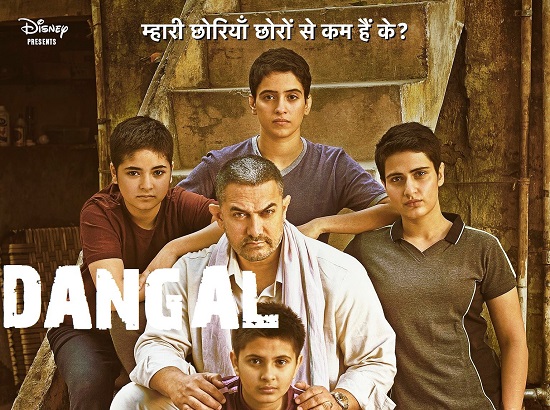 'Dangal' tells the achievement of Mahavir Singh Phogat a onetime wrestler, who brings up his two daughters to become wrestlers with very strict regimen and brings gold medal and fame to India. We see a podgy, overweight and dowdily dressed Aamir Khan only in the movie for the maximum period of the time. His youthful appearance in toned muscle is just for ten minutes. But, to compensate it, Aamir had chosen two pretty girls who play the roles of his daughters Geeta, Babita.

It turns out to be once again like many of the recent movies addressing on the women centric subjects like Pink, Dear Zindagi, and Kahani-2, but on a different platform. The first part of the movie turns out to be tiresome well before the interval, watching the haggard Aamir's dictatorial ways with his two teenage daughters. The film picks up only after the interval as the two girls grown up and when the emotional clashes surface. For a person who is not interested in sports like me that too especially in some awkward and aggressive sport like wrestling, after one point the story got me on the hook. The dramatization of the events makes for a good movie.

The casting is perfect. Fatima Sana Shaik and Sanya Malhotra as Geetakumari and Babitakumari look pretty and perform their roles with consummate ease. This is not a movie where the heroine has to just look pretty in a variety of costumes and to float away. It is an intense drama, where they need to perform the painful physical sport, and not to wear classy costumes and adornments. The two girls come out with flying colors. Aamir Khan once again proves that he is completely guided by his gut feeling and acting prowess. An absolutely new director Nitesh Tiwari had done a commendable job by taking part in many of the other departments also like screenplay, dialogue etc.

'Dangal' is definitely a different genre of movie. If you an ardent fan of Aamir's acting (not looks) and to see something totally different from the present day style of movies go and watch it.