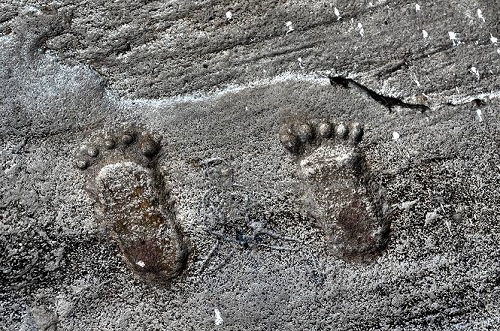 Places associated with Ramayana and Mahabharata are always of special interest to me and my better half – Jana. Our daughter Anisha is now 11, and she too is finding interests in Ramayana and Mahabharata other than her sheer joy of traveling.

While we were discussing on where to go this year on X-Mass vacation, Jana suggested Sita Bengra Cave and Jogimara Cave (dated 300 BCE) in Sarguja district, near Udaipur, in Ramgarh Hills of Chhattisgarh. The Caves are listed in Wondermondo.

If that is the Ramayana connection, then there is Mahabharata too – other than the fact that other than Valmiki's Ramayana, there is one Rishi Markandeya narrated Ramayana in our Mahabharata. Korwas and Pandos are the two main tribal communities residing in Sarguja district. The names - Korwas and Pandos – are not only reminiscent of Kuru-Pandavas; indeed the tribals trace their ancestry to the Kurus and Pandavas.

From what we had earlier read on the places from the internet, the Caves are of interest on at least five counts –
Associated with Ramayana – it is believed that Rama, Sita and Lakshmana resided here during their forest exile; the entire region "Ramgarh" or "Ramgiri" gets its name from Rama

Archeological and architectural importance – it is one of the ancient specimens of cave-architecture or rock-cut architecture found in India

Historic importance – inscriptions in Brahmilipi, depictions and paintings are found in the Caves. These are Petroglyphs or rock carvings (rock paintings are called pictographs) made by pecking directly on the rock surface using a stone chisel and a hammerstone. When the desert varnish (or patina) on the surface of the rock was chipped off, the lighter rock underneath was exposed, creating the petroglyph.

Historic and cultural importance – the Sita Bengra Cave is considered to be the ancient most discovered theatre stage and auditorium; indeed, this 2,300 years old performance stage is one of the oldest theatres in the world

Cultural importance – it is believed that Mahakavi Kalidasa resided in the region for sometimes and composed his immortal Kavya – Meghaduta - here
With these five, there are of course two more added charms –
Of nature, because the region is amidst dense forest and hills and unique landscape of Chhatrisgarh

Of Romance, because the interior of Jogimara cave is not only covered with paintings, but here is also the oldest known written love message in the world
And then there are the interests for educationists – like Biospeleology, also known as cave biology, which is a branch of biology dedicated to the study of organisms that live in caves and are collectively referred to as troglofauna.

With those formidable seven of Romance, Adventure and History, offering so much for learning and opening up worlds for us and our daughter, we could not decide on anything else for our first destination for the 2016 X-Mass vacation. This time, my father-in-law Shri Jyotirmay Ganguly, a young man of 74 years, was our travel partner.

We reached Bilaspur from Howrah/Kolkata on 25th December morning, and availed the 18241 Durg-Ambikapur Express from Uslapur (9 km from Bilaspur) at 11.58 pm and reached Ambikapur at 8.30 am on 26th.

This is the only direct train to Ambikapur from Bilaspur (actually Uslapur) so far; however, more trains are available from Anuppur junction.

The Ambikapur railway station is perhaps one of the best maintained in India except the public latrine and toilet – typical of my country mostly spoiled by locals and lackadaisical attitude of some rail staff; however, the architecture and the view from outside is eye-soothing, and the platform will surely compete with best maintained platforms in India.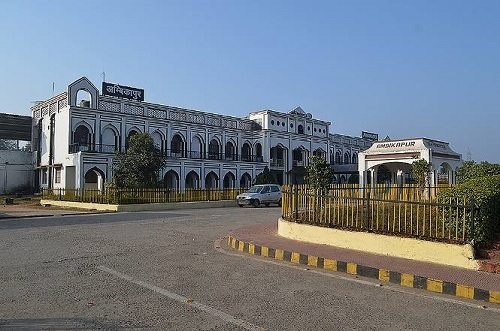 Ambikapur Railway Station
Ambikapur city (average elevation of about 623 metres) is located in the Surguja District and is the headquarters of the entire Surguja District of the Chhattisgarh State. It is famous for the ancient Mahamaya Temple, and is a very busy business centre.

This town has derived its name from Mother Ambika, or from an earlier ruler, Ambikeshwar Sharan Singh Deo. I think the former is more authentic.

After a Nasta at a Dhaba bordering the station road, we hire an auto from the adjacent auto-stand and reach Pandit Dindayal Upaddhyay Chowk at a distance of 8 km at Rs. 20/- per head fare. There is no hotel for stay near the railway station which is at the outskirt of the town.

Pandit Dindayal Upaddhyay Chowk with a statue of the scholar and at the juncture of Brahma Path and Bus Stand Road is a busy area with good concentration of budget hotels/lodges and the bus stand is also there. Auto is always available. There are also many eateries lining the Bus Stand Road. We were glad to find fried Rohu fish sold at Rs. 20/- per piece at one such outlet.

We check-in at hotel Maya at Rs. 600/- per day for a double-bed room. The hotel has a nice vegetarian restaurant, perhaps one of the best in Ambikapur. Most staffs of the hotel are Bengalis – though that was not known to us until we checked-in.

The first problem we faced was locating the places to visit. The Chhatrisgarh tourism website offers some description of the places; however, there is no detail on the minutes that is essential for tourists. To add to the woe, the hotel staff at the desk could not provide any information, and the older one even laughed on hearing that we were tourists. To my surprise, he said that he had not even heard of Sita Bengra Cave!

Ambikapur is primarily a business town, and most people visiting the town and checking-in hotels are businessmen. In fact, we soon discovered that we were the only tourists in the hotel.

Finding us in such situation, I decided to take matters in my own hand. I went to the tea stall opposite to the hotel, and as I sipped tea (Rs. 5/-), I gathered as much information as possible. I introduced myself to the customers, and luckily got information from one customer that we have to go to Ramgarh first and Udaipur to visit Sita Bengra Cave.

I discussed with Jana and decided to go to the Ramgarh side on the first day, and keep the next day for visit to Mainpat (known as Simla of Chhatrisgarh, and famous for being the first Tibetan Refugee settlement in India) and Tiger Falls.

We hired an auto for Rs. 1200/- including waiting charge for visit to Sita Bengra Cave via Ramgarh-Udaipur at a distance of 45 km from Ambikapur.

The auto-driver's name is Satyendra, a young enthusiastic boy. We soon got to like him to find that he is not a typical business-minded auto-driver, but himself a lover of places. His only negative mark is his habit of eternal chewing of Pan-bahaar – not blamable perhaps in this part of the world, given the commonality of the addiction.

We decided to take lunch first as availability of food would be uncertain. Lunching at the restaurant, we also packed snacks and water.

Finally our journey started at 11.30.

As NH 130 was under repair, our auto took the bypass via Sohga and Darima. The road to Ramgarh is not very soothing in terms of the road condition, though entertaining in terms of the landscapes through which our auto sped.

After about one hour travel, Satyendra halted beside a large Talao (Lake) with Dam known as Ghunghutta Reservoir – that is one major source of irrigation in these region.

The Lake is beautiful, surrounded by beautiful landscape and lush green with hills and forests of Ambikapur Range at the background, and we spent some time with photo session.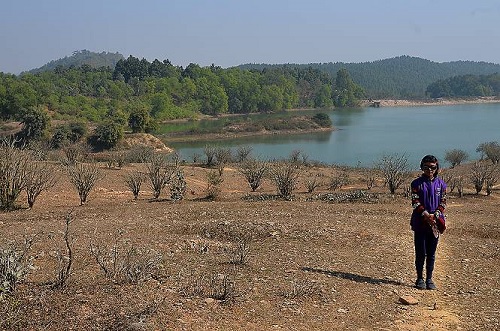 Ghunghutta Reservoir
We took NH 130 again, and on reaching Udaipur, took a left turn to take the Ramgarh Road. At about 1.30 pm we reached a Gate. On the left side of the gate, under a shade, is a statue of Kalidasa, and on the right side, the significance is written along with quotes from Meghduta.

The Gate is very artistic, and well adorned with tribal art. However, any route direction is missing.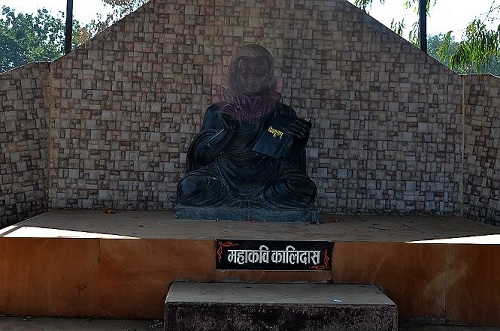 Kalidasa statue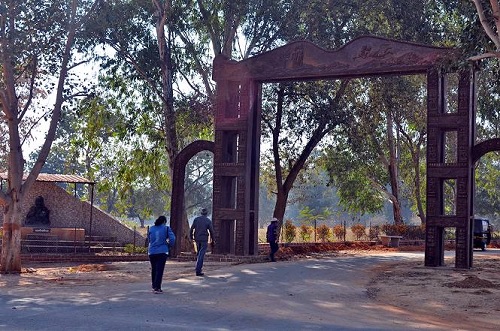 Sita Benga Gate & Kalidasa statue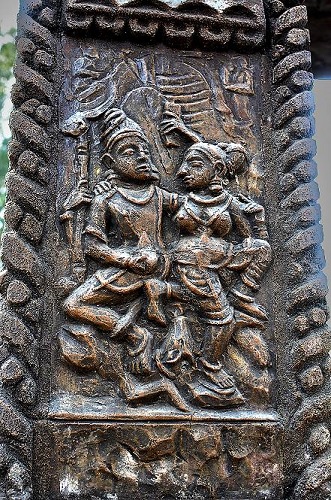 Art on the Gate
Starting from there, we mistakenly passed the bypass that leads to Sita Bengra Cave. Despite the historical and archeological importance of the place, unfortunately, the Chhatrisgarh Tourist Department has not displayed any board or direction on the metal road.

Our mistake was however, rewarded, for we reached almost the top of the hill that offers a spectacular view of the landscape. There is a Parvati Cave and a Parvati Temple – an important pilgrimage for locals.

After a quick visit to the Parvati Cave by trekking about half a kilometer through jungle, we got information from locals on the whereabouts of the Sita Bengra Cave, and finally reached the junction again downhill that we had overlooked and passed.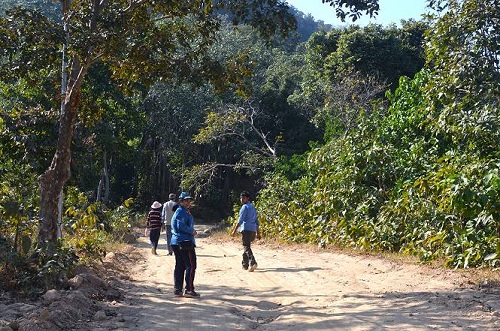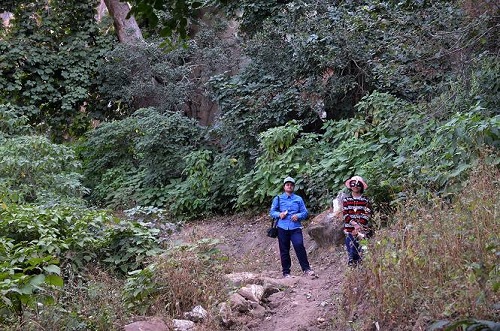 Trek to Parvati Cave and Temple
Nowadays, one can reach the Caves directly from the metal road on a well-constructed path. At the beginning of the path, a forest office grants permission to picnic parties. Here is a shaded place for worship and rest, and a beautiful painting of Kalidasa with quotes from Meghadutam. The car parking is on the adjacent ground.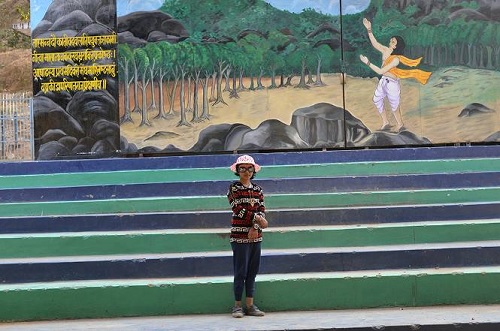 Painting of Kalidasa
Sita Bengra Cave

The Sita Bengra Cave and Jogimara Cave are located in beautiful natural setting. Previously, one had to reach the caves through a 55 m long natural tunnel known as Hathipol (Hatipal), "Elephant Cave".

The legend goes that during their exile, Rama, Sita and Lakshmana resided in Sita Bengra Cave. Hence the name Sita Bengra - "Residence of Sita".

Sita Bengra Cave is 14 m long, 5 m wide and 1.8 m high in forepart. It is a natural cave with a rock-cut small hall with a flat stage in it running along the wide back wall of the cave.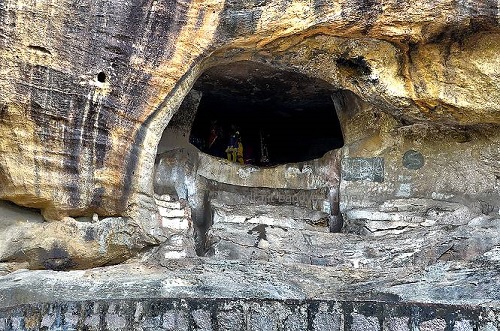 Sita Bengra Cave
J. D. Beglar and Alexander Cunningham of the Archaeological Survey of India may be considered the re-discoverer of the site in 1874-5.

T. Bloch explored the caves later and is considered the first to offer the most intelligible reading and interpretation of the fragmentary inscriptions found there in the Brahmi script. The faint two-line inscription tells about "poets venerable by nature (who) kindle or illumine the heart". It also says, "They tie garlands thick with jasmine flowers around their necks". The inscription refers also to the vernal full moon and some event - perhaps, spring festival – Madonatsava or festival of Kamadeva - abounding in frolics and music.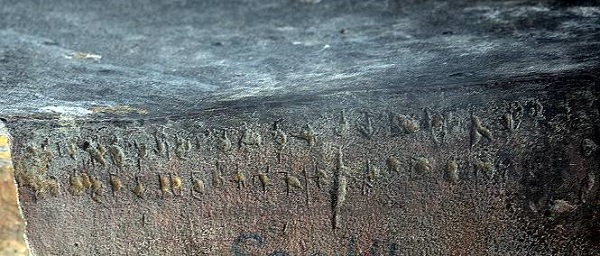 Sita Bengra Cave inscriptions
If these inscriptions are 2300 years old, then they are pre-Ashokan – and therefore, the credit given to Ashoka for inventing the Brahmi Script for his Rock Edicts by some Indologists goes to the wind.

These inscriptions prove in rhythm with Panini's mention of Writing that writing was in vogue long before Ashoka. Pertinent to mention here, Panini could have been anywhere between 900 BCE to 500 BCE.

Coming back to Sita Bengra Cave, as we climbed the rock-cut stairs on the left-side, we tried to imagine what was going on here 2,300 years ago.

Inside the cave, there is now a decayed sculpture-image of Rama and Sita which is hardly recognizable. It is no doubt a later introduction to the Cave. It is placed on a flat running platform which appears like a Stage slightly elevated from the cave floor. Local people lit Pradip and offer worship.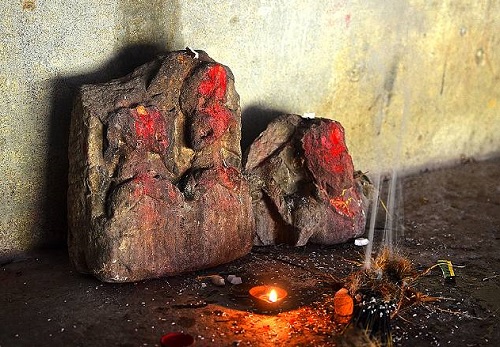 Rama-Sita-Lakshmana in Sita Bengra Cave
The ceiling, floor and the platforms are evidences of human work on natural cave.

Outside and in front of both caves is a semi-circular valley. One will agree with T. Bloch that the small amphitheatre in front of the cave resembles Greek theatre.

Outside the cave there are many circular mates and benches carved out of ancient stone. The round rock-cut benches arranged in terraces in the shape of a crescent in the front of Sita Bengra cave could accommodate 50 seats for the amphitheatre.

There are hewn two holes in the floor in front of the cave – and one will agree with T. Bloch again that these were for erecting poles to hold a curtain shielding the visitors from the winds in winter nights.

In the right corner, in front of the cave there are two human footprints. Local legend ascribes these footprints to Rama, Hanuman and even Ravana.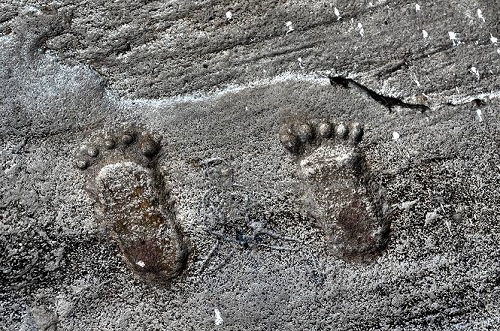 Footprints before Sita Bengra Cave
The legend strains the imagination. To make such footprint on rock with naked foot would require inhuman strength. No doubt, Rama, Ravana and Hanuman had such strength; however, it makes no sense that they would take strains to stand on a slope to imprint their footmark.

Yet, Folk legends have their wisdom. They cannot be negated by mere pretension of rationality. Perhaps, the Folk legend is a way of making home the point that the footprints are inexplicable. One would also notice a naturally formed Rsi-like shape in Padmasana in between the footprints.

The other legend and Belief that Kalidasa composed "Meghaduta" here or nearby in the 4th - 6th century AD also goes well with the ambience of Sita Bengra Cave. Solitude is essential for a Mahakavi, and at least I feel like believing that Kalidasa was indeed here.
Jogimara Cave
The Jogimara Cave, just 3 x 1.8 x 1.8 m large, is an artificially carved rock chamber. Scholars and locals believe that it served as a resting place for the girls employed in theatre.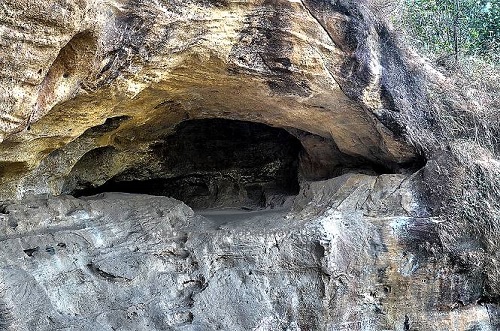 Jogimara Cave
The walls and ceiling of this cave are adorned with exquisite paintings – dated to 3rd century BCE - and this is the oldest known effort to beautify premises with planned and well-designed painting.

Paint was laid on both white base plaster and unprepared base. The Painting was done in two layers - the original by some expert artist and the latter by another lesser artist. Drawings were made in lines. Each painting is outlined in red. Black, white and yellow colors were also used in the paintings.

As per information, the root of this cave has seven paintings of human, fish and elephant figures. There is also a dancing couple near a lily flower, doll like image, singers and dancers with female dancer and some saints. Hazy chariot paintings, birds, animals are also found.

Jogimara Inscriptions

The Jogimara Cave contains also the first documented messages of love in the world. This inscription is fading, but its message cannot fade. It tells about love between Sutanuka, a dancing girl in the theatre and a Devadasi, and Devadinna, a sculptor, who surely used to watch Sutanuka's performance- and was perhaps obsessed with her.

This five line inscription in Brahmi script goes as follows:

"Sutanuka by name, a devadasi, the excellent among young men, Devadinna by name, the rupadaksha, loved her."

An alternate translation would read:

"Sutanuka by name, a devadasi, made this testing place for girls (local actresses?). Devadinna by name, skilled in painting/ calligraphy, made the paintings in this cave".

Other than the attractive Romantic charm (I guess, Jana wanted to visit the Cave for this), the inscription is a very important historic source of Information. This is in fact the first mention of the word "devadasi".

Some scholars opine that this theatre was one of the cultural centres where Devadasi tradition originated.

Young and specially selected girls who were "married" to deities and served in temple, and therefore, could no more marry a man and have a family, were called Devadasi. They had to live a celibate life, and perform in religious rituals. These girls were well versed in classical arts and traditions, and were held in high esteem by society and consequently had great social status.

Despite their oath, how could the vibrating human heart be stopped?

The Devadinna and Sutanuka episode is a pointer to that. Who can guess what ultimately happened to them? This could be good food for a romantic story, and I am sure, Jana will soon come out with one.

Unfortunately, we found the Jogimara Cave entry blocked by the government by high fence and locked gate, so that we could not see the paintings and inscriptions.

This was a tremendous miss, and though we were dejected, we could not blame the government. Locals and picnic parties have an abominable habit of inscribing names on the cave walls. We found numerous names and love signs inscribed on the Sita Bengra Cave too.

Well, we cannot blame lovers if they want to be immortal; however, their immortality cannot be allowed to hasten the mortality of Sita Bengra Cave and Jogimara Cave.

Hati-Pol

We came back to the Kalidasa painting, took some shots and then approached the Hati-Pol.

It is a 55 m long natural tunnel. Since even elephants can pass through this tunnel – it is known as Hathipol (Hatipal), "Elephant Cave".

We had to negotiate with serpentine mud track to reach the cave mouth. The other side of the cave appears like a slit-light.

My daughter was very excited to enter the cave, and asked whether ghosts reside in it.

It is very cool inside. After walking some distance, we heard the sound of gurgling water. It is the Sita-kund, a drinkable fresh-water source.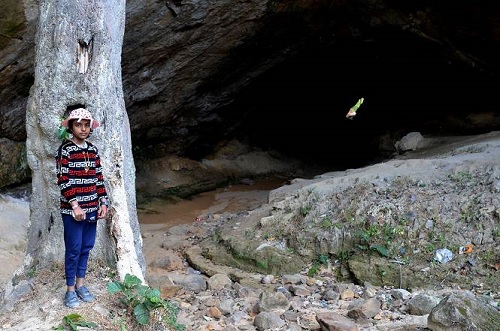 Hatipol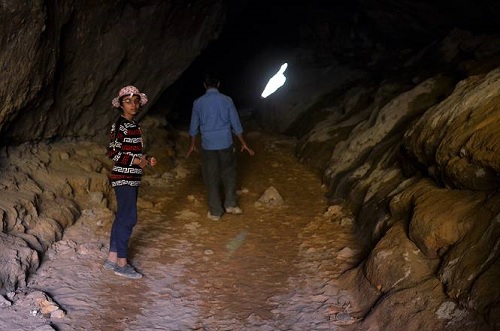 Inside the Hatipol
On the other side of this tunnel, there is a wooded valley. The hillside forms a steep crescent on the West and is closed on its west by a parallel range of the same hills.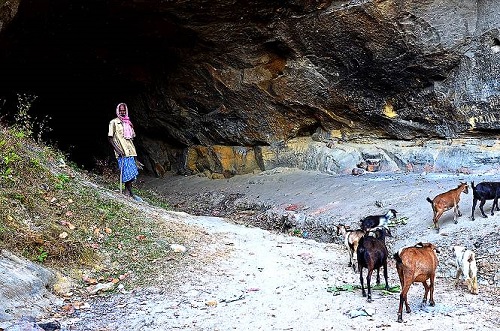 Shepherd on the other end of Hatipol
On reaching the other side, we met a shepherd. He directed us the way to some more caves – one of them called Lakshmana Bengra.

Lakshmana Bengra and other Caves

We reached the Lakshmana Bengra cave by a track through the jungle and then trekking an ascent. The ascent leads to a bifurcation. The right one goes to Lakshmana Bengra, and the left one to an unnamed cave.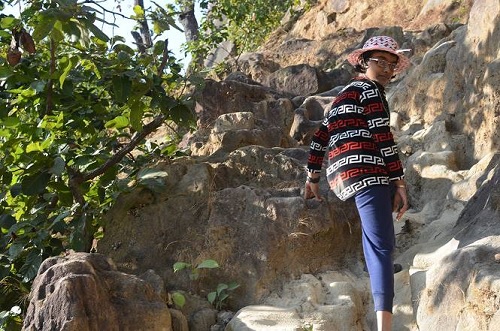 Ascent to Lakshmana Bengra
The Lakshmana Bengra is a small cave, the entry floor squared by rock-cutting. There is a stone-carved slab depicting Lakshmana's face. This is a later adage by locals.

Lakshmana Bengra Cave
The unnamed cave is deeper. It is evident that the natural cave was cut for living.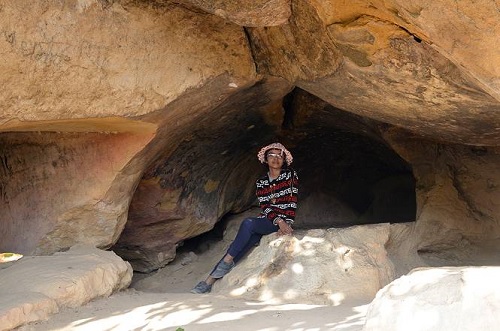 Unmamed Cave
We ended our day's tour with content heart.

Next day, we traveled to Mainpat which is known as the Simla of Chhatrisgarh.

That is another story …