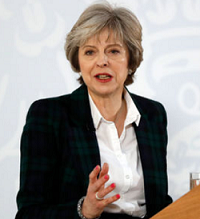 In a hard-hitting speech on the 17th of January 2017, British Prime Minister May clearly spelt out the country's stand on Brexit. She made it clear that the UK will come out of the single market as well as the customs union and promised to build a truly "global Britain" that would reach out beyond Europe to build "new partnerships with old friends and new allies". Mrs. May cited discontent over directives coming from Brussels that weakened local democracy, tensions over jurisdiction of the European Court of Justice, record immigration et al – all of which fueled the Brexit vote last year – as the driving factors for Britain's decision.

Prime Minister May underscored Britain's relationships across the world, specifically outside Europe. She hinted that Britain would revitalize trade relations with erstwhile British colonial ecosystem of the mid-twentieth century and seek to regain its preeminence as a great trading nation. Specifically, she talked about the new trade negotiations underway with Australia, New Zealand and India to drive home the point that Britain will not be seriously impacted by Brexit.

Mrs. May also warned the EU against resorting to "punishing" the UK. This, she warned, would be calamitous for the Union. Not surprisingly, the hard-hitting speech was meant for the local British constituency as well as the EU, particularly Germany and France who have advocated a tough line against Britain. Following last years' referendum in Britain, there has been a lot of sound, fury and venting from Europe. Worried that other countries may follow Britain, several EU ministers had demanded punitive measures that would showcase to other nations that leaving the EU could be very expensive an affair.

The Prime Minister's speech did not wave an olive branch as many observers had expected. It definitely looked more like a resolute leader preparing for war. Indeed, the Brits appear to have done their homework and are prepared to take big risks.

Two developments that have spawned the new-found confidence in PM May are the election of Donald Trump as the President of the US and the resilience of the British economy in that order.
The election of Donald J Trump as the US President has an obvious role in the tough stand on Brexit. Trump has been a vocal supporter of Brexit. He has also come out openly in support of the UK. His opposition to Transatlantic Trade Partnerships is also well known.

Secondly, the strong performance of the economy is a key factor that has emboldened PM May. Data on the performance of the British economy in 2016, and in particular post Brexit is indeed revealing. Most European nations, including Britain, continue to face a sluggish economy. But latest statistics released by the Office for National Statistics (ONS) shows that Brexit, by and large has had minimal impact on the UK. For example, unemployment was at a record low – in fact the lowest in a decade. Unemployment fell by 52,000 to 1.6 Million in the three months post Brexit. Per the ONS, unemployment hovered at 4.8% - a 11 year low. Average weekly earnings excluding bonuses increased by 2.7% compared to a year earlier. Overall employment rate hovered at an encouraging 74.5%.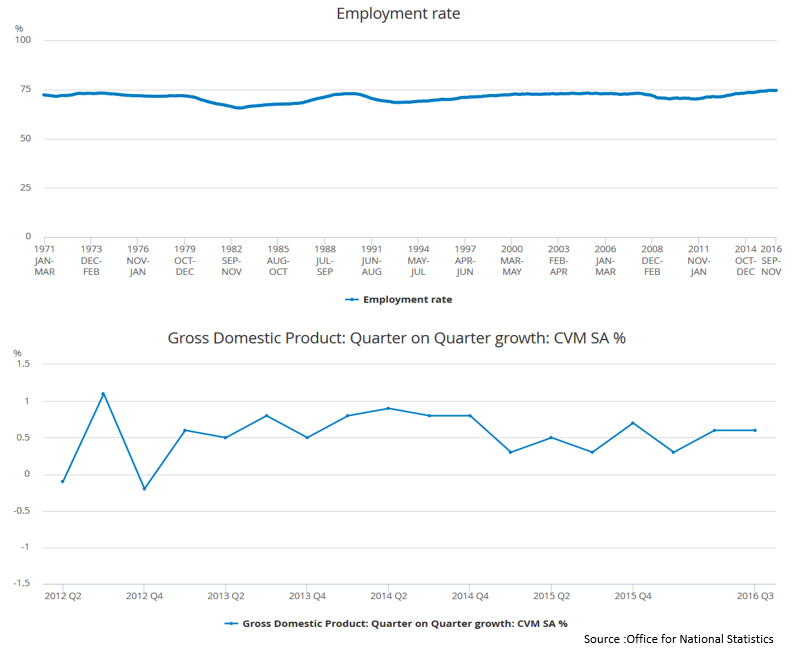 In an update to its biannual World Outlook published on 16 January 2017, the International Monetary Fund (IMF) has forecast that the British economy will grow by 1.5 percent this year, 0.4 points more than expected in October, after 1.6 percent growth in 2016. The IMF says that "domestic demand held up better than expected in the aftermath of the Brexit vote". But it has revised its 2018 forecast for the UK down by 0.3 points to 1.4 percent growth.

I have maintained all along that Brexit will have negative consequences only in the short term and had disagreed with many pundits who talked about a collapse of international trade and globalization. Brexit is a trade dispute between the UK and the EU and projecting this as a global trade malaise is an exaggeration. It is a local contagion and will have minimal impact on world trade.

Britain has had a complicated relationship with the EU. The EU continues to be dominated by Germany and France giving it little say. The UK has always harbored an ambition to re-emerge as a world leader and has consistently sought to use every opportunity to project its military, political and economic leadership. Given this agenda, it would be only logical to not expect the UK to play second fiddle in the EU for long.

While the bravado may be applauded back at home, the UK is definitely taking a big risk. Non-EU exports for November 2016 stood at $18.6 billion while EU exports stood at $17.34 billion. On the other hand, non-EU imports stood at 24.2 billion while imports from EU stood at $28 billion. (Data: UK Trade Info). In other words, give or take, 50% of UK trade is with EU. This is a sizeable chunk and the UK will have to work hard to protect this trade.

I am of the view that human ingenuity and innovation will take the lead in crisis situations. I had already expressed this in my earlier piece. My guess is that a new trade deal will be carved out by the UK with its "old friends and new allies". It is too early to predict an unraveling of the European Union. But suffice it to say it will no longer be the same again. But from what appears in my crystal ball, I can safely say a new trade order and tariff regime is in the offing.

The powerful economies of China and India have been bystanders to this awesome spectacle called "Brexit". Britain seems to be working overtime to woo these two economic power houses. And rightly so as any future trade grouping and tariff regime can no longer ignore them.

For now, Brexit is not truly any exit. It is the ushering in of a new era in international trade.