I and my friend Jayanta and Debashish decided to spend three days in the lap of Himalayan nature free from urban turmoil. As such, we set out by Darjeeling Mail on 25th December, 2016 (day before Christmas). As soon as we kept our feet at New Jalpaiguri the next morning, the Kanchendzonga peak freshened our spirit.

Reaching New Jalpaiguri, we went to Siliguri bus-terminus (7 km) by auto and booked a sumo (share) for Rs.150/- (each) to reach us to Jorbunglow one kilometre away from Ghoom. Then we booked a car which on the basis of our early request Mr. Gopal Kundu arranged on payment of Rs. 1000/- (rental).on the way Mr. Bishal, our host, already phoned us.

It takes around 40 minutes from Jorbunglow to reach Takdah, Dabapani. This road is fully motorable through tea garden. This road is picture some after all accompanied with different Himalayan birds.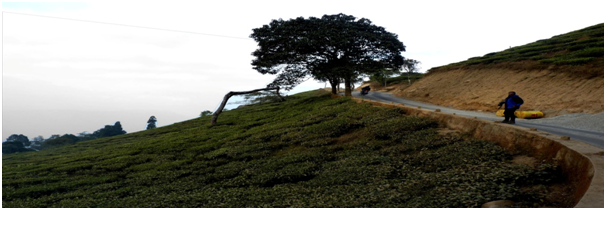 The Way to Takdah- Dabapani
As we reached Takdah, Dabapani after that tremendous car-ride, Mr. Bishal welcomed us with a grinning Namaste. We had to ascend some boulder-steps to reach the Resort, a beautifully decorated Home-Stay.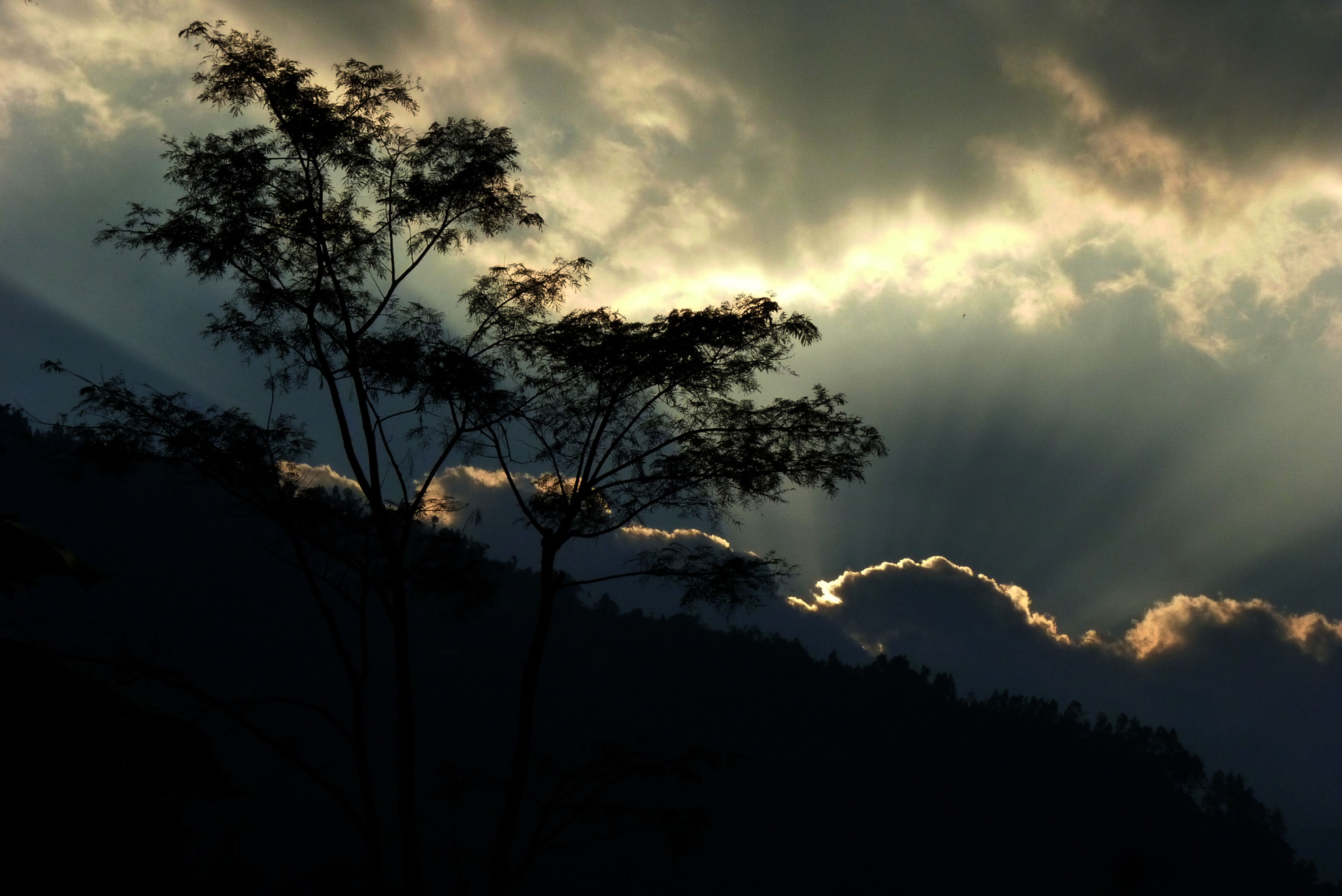 Sunset from Dabapani
Though on the way we faced a fogy whether, arriving at Dabapani, we enjoy the clear sky with gorgeous Kanchenjunga. What is notable is that this is the place where you will notice an orange orchard. Crores of orange are there in every branches of the trees. Therefore we got busy with our cameras. After roaming in the orchard we returned to Resort in the evening after watching a spectacular sun-set. Mr. Bishal made the happy announcement of serving us chicken curry in dinner.

This is historically an important area since the date of establishment of the town of Darjeeling. Water of Dabapani spring was healthy and worked as medicine for stomach even to the Britishers. Hence Daba which means medicine significantly named the village Dabapani.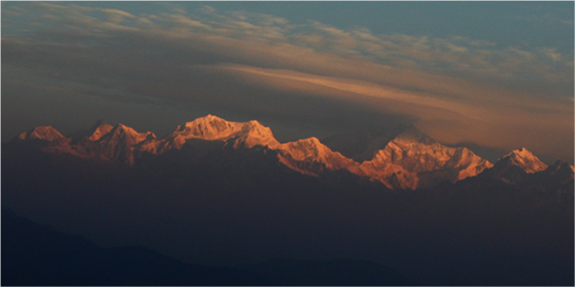 Kanchanjangha from Dabapani
This village houses around 30 families. Felling of trees and basic agriculture (mainly orange & ginger) was the way of life of the villagers, but newly started eco-tourism is the new found alternative source of livelihood that runs parallel.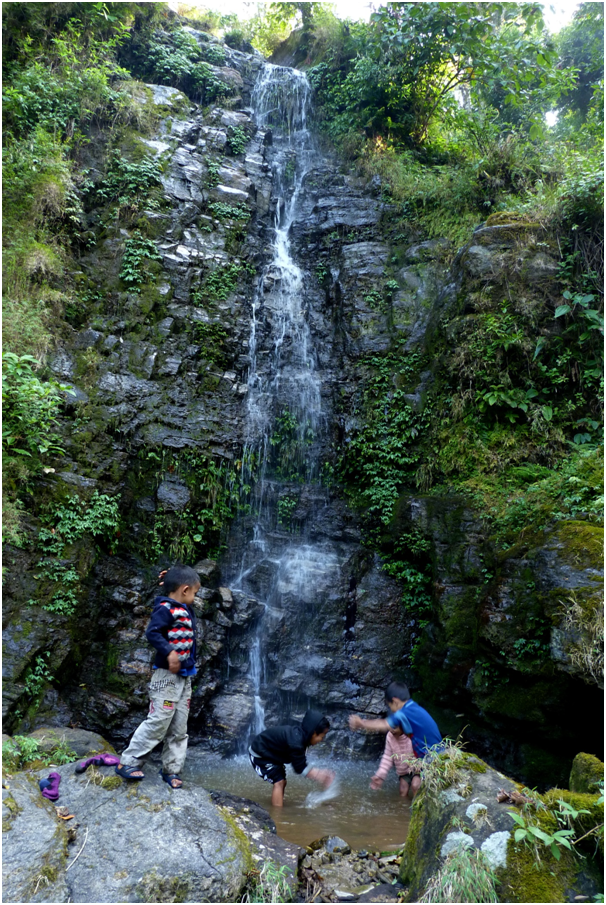 Dabapani Spring
Eco-tourism is a collective brain-child of Mr. Tshering Gopal and the result is the conception of Home stays is growing one. There is permanent electricity supply in the village that no doubt provides comfort to villagers and tourists. Tourists have no problem charging their mobile phones or camera batteries. The main attraction of the village other than its pristine greenery is the open north with the towering Kanchendzonga, the Dabapani Spring, Uttisini river, the lash green Tea Garden and Namchi town of Sikkim as far as the eye can stretch.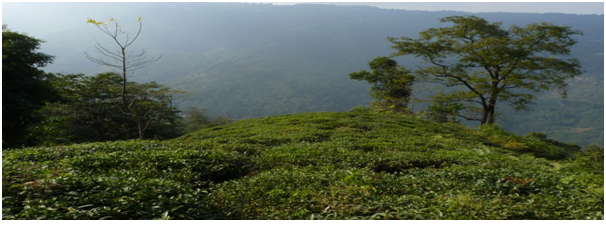 Dabapani Takdah Tea Estate
One can also enjoy the Uttisini Round Trek and reach Darjeeling trekking by time-taking distance of 3 hours and spend quality time in the lap of nature. Therefore after idle living for 2/3 days in Dabapani, one can reach Darjeeling and hence to have the twin taste of outing.

The location of the village is also very interesting. If one stands facing north, beneath the sloping village is Orange orchard the Uttisini River – on the north side of the village there is a tea garden and adjacent to this there is a beautiful resort. The other side of the hill there is Namchi, Sikkim. The gigantic Buddha Statue can be seen from here. The Glenburnie Tea Estate also can be enjoyed from this Resort. The view point is undoubtedly one of the most vantage locations in this entire region to view both the Kanchendzonga above and thekdah Tea Grden.

The Dabapani spring is one of the beautiful ornaments of the village and the kachcha road leads to it through jungle. It is a hilly way crossing some wooden bridges. The place would interest one more for bird watching. A nice bird's eye view of Sikkim in the day and Darjeeling in day time and at night also is sure refreshment.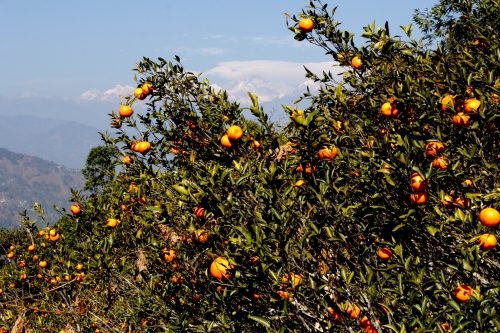 Orange Orchard
Some useful information:

1. One can visit Dabapani throughout the year especially in winter
2. It is not very cold there during winter months.
3. Be prepared for leech-kisses in the forest in rainy season.
4. You may directly contact Mr. Tshering Gopal (ph no. 9143735581/ 8436541132), or any other resort from websites or traveling agents (www.adventtreks.com). The rate per head per day (24 hours – including breakfast, snacks, lunch, evening tea, snacks, dinner, and night-stay) is anywhere from Rs. 700/- to Rs. 800 depending on season etc.
5. Car may be arranged by Mr Tshering Gopal on demand.