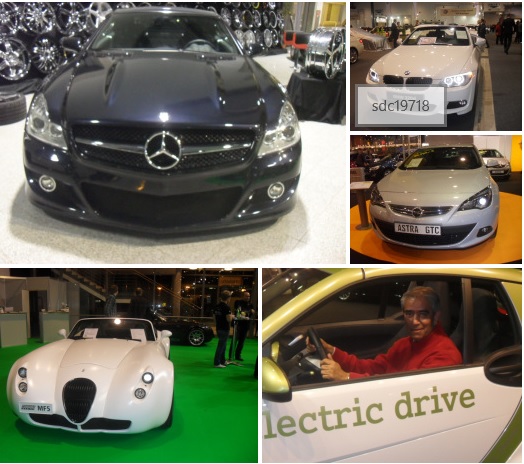 Why are we fascinated by old cars , as well as new ones)? How much does it cost to gather old cars? Where can you find beautiful cars? And what does the exhibition-cum-fair called 'Automobil (e) have to show lovers of Oldtimers and fast German and international cars?

Cars are mostly mass-produced wares. But how can you make them special, individual? Through tuning.

At the fair with the name ' Automobile, Tuning and Sound Convention running in Freiburg's fair ground (Messeplatz, near the small airport, there was the biggest new car fair in South Baden, and the 7th Tuning and Sound Convention, with great cars and entertainment for the visitors, because cars have always had a cult-status in the society. I knew two workers from Romania and Sri Lanka who worked in a microchip factory. No education, no scope in Germany, aside from the factory job, but they were contented and drove big, fat Mercedes Benz cars(second hand, of course). It was a sign that they'd arrived in Germany. The car was the symbol of attainment in their lives.

Back to the tuning. Caroline Schubert from Gundelfingen, who is the Tuning Convention Girl, was looking for a successor. Katherina Kuhlmann, a TV moderator, racing driver and model and Jo Scholz were also there. Besides the Miss Tuning and Sound Girl competiton there was also body-painting , grid-girls, games amid the smell of petrol and rubber permeating in the air, in addition to sound measurement, chip-tuning and car-styling.
In 2013 there were some 50 promoters present with their products: 22 latest brands from nine countries: Audi, BMW, Citroen, Dacia, Fiat, Ford, Hundai, Iveco,,KIA, Mercedes Benz, Mini, Mitsubishi, Opel, Peugeot, Renault, Seat, Smart, Subaru, Toyota, Volvo and, of course the exclusive Wiesmann automobiles. In the meantime, the Tuning & Sound Convention has established itself and this is the 7th exhibition. Besides the professional tuning there are also private tuning services.

This year 300 vehicles are on display with 30 car types with a lot of highlights from the car industry, fascinating old timers and luxury sports cars. The Automobile Award 2017 will be handed for the first time to the best car in hall no. 4. This runs under the motto South Baden searches for the its best car. The cars taking part in the competition can be seen from the 20th of February 2017.

In the past, besides a Miss Freiburg competition and the winner could take part in the Miss Baden-Württemberg competition, which in turn could be used as a jumping-pad for the Miss Germany selection. In 2013 the then Miss Germany Ann-kathrin Kosch sat in the jury. This year's Miss Germany is from Saxony and her first name is Soraya Kohlmann, 18 and she's blonde. A Freiburger Tuning Girl 2017 will be elected on Saturday. The models are organised by the Model and Event-Agentur Allure and there are attractive prizes to be won.

As in the year 2011, the passion for cars seems to increase unabated, despite the financial problems of European countries and the software scandals in the case of major German car manufacturers. Although tuning seems to be a domain for men, where there's a lot of horse-power involved, beautiful girls aren't very far. Most of the visitors were obviously male but the number of ladies interested in automobiles is rising gradually. Styling is 'in' in the case of cars and female models.
Who hasn't dreamt as a child of cars? As boys you read comics and were fascinated by the sleek, streamlined form of the batmobile, a Porsche, a Bugatti or Ferrari. I went many years back to the Black Forest Classic Days at the local fair (Messehalle) at the invitation of Dr. Franziska Pankow, who runs the Freiburg Commerce Tourism and Fair. And there they were: the Oldtimers from different epochs.

Dietrich Grossblotekamp, an author on cars and the PR man of the German Automobile Veteran's Club in South Baden says: 'The term 'old car' is not precise for an Oldtimer. Such a car is a historical vehicle, at least 30 years old in original condition or restored. Old cars become Oldtimers when they fulfil certain conditions.'
Four historical cars that caught my eye were: a pre- World War II one, and from the fifties, sixties and seventies.

One of them was the stately rarity called Sunbeam Speed 20 Monte Carlo from the year 1934. The English firm manufactured bicycles first, then motorbikes and since 1899 also cars. The Chrysler Sunbeam was the last model in the year 1977. The Sunbeam in question was a pre-war, black English Sport limousine of the upper class. 30 such wagons were produced, of which only five exist today. It has a three litre six-cylinder motor with 72 horse-power and attains a maximum speed of 135 km per hour.

The next attractive car was the Fiat 500 Topolino, which was produced in Turin (Italy) in 1936 in three versions. The Italians dubbed it 'Topolino' which means a wee mouse. The exhibition model belongs to the series C, which was built from 1948 till 1955. All in all, 370,000 left the factory. It had a 4-cylinder motor with 16,5 HP.

Jaguar began producing cars in 1931 and till then it had manufactured motorbike side wagons. There was a Jaguar MK II, a sporting limousine built in 1967, with a 6-cylinder motor and a 165 HP. The maximum speed was more than 200 km/h. Good for the autobahn on the left spur (track).

There was even a Volkswagen 1303 LS Cabrio. The first carosserie factory in Osbabrueck started rolling in 1949. This one was built in 1978. I love cabrios. The car had a 4-cylinder motor with 60 HP and used to cost 8840 euros in 1972. In Deutsche Marks that would be quite a lot. Exactly 320281 VW cabrios were produced from 1949 till 1980 by Karosseriefabrik Karmann. It might be mentioned that there's an Oldtimer Stammtisch, where Oldtimer fans sit around a table and talk about their cars, in Holzhausen (South baden). Holzhausen had also BMW-motorbikes like the one-cylinder R25 and the two cylinder R51, mopeds built by Messerschmidt, BMW-Isettas, BMW 600, an unrestored NSU Prinz 2, and even a Goggomobile. A Mercedes 170 DS from the year 1953 was also on exhibit.

The Hippies who drove all the way via Iraq, Iran, Afghanistan, Pakistan often sold their VW T1 buses in Katmandu to chillax with hash in Nepal's capital and Pokhara, before flying home was also on exhibit. We in Germany called the bus 'the bulli'. The closed version of the bus was called 'Die Ratte' (rat), perhaps because you could scurry with it everywhere.

Whether the cars in the old days were better is a matter of taste. In the old days the automobiles were individual in design and upholstery, unlike the uniform carosseries constructed in the wind canals today.

Can only rich people afford such Oldtimers? Not at all, because there are enough historical vehicles that even people with small wallets can afford. And cars that are no longer in demand can be inexpensive and come from people who can't part from their favourite cars, which they hide in old barns and garages. Or you can buy them cheap in other countries. I know a medical colleague who bought a vintage Mercedes in India, and had it shipped to Germany. There's an Oldtimer rally with participants from a lot of European countries in the month of May in Kirchzarten.

Welcome to the Automobil exhibition with Tuning & Sound Convention 2017.