In the Flickering of an Eye by Neelam Saxena Chandra
ISBN 978-93-82536239
Price Rs. 225.00/ Pages 172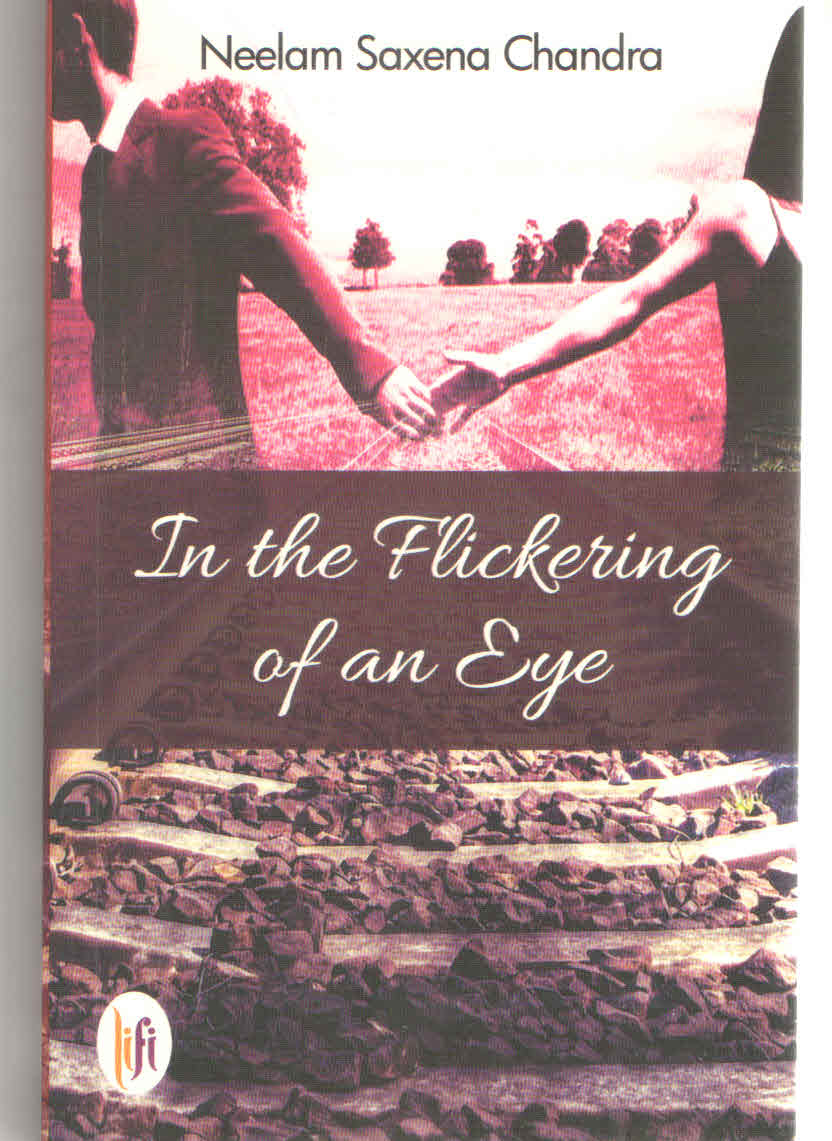 The love story of Vinay Dev and Manju, both neighbours hailing from Dhanoi village makes a compelling read as it unfolds and makes the readers want to sit through and finish it at one stretch. The flame of love between the two started to blossom when Manju, despite standing a fair chance of winning a volley ball match deliberately looses it and makes Vinay's team win with a view to boost his self-esteem. From then onwards slowly and progressively love between them flourishes, but being from the same Gotra, they were not supposed to enter into marriage as per the belief and panchayat rulings. Also precedence existed where in similar instances, the lovers were killed by their own people . However, Vinay and Manju were not ready to accede to the customs, which they believed were neither humane nor logical.

But the love affairs having become known to Manu, Manju's repressive brother and through him their families, the issue became serious and arrangements were being made for Manju's engagement to another guy whom she disliked to the core. At this point of time, Vinay and Manju hatched a plan to elope to Delhi. Vinay's mother was the only soul, who stood by her son's decision, but she was not bold enough to voice her views openly. They met at the railway station, but to their dismay, Manu and his team were after them. Though they put up stiff fight with courage, luck was not in their favour and in the melee both of them were parted and travelled to different destinations. Fortunately their lives were spared, thanks to the intervention of people travelling in the same trains.

After long twenty five years Vinay and Manju met quite unexpectedly in a hill station and they tried to pick up the lost threads of their life. They returned to their village and saw that the people opposed to their union were old and frail and found repenting for their mistakes. Thus Vinay who went to the hill station to write a story ended up inventing his own life story.

The invisible walls built by men in the name of religion, caste, creed etc, are maddening people. The message is clear and the positive ending gives the readers a good feel. The transformation of Vinay from a frail, shy village lad to an accomplished writer is told brilliantly and convincingly. The portrayal of characters in the story is distinctive. The story teller in Neelam makes the readers gripped in the amazing story line, twists and happenings with simple narratives. Nowhere the author employs jargons just for the sake of it. 'In the Flickering of an Eye' is a book worth your personal collection of books.