An Enamored Emperor: I, Krishnadevaraya by Ra.Ki. Rangarajan translated by Suganthy Krishnamachari, Westland, pp. 396, Rs. 399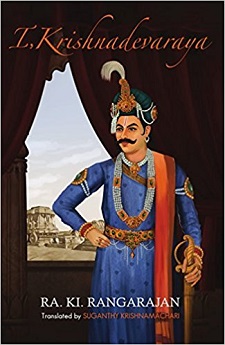 Voracious Tamil readers of nineteen sixties and seventies would not have missed the serials and short stories of Ra.Ki. Rangarajan; he was associated with the popular Tamil weekly Kumudam. Ra.Ki.Ra was a versatile writer and fascinated his fans with several pseudonyms dealing on numerous topics and genres. He had also translated many popular English novels like Henri Charrière's 'Papillon', Sydney Sheldon's 'Rage of Angels' and short stories of Jeffrey Archer which were serialized in Kumudam for the benefit of the Tamil readers.

Once, according to the author, he was asked by popular actor Kamalhassan to translate a unique English novel 'I, Claudius' in Tamil. Instead, Ra.Ki.Ra, being a creative writer, ventured into one on his own on the popular South Indian emperor Krishnadevaraya of Vijayanagar on the lines of 'I, Claudius'. His Tamil novel 'Naan, Krishnadevarayan' was serialized in Anandavikatan, in fact, a rival Tamil weekly of Kumudam.

Ra.Ki. Ra had chosen to present the novel in a different manner completely departing from the usual style the Tamil Historical novels were written. It was a first person narration which undoubtedly a daunting task for the author to cover a lot of incidents, war scenarios, the opulent style of living of the rulers, the power of religions and rituals prevailed during those periods in addition to sharing his simmering emotions. Surprisingly, the undercurrent of the novel was a unswerving love of the scholar emperor for a danseuse Chinnadevi.

Krishnadevaraya had to face countless testing situations, unenviable wars with the other kingdoms, compromise on his marriage and the constant interfering of a young girl Gayatri in all his personal and professional affairs. In fact, when one reads the book, he/she may likely to get the doubt that whether the heroine of this novel is Chinnadevi or Gayatri. Chinnadevi speaks very little and appears in a few places only whereas Gayatri is a memorable character running throughout.

This historical story unlike other novels, just does not project only the glorious side of those times and claiming to have a great culture and attitude of the ancestors. It brings to light the faith on cruel customs like human sacrifices, irrational beliefs and superstitions, mercilessness on women like enforcing Sati, mad religious fervor, the arrogance and ego of the rulers to name a few.

The most captivating aspect of the English translation 'I, Krishnadevaraya' is the excellent language of the translator Suganthy Krishnamachari. Translation of a period novel into English is no cakewalk. But, Suganthy had done a remarkable job in such a way that the reader feels the comfort of reading an original. The descriptions whether it is on the beauty of nature, or a profound and serious conversation between the emperor and his mother or ministers or Gayatri were simply superb.

It is rare to come across an interesting historical novel on South in English language. Krishnamachari's book is bound to introduce one of the popular writers in Tamil to non Tamil speaking population world over through her impeccable language skill.

Those who like period novels on the Indian scenario should never miss 'I, Krishnadevaraya'. The novel provides a great insight to the life, arts, culture and flavor of the bygone era in a simple but significant way without any bias.