Narayana Reddy, an eminent poet in Telugu, a scholar, critic and an equally successful lyricist, orator, educationalist, administrator and a Jnanpith Award winner died on 12th June, aged 85.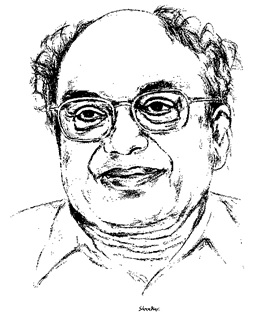 C Narayana Reddy, popularly known as CINARE, which has become "a byword in every Telugu home for lyrical excellence and verbal-melody in poetry and song", was born in Hanmajipet village in Karimnagar district of Telangana state in July 1931. He came from a family of agriculturists and his parents were Malla Reddy and Buchchamma.

Intriguingly, he had his education up to graduation in urdu medium and it is only in MA and PhD that he studied Telugu literature. He then started his academic career as lecturer teaching Telugu at the Secunderabad Arts and Science College and then became a professor at Osmania University. Later he held many notable posts such as Vice-Chancellor of Open University in 1985 and Potti Sriramulu Telugu University in 1989, chairman, State Official Language Commission (1981-85) and Adviser to state government on cultural affairs during 1997-2004.

This academician, who, out of his sheer intense love for language had not only read the ancient and medieval classics of Telugu literature along with the contemporary poetry on his own but also imbibed its nuances thoroughly, had finally made his debut as a writer with the publication of a slender volume of musical-lyrical ballad, Navvani Puvvu (the Bashful Flower) in 1953. Later he emerged as a full-pledged poet with the publication of his Ritu Chakram (Cycle of Seasons) in 1964, Madhyataragati Mandahasam (Tender Smiles of Middle Class) in 1968, Mantalu Manavudu (The Flames and the Man) in 1970 and finally, his magnum opus, Viswambhara in 1980.

His canvas is expansive. He had been consistently bringing out a volume of poems on his every birthday. He had penned over 80 literary works that included poems, lyrical-plays, prose-plays, translations, ghazals and so on. True to his very age, his early poetry is instinctually romantic. But over his long poetic career of over five decades, he traversed varied and complex poetic paths: classical, progressive, revolutionary, and humanistic without, of course, ever confining himself to any narrow ideological school. His poems are known for his subtlety of thought, depth of feeling and lucidity of expression. His diction is musical. His poetic output is quite impressive in volume and variety. Being a fine blend of popular appeal and artistic virtuosity—a fusion of lyrical romanticism, optimistic humanism, progressive idealism, and healthy realism—his poetry that ever expanded into newer frontiers of themes and schemes caught the attention of pundits and commoners alike.

His early anthologies such as Navvani Puvvu are full of beauty in its various manifestations that created a fascinating world of magic. In Karpura Vasanatarayalu, a lyrical-play, while portraying the infatuation of Vasantha Rayalu for Lakuma, he creates such ethereal images as:

"You are the
Full resplendent Moon;
I am the
Darling lily flower;
The fragrant staircase
Links us up
Eternally." [1]

Prof Chekuri Ramarao observes that "for sheer elegance of lyrical expression, mellifluous language, arresting image, haunting melody and tilting rhythm, Vasanata Rayalu that was written by him at a very young age has few equals in contemporary Telugu poetry".

In a poem called 'Neetipaata', perceiving water as an allegory to beauty, he describes the flowing water airing a soulful raag:

"muvvalaa
muralilaa
mohana Radhikalaaa

—–like an anklet-bell / like a flute / like enchanting Radhika", which aptly depicts his mastery over language and imagery as also his love for nature. It is this innate love of him for splendorous nature that well reflects in his Ritu Chakram, in which he proclaims:

"I visualise the universe entire
As one composite whole;
Inside it glows the Divine
Lamp
Of sweet fraternity and
Friendship"[ 1]

Along with his growing age as he turned away from romanticism to humanism, he expresses his amazing awareness about man's eternal search for joy amidst perpetual strife in a finely chiselled image in his Mantaluu - Manavudu:

"Agniparvatam anchu meeda
Anandam etukutunnadu
On the top of the volcanic mountain
Seeking bliss"[1]

Empathizing with the middle-class people and their struggle against the stifling environment of rich craving for more wealth and power sans scruples, Reddy garu portrays them in his poem, Madhya Taragati Mandhaasam as collectors of: "The flowerpots of worries / The crackers of little tiffs" for Deepavali. At the same time, being a staunch optimist steeped in humanism and hope, and being confident of man's ability to conquer the predicaments with the aid of science and technology, he describes man's struggle for bringing in change thus in Mantalu- Maanavudu:

"Endowed with imagination, Man,
Radiant like the Sun,
Restless like Mass upsurge
Hasn't cooled off."[1]

Narayana Reddy garu had a supreme command over the language and the craft of poesy. His 'poetic competence' infuses Sabdaalankara—a fine rhyme—in his poetry in which we witness not only the rhyme of sound but also the meaning of the words so well projecting a fine imagery that leaves the reader in an exquisite joy as is experienced while reciting the following lines:

"Aakula miida
reekula miida
goolla miida
goodala miida
kattula orala miida
kaagitam porala miida
cheeti karrala miida
tambura burrala miida
rekkaletti egisindi
Dekkaletti nadichindi
padagaletti nartinchindi
goduguletti wartinchindi."

"On leaves, on plates
on walls and on finger-nails
on the scabbards and on rolls of paper
on walking sticks and on the chambers of tanpuras
it flapped its pinions
it pranced with its hoofs;
it danced with out-spread hoods
it spread its tinted parasol."[2]

(Viswambhara)

The poet's robust optimism and his faith in the immense strength of man in even transcending the constraints of time and accomplishing eternity reflects so well in these lines:

"A cloud sobbed aloud:
The days of roaming are but few,
A flower signed alone:
The time of blossom is but a day,
A dewdrop smiled away:
The time of thrill is but a moment…
The stout heart
That knows no retreat,
With clenched fists, shouted:
The span of the kinetics
Of the soul Force
Is Eternal."

The significant feature of his poetry is the deep humanism—"Poetry is my mother tongue / The theme pervasive is humanness"—and this credo radiates all through his epic, Viswambhara, for which he was bestowed Jnanpith award in 1988. As he declared himself, Viswambhara's protagonist is man, "the apex of the rhythmic throb of nature / …the image of revolving universe." Its backdrop is the vast universe. It delineates man's history without of course getting bogged down with dates and names. And in it man appears in his varied emotional states as powered by the prowess of his mind. It chronicles the progress of the man from the beginning to till the date of writing. Mapping man's endeavor under three heads: cultural, scientific and spiritual along with the setbacks that he encountered, the poet asserts that though wounded, man has not vanquished. It is portraying his images of the cosmos on these lines, the poet signs off his epic in an optimistic note: "Manasuku todugu manishi / Manishiki udupu jagati / edee viswambharaatatvam / Ananta jeevita satyam—–Man is the rob of the mind / and the universe is the mantle of Man. / This is the earth's perennial nature,— / this is life's eternal feature."

In between, tracing the divergent faculties of mind and glorifying its prowess, the poet, who is a keen observer of man, sarcastically presents its weaknesses too:

Himagirula pai egasee manasee
iruku loyallo chorabadutundhi
arunodayanalunu prathistinechee manasee
piriki chikatloo digabdutundhi

"The mind hovers over Himalayan summits
disdains not to enter dark crooked lanes
the mind ushers glorious dawns
gets entangled in gloom's quagmire."

Realizing the futility of arrogance and war and scared by their consequences, the poet, in his desire for universal love, quips:

Vinaashanam jarigite kadu
Vivekam perigithe gelupu
Samaram ragilinchedi bheethi
Sahanam varshincheedi Preethi
Anuraagam chese saasanamee
Asalina raajaneethi

"Not in destruction but in expanding illumination
True victory is scored
War kindles fear, compassion showers love
The sway of love is mightier than slaughter
That is the essence of rule"

He, narrating how circumstances make ordinary mortals into extraordinary paving the way for progress of the mankind, asserts:

"Ee rampam koota leekunte
elaa puduthundi wenuwu?
Ee uli debbaa padakun te
eelaa palukuthundi staanuwu?"

"Without the gnawing saw
the reed cannot be fashioned as a flute,
without the stroke of chisel
the stone cannot be carved as an articulating idol."

Connecting the past accomplishments of mankind with the present, he observes:

"The hand that worked the wheel
the hand that framed the law
the brain that fashioned the poems
the mind that nurtured science
shared the same reward
shared the same regard"

As though echoing John Milton, Reddy garu muses over the mind in Viswambhara thus:

"Between the sage and the brute
between refinement and defilement
between impulsion and compulsion
between compassion and carnage
the mind holds the balance delicate
the mind saws the sad primordial."

As the poet and critic of eminence, Shiv K Kumar observed in his foreword written for Amarendra's English translation, Viswambhara, a new form of epic in free verse that expounds "such fundamental problems as free will, evil and redemption" of man, merits comparison with Milton's Paradise Lost and Dante's La Divine Commedia.

Reddy garu, the poet, had also written many lilting lyrics to numerous Telugu films, whose qualitative endeavor had enriched film songs. Capitalizing on the break given by NTR as lyricist for the film, Gulebakavali Katha, for which he penned an evergreen song, "Nannu dochukunduvate vannela dorasani …" in 1962, he carved a space for himself among the then well-entrenched doyens like Atreya, Samudrala, Devalapalli Krishnasastri, Arudra, and established himself as a successful lyricist in Telugu film-world penning over 3,000 songs spanning over five decades. His songs of 60s echo romanticism at its best. For instance, in the song that he wrote for his very first film, Nannu dochukonduvate, he uses a rare expression in the last charanam that sways the listener into an ethereal lull:

Enaatido mana bandham erugarani anubhandam
(Ageless is our bonding, unfathomable is our alliance)

enni yugaalaina idi igiriponi gandham….
(For ages to come, its fragrance shall remain afresh).

My refrain of this song is: 'igiriponi (a rare but captivating expression) gandham'—never-degenerating fragrance.

There are two more songs that he penned for the film, Poojaphalam (1964) that mesmerizes me even today. The first melody is: Pagale vennela jagame ooyala (moonlit day, swinging universe). This song had engaged our utmost attention during the summer holidays of 1964 for, walking along the Bose Road in the mornings, how continually we used to discuss about the wild imaginations steeped in contradictions—–

Pagale Vennela Jagame Uuayala
(Moonlit day, swinging universe)/

Ningiloni Chandamama Tongi Chuse, Neetilona Kaluva Bhaama Pongi Puche
(Moon peeped out through the sky, lotus in the pond bloomed in ecstasy);

Kadali Piluva Kanne Vagu Parugu Teese, Murali Paata Vinna Naagu Sirasunupe
(at the call of sea, the virgin stream rolled down, listening to flute the snake swayed its hood );

Neeli Mabbu Needa Lechi Nemali Aade, Pula Rutuvu Saiga Chusi Pikamu Paade
(Peacock danced under the shade of blue sky, at the guesture of spring cuckoo cooed);

Manase Veenagaa Jhana Jhana Mroyagaa, Bratuke Punnamigaa Virisipodaa
(As the mind rings Ghana Ghana as Veena, won't life glow like the fullmoon?)

—aired in the song. And no one was prepared to listen to my pleadings that all this absurdity could turn real, could bloom in reality if only those free flowing imaginations—kadilee Uhalake Kannulunte—had eyes of their own. The second song from this film that I relish most is: "Ninna leni andameedo nidura leche nenduko—How come, sensuousness that was not there yesterday, woke up?" My refrain from this song is:

Pasidi anchu paita jaara… aa…aa…oo…ooo
(As the gold-rimmed paita (woman's mantle across chest) slipped)

payaninche megha baala
(Sailing cloud-lass)

aruna kanthi sokagaane paravasinchneee
(At the very kiss of Sun's glow goes into ecstasies)….

One of the finest lyrical imagination steeped in romanticism penned for a Telugu film!

Lastly, I cannot refrain myself from quoting his another gem of lyrics from the film, Amara Silpi Jakkana (1963) that remains immortal:

"Ee nallani rallalo, ye kannulu dageno
(In these dark rocks whose eyes remained hidden)

ee bandala maatuna ye gundelu mroogenoo …"
(In these heartless boulders whose tender spirits rang-out….)

which portrays the sublime beauty of the dark-boulders' feelings:

"Paapaalaku thapaalaku bahu dooramulonunnavi
(Stays far away from evils and anger);

kadalalevu medalalevu pedavi vippi palukalevu
(Can't move or rove, can't lip a word even);

Vuli alikidi vinnanthane gala galamani pongi poralu
(Listening to the sound of chisel, giggle with ecstasy);

Paina katinamanipinch lona venna kanipinchunu
(Outwardly look hard but inside soft like butter)

—'personification' at its figurative best, listening which, that too, in the celestial voice of Ghantasala, one gets transported to distant worlds…

This multi-faceted personality's "signature [name] scribbled/On the sand", as the poet himself once said might vanish "in a moment", but his poetry, "sculpted/On the forehead of Time" that delves "deep into the mysteries of life, displaying a rare sense of balance" is sure to "Def[y]… the transience of time" and is certain to treat the readers of future generations with dear delight.

Portrait by Sankara Narayana Sathiraju

[1] Translated by Prof SS Prabhakar Rao, Former Prof of English, JNTU, Hyderabad.
[2] Verses quoted from Viswambhara : A Modern Epic, English rendering by Dr. Amarendra (1986), Sterling Publishers, New Delhi.