Poet's Vent Regarding the Variegated Aspects of Materialistic Life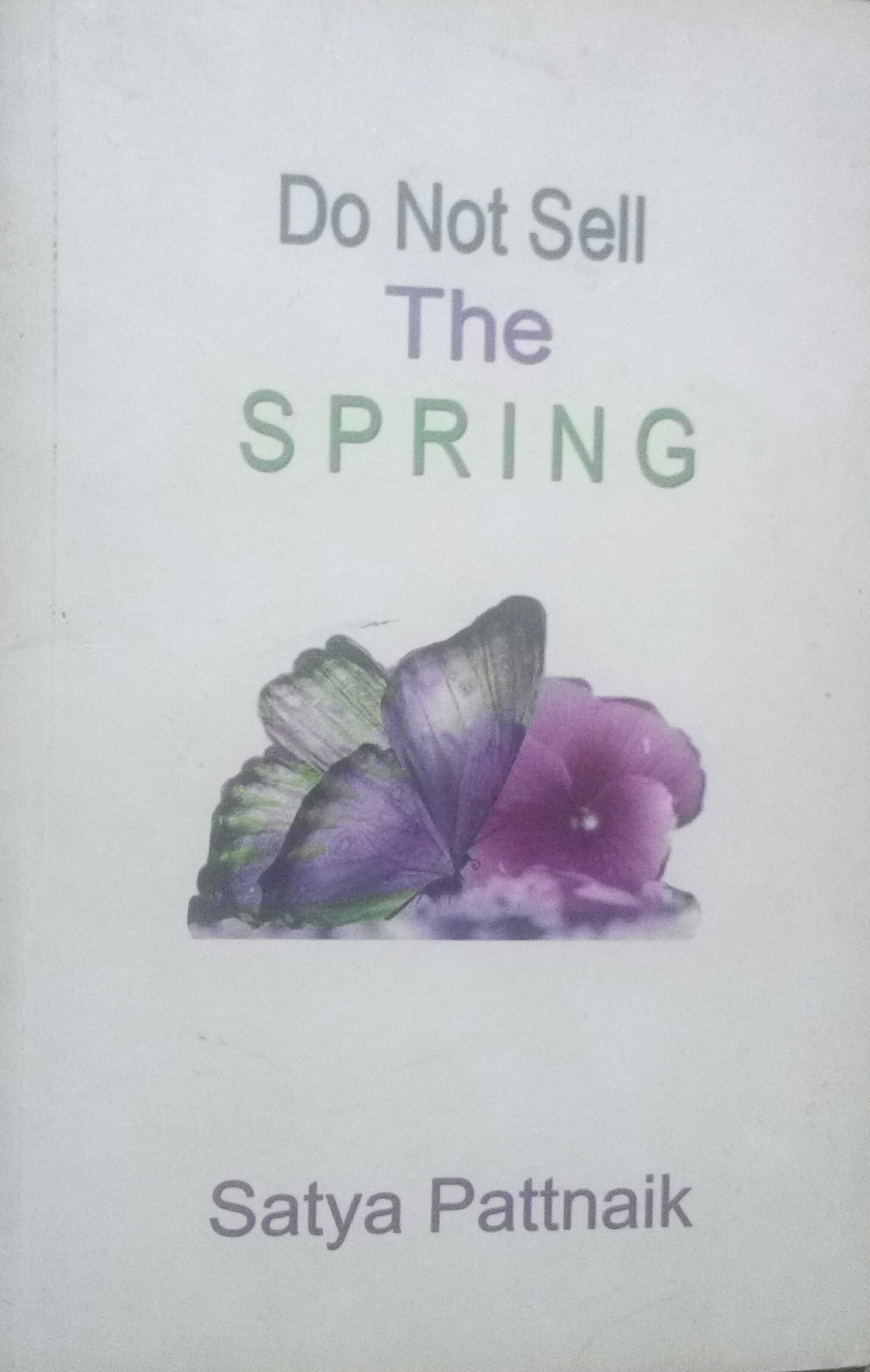 Satya Pattnaik is an award winning poet. He is a bilingual poet who writes in both Odiya and English languages. The poems contained within this anthology seem as they are the straightforward and heartfelt presentation of his true multi- coloured emotional states of mind and sentiments through which the poet touches the heart of his readers, by conveying the message to save nature, to respect women and to avoid the materialism.

A reader, Susan Joyner from USA, writes in the praise of his poetry that, "Satya Pattnaik's poetry speaks to the heart of the reader with sublimity, heart-wrenching, penetrating lines that woo the soul" (quoted from cover page of Do Not Sell the Spring). Do Not Sell the Spring is the best example of his poetic quality in which he tries to give an aesthetic shape his deep and erudite knowledge and experiences borrowed from the modern world and from the natural surroundings.

The anthology begins with ecological poem "Do Not Sell the Spring" which is the reflection of the poet's love for natural aspects and natural surroundings. He values the inevitability of natural sources which pave the way of humanoid cheerfulness, because the poet gets inspired, "I feel the breath of green shoots / touched with earthly smells" (Satya 1). I call the birds / Offer my smile instead of pains / ... / And request not to sell the spring / Do not leave the world sad and lonely. The poet finds "silent constellations" and "the stars" as his great companion whom he embraces "with intense warmth and love" it shows that the poet is a lover of nature and natural beauty and surroundings inspire him for his poetic work. His profound love for environment and natural objects and intense relationship with its genuine forms an important element of his poetry. Being in the lap of nature, he feels more re-energized and revitalized. His poem "The Colours of the Spring" and "An Echo" are the exemplification of his love for nature. He distinguishes nature as a divine element that enhances his poetic quality, refreshes his mind, and comforts his soul.

The poet values the self- meditation, which guides a man for taking the right decision. In the poem "My Providence" he concentrates on the imaginative power of man. He describes that taking the experiences from his past memory one can improve his present and future:

In the depth of my thoughts
Always I live to rediscover me
Tastes all my imaginations as the honey drops
In its passage I move into my past to feel young
Gather beautiful answers for my present
Enliven the warmth for future. (3)

Due to the influence of materialism, modern man wastes his whole life and energy in getting and spending. The poet suggests that with the power of self- meditation one can find the right way of divinity. At a stage of his life when he is about to die "after many years of my (his) walk", he realizes his mistakes as he accepts that he needs divine lights;

My time towards
Heavenly desires
To live rest of my life
Amidst love light and eternal flowers. (The Golden Bird)

Materialism is another thing on which the poet wants to draw attention of his readers. In the poem "The Golden Bird" the poet describes the fatal impact of materialism, worldly desires and possessions which compel a man to lead a fruitless life in which he never enjoys the beauty of life. He calls materialism a devil which has taken off the human being's quality of mercy and love. The poet condemns the human being's way of artificial surviving;

Faded the glamour of living
Value of life is eroding
Killing the instinct of
Love and compassion
Presently we are beyond our feelings and look
But we are heading towards destruction
Devil is designing the life for us. (Devil)

In the poem "Black Syllables" the poet criticises the modern man's tendency of telling a lie. "On the Highway" is the fatal attack on the materialistic man's machinery way of surviving. Materialism is like a "Wicked God" under its influence materialistic men, "learn to live with their manufactured heart of machine and soulless soul" ("Wicked God"). In this connection it can be said that he is talking as Famous poet TS Eliot talked about the materialistic man in his famous poem "The Waste Land." He makes an appeal that modern men should deactivate the account of wicked god.

The theme concerning desires and passion finds a focusable place in this anthology. Desires and passion have no end. Desire and Passion are presented as the biggest enemy of a man because they are the great hindrance of a man's spiritual development. He laments that, " monster like desires/ invade my house of flesh /..../ in the apartment of / flesh and blood/ dark blade of passion will cut my soul" ("Moon Dies"). Under the impact of passions and desires modern man has lost the equanimity and tranquillity of soul. The worldly passions (Maya) and desires make a man weak:

Mute my voice
Weak my body
Paralyse my speech
Disturb my language
Painted the mortal death over it (The Golden Bird).

A new desire raises its head after the fulfilment of previous one, "but the passion and dreams will bloom journey will continue" ("Battle Will Go On"), and to fulfil his desires a man strives throughout his life and reaches near to death without knowing the importance of "beauty, delight, glow of life" the desires leads a man to a stage of loneliness where he finds himself as "a defeated invader" then the man realises the significance of "heavenly desires and tries "to live rest of my (his) life / amidst love light and eternal flow.

The other most important theme which Satya Pattnaik focuses is the manifestation of female consciousness and female psyche. His poem "Only For You" shows his high deference for women:

You are a reason
To release one's feelings
With the warmth of love
As a woman perfection. (17)

"Poetry Of A Doll" represents the sad saga of a woman's life in which a woman resists her present condition and says that, "Oh! GOD I am bored / with my tight stainless steel thoughts" (20). Through the poem the poet gives a voice to the resisting tone of a woman in which a woman boldly demands for her place:

Do not use me like a tissue paper
Silver foil and golden wrapper
I want freely to stretch my hand
To have the sign of meadows in the sand ("Poetry Of A Doll")

A woman's yearning for her own identity and her confusion regarding her identity are well expressed in "An Innocent Art"
Between life and pleasure
Passion and lust
My world has confused
And ulcerated like a businessman
Of grocery shop
I am tired of acting. (21)

Women's psychological condition aesthetically portrayed in the poems like; "A Word Strong", "Am A Human Being", "Born Like A Woman." He also describes a woman superior to man:

My body (Woman's) is love not lust
It caresses life delicate
Promises the journey of heart through womb
Eternal motherhood forever it flows
Milky ways and humanities it grows
Which you (man) cannot
.....
I am only a form of female
A perfect man
Like you a human being. (Am A Human Being)

The cycle of life and death is another significant feature of Satya Pattnaik's poetry. In "My Unfinished Journey" the poet throws light on the unending journey of a man's life. In this poem he says that that materialistic man is destined to lead a "life painful." In this regard it seems that Satya Pattnaik has followed the preaching of Lord Krishna given in Bhagvata Geeta, "Nainam chhidanti sastrani, nainam dahati pavakah / na caiman kledayanty apo na sosayati marutah"(quoted from google) according to which Soul is eternal nobody can kill the soul, after the death man takes another birth again and leads another life. This process of life and death remains continued. Birth and death are only like a pause, but there is no end of this cycle. The poet calls it "my unfinished journey/ threw me to eternity ("My Unfinished Journey"). After the death a being takes another birth again, "time/ gave me a kind whisper/ patted my back and said get up/ oh my darling get up/ run with baton" (8) it shows that men take birth after death and go through the process of death after birth and the journey carries on forever. Talking about the cycle of life and death the poet also describes the inevitability of death, "someday I will die on my words" ("Dear Friends"), but soul can never die because "the soul" is " immortal" ("Dear Friends").

His poem "Sleep Together" is a fine reminder of Tennyson's Two Voices. In the two voices Tennyson describes the notion of negation and affirmation and in this poem "Sleep Together" Satya Pattnaik focuses on the man's swinging state between divine aspirations and worldly passions due to which man sometimes gets confused; "Hang sometime/In black breath and white vision" (6). The poet lays emphasis that both the worldly and divinely things work with a mortal man.

Apart from it the poet has articulately woven other theme into this anthology like quest for a new world, once yearning for a Utopia, concern for our planet - the earth (because in some poems he appeals to save nature or natural surroundings), and so on. In this way the anthology is a highly appreciable collection. Written in free verse the poet uses figures of speeches, like simile, metaphor, personification, sarcasm and conceit etc., embellish this beautiful collection of poems. Dotted with the natural things like; rivers, birds, mountains, sky, moon, spring, leaves, flowers, rainbow, each poem included in this anthology is fully didactic which teaches the values of morality, the importance of spirituality: the real lesson to lead a happy and peaceful life. So the anthology is a valuable collection which is the demand of contemporary society.
Works Cited
Pattnaik, Satya. Do not Sell the Spring. S.S. Foundation.
Google source
(This article was previously published in a journal named Langlit, Vol. IV, Issue. 1)