Recently, I went to buy 1 out of 20 million mobikes that are produced in the country. As per prevailing regulation, each two wheeler sale must accompany with a helmet. You like the make or quality or not, there is virtually no choice. The price of the helmet is built in along with compulsory accessories. At best, one may negotiate with the vendor for a better one and pay the difference. Anyhow, helmet is compulsory. Here begins my Make In India.

What do we want to make? Whom do we want to make it for? In China, these questions were answered several decades back. Apart from their own need of consumption, they wanted to make for the world. They did so by identifying needs of the local market of that country for which they were willing to produce. In Indian context, best example is 'Ganesha'. Images and paintings, sculptures and moorties, artefacts and souvenirs; gift boxes to musical door bells; entire Ganeshji décor is made in China for huge Indian market. Therefore, one would need to be very specific when it comes to decision making; and choosing the product.

How to identify products for development and indigenization is a very simple and basic exercise. I present here one case study, born out of recent experience of buying a new mobike. Readers, don't think its an one-off idea. Product after product, and 100s of products flooding the markets, would have to be picked up, one by one, for Make in India to actually happen. Yet, some more food for thought before case study.

When we visit Small Scale Industries Institutes set up by government, what we get there is obsolete and stereotyped, but ready project reports on almost all the products mentioning potential, raw material requirements, from whom to source, machinery or skill prerequisites, finance estimates, so on and so forth. But trust me, they are all pieces of paper, junked in libraries with no readers and takers. A practical approach is very different because much more and accurate information is available today on the internet. Perhaps the incumbent government has yet not taken cognizance and tradition is continuing unnoticed. Huge resources are lying underutilized. Government would rather reconstitute these institutes with new charter to do prototyping and help in actual execution of projects.

Product design and development is one area in which very little work has been done so far. Firstly, there are very few institutes of learning in this field in the country. In order to be a universal institute offering all sorts of design specializations, actual product designers who end up being product designers in career can be counted on figure tips. Some get absorbed in industry or academic profession and eventually limp on knowledge and skill; loosing zeal to experiment and invent. Core designers need independence and prefer being proprietors on project. Hence, it's left as a very small industry.

Second major challenge, lack of high precision and quality tool and die makers. It is very expensive to experiment. A design error and the end product may not give a rich look and finish. Current state of Indian tooling is good only for producing unbranded type items of not so much of detail – something like sheet and basic moulding only. Given the present condition, a serious businessman would not take a chance with Indian tool maker. Small entrepreneur is already entangled in domestic doldrums, what to talk of looking abroad! Hence, manufacturing is stuck.

What are our centres of technology doing? Whatever they are doing, let them do because I am least qualified to challenge or comment. But what I want is that they be assigned a product for development and indigenization as an additional co-curricular activity. Rather than thinking of selling it, let them give away the knowhow, the end developed process or technology to the most worthy entrepreneur willing to Make In India. Why I suggest so, because our IITs are deemed to be doing 'Big' things in research, design, development and technology and what I am expecting from them is just a petty job. But it can surely go as a co-curricular add-on burden.

Modesty apart, it is incumbent upon our centres of research and technology to develop consumption worthy, globally competitive and viable products; acceptable to both market and consumer. Despite claiming to be working closely with industry and publishing project reports, why are there no takers if the suggested processes and products have production and market viability. Or is to say, domestic entrepreneurship is far less developed than we continue to claim!

There is no risk appetite. Importing is safer than producing. In another article in the series, I am suggesting two new business models and a fundamental change in ministerial structure of the government to rejuvenate industry and go for Make in India

Case Study: Security Chain Lock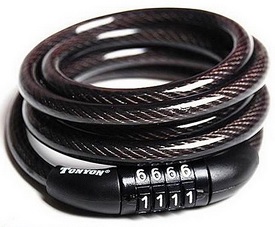 You would notice and agree, almost all motor cycles and other two wheelers including bicycles use the pictured security lock to tie a helmet. This simple chain with a 4-Digit number lock head, also available with a small key operated one, is available for Rs.100 on the footpaths of Nehru Place and accessory hawkers. Retail shops charge a little more.

Consider just two wheeler and cycle production of the country. India needs 50 million of these lock units annually. Currently, entire need is imported. Isn't this small useful product a 500 crore rupees idea!

Raw material cost is no more than Rs.20/-. Can the IITs of India develop and pass on the process knowhow to a worthy startup? Can we produce this huge quantity in marketable form for Rs.50/-? Ok even 60, ex-factory! Can the government of India help in making this chain lock a mandatory accessory with all 23 million two wheelers produced in the country? Unlike the compulsion of paying Rs. 560/- for helmet not even worth Rs.200, I am sure, the new bike buyer would be more than glad to shell another Rs.100/- for an equally useful chain lock.

We can have a pool of ideas and there is no dearth of them. Only someone from the government's end alone would need to take a ground level action and path breaking initiative for Make In India to succeed. Large infrastructure and turnkey projects are eating away all investment and not generating meaningful number of jobs. But there is no stopping the government to experiment with the strength that lies in mass entrepreneurship while still continuing with its dream projects.

Otherwise, India, a huge market for imported items, (unnecessarily being imported due to disinterest in manufacturing and ease in importing) will continue in comfort zone; only to be repeatedly hit by uncomfortable burdens like MNREGA and other giveaways.