Nylon Rope by Sujatha;
Translated by Suganthy Krishnamachari; Westland & Mysticswrite; Rs.175. pp115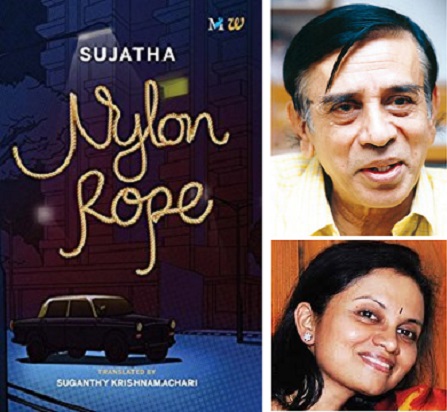 Sujatha's (1935-2008) stories came as whiff of fresh air in Tamil magazines which was till then dominated by family melodramas and historical novels. His writing instantly appealed to the reader because the way he used the Tamil language for crisp narration. His short story in Kumudam, a popular Tamil weekly 'Sasi Kathirukkiraal' gave him a different identity. Soon his short stories started appearing in other popular magazines also in the years 1968-69. An electronic engineer by profession and with the original name R Rangarajan who wrote in his wife's name Sujatha soon became a household name after his first serial thriller 'Nylon Kayiru' (Nylan Rope) in Kumudam. He wrote on many subjects and genres and left a unique imprint in everything he touched from literature to cinema.

Nylan Rope is, rather a brisk story of a man who takes revenge on an individual leaving no clues to catch him. Yet, there is a retiring and intelligent superintendent of police tracks him down because of his long illustrious experience and intelligence.

A young and rich engineer who is a playboy was murdered with a nylon rope in his flat at the upper crest of Mumbai. The hasty presentation of the case by the police was dismissed instantly at the Magistrate court itself without identifying the killer. A retiring superintendent of police Ramanathan became curious and tries to trail the culprit. His guesses, theories and hunches led him to the executioner. What happens in the end forms a wonderful climax of the novel.

The translator Suganthy Krishnamachari had already established her credentials of high standards through her fluid language with her translation of another popular Tamil writer Ra. Ki. Rangarajan's 'I, Krishnadevaraya'. Suganthy once again proved her extraordinary writing skills through 'Nylon Rope'.

Those who cannot read and enjoy Sujatha's original writings in Tamil, 'Nylon Rope' will be a good one to start with the famous writer's other creations which may likely to follow in the near future.