The Symphony of A Soul (A Collection of Poems)
Poet: Akanksha Krishnatre
Year: 2017, Rs.: 300/-
ISBN-978-81931861-5-8
Publisher: Creative Campus, Hyderabad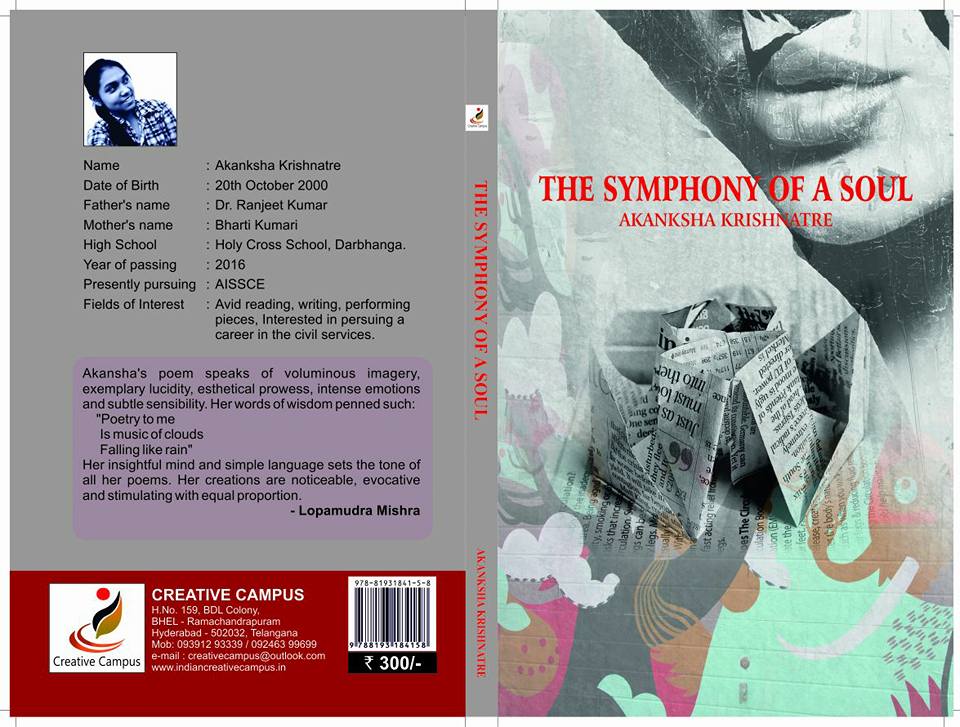 Poetry comes spontaneously to a sensitive person who soars up with imagination and captures some best moments of life, dreams, thoughts, ideas and emotions of different colours that beautify the portrait of his/her heart and mind where soul rests in peaceful bliss. As an inborn art of heart and soul, it needs no set of rules and norms as such. Even a single word or phrases, or lines, if emotionally and thoughtfully charged, can cause sparks that stir the inner world of readers. As a poetic prodigy, Akanksha Krishnatre is gifted with such power of appealing and evocating in us a deepened sense of life, heart and soul. She has brilliance of thoughts and excellence in the language and is all set to knock door at the poetic door of the literary world with her first collection of lovely poems entitled The Symphony of A Soul.. She has successfully poured out her intensely felt feelings and emotions. Her poetry has a range and variety as her poetry touches many aspects of experience- from individual to social and global. She is a great artist with beautiful words.

The Symphony of A Soul is a commendable poetic endeavour of this teen poet, who is on the way to emerge on the contemporary literary scene as a strong poetic voice. Her anthology is sure to leave a remarkable impression on mind and heart of the readers. She chooses the stuff of her poetry from all walks of life- from the seen to the unseen, from objective world to the subjective world. She, in her poetry, deals not only with social, political and familial stuff but also moral, mental, psychological and emotional issues of contemporary life. She picks up the beauty of nature when and "Where raindrops fall" and fulfils her deep sense of aesthetics and with all the sublimation of life. Her poetry is a fantastic memoir of "exuberant memories" of the past giving a sharpened edge to her creative excellence. She plays "the symphony of words/ And music with rhythm" to transcend the sorrows and pain of the world to seek shelter in Divinity. Further, in her "The Things We Do For Love" she talks of her poetic endeavours:
Writing poetries,
That exist on the undertones of flesh.
Branding the heart,
Cushioned with the proddings of my pen.
In those fearfully bright lit eyes,
Which hold the abyss
And void with reflecting light.
In the very beginning of the collection, she adds her own definition to the plethora of definitions of poetry before she takes us along with her to the realm of her poetic thoughts, ideas, feelings and emotions well woven in her poems. She lips-
Poetry to me
Is music of clouds
Falling like rain
With blessed word drops.
Similarly in the poem "I" she expresses her poetic thoughts and perception. As a matter of fact, poetry has the power to touch one's heart:
I am a poetry,
With rhyme scenes forgotten
Just flowing with the wind.
The words combed together
Sharp like claws
To strike a chord hard,
On the strings
Of innumerable sins.
She adroitly employs many a metaphor to bring her point to explore riches of poetry. She calls it " wind cold", "the tranquillity of moon/In the Night starry sky", "lustre of Eyes/ Of a child just born", "xeric rose kept in books" of the people in love. With "pedestal of poetry." she uplifts her inner existence to the ethereal world of joy, happiness, love and beauty sparkling with brilliance of subtle thoughts and philosophic ideas.

"Flowery Words" is a beautiful poem that well describes her poetic creativity. She is candid about how she picked up the pen and started writing. She reveals -
I sowed a seed,
In the fertile soil.
Watered it daily with rhymes
Reminisces and rhythm.
And so the seed grew into a plant
With flowers blooming about.

To take my reader on a ride,
I added a pinch of metaphor
With simile like the manure
And made my plant personified.
"Poetry Divine" is yet another outstanding poetry summarizing the poetic creativity of the poet. Poetry, to her, is 'Brighter than sun / Higher than sky / Lighter than clouds'.....'Heavier than hill/More feverish than fire / Harder than diamond'...'Mightier than sword/More speckled than earth/More Versatile than carbon'. It is made of her mind, dreams in poetic lines.

The teen poet is gifted with subtle and sharp sense of observation. She keeps her eyes open and mind unfolded to let in different kinds of ideas from the happenings of the world. As an observant poet, she renders her ordinary observation of life around into extraordinary poetic beads to be enchantingly chanted by the people to realize the true worth of existence. "Tragedy Unmasked" is a gripping tale of one such observation. The heart touching and pathetic account of a circus joker shakes our conscience and activates our sense and sensibility to the suffering humanity. Grieved at the cold attitude, she makes a caustic remark on the people devoid of sensibility-
No one cared how,
Died the joker now.
But Next morning,
Everyone bold as brass,
Went to circus shouting.

With joy all aloof,
To enter the circus roof,
For the joker was replaced,
Like no tragedy ever happened,
With psychological probe into mind of the people, she comes up with her appealing poem entitled " The Demon Within: A Definition Of Anger". Like a matured poet with insights into human nature, she brings out the demonic aspect of a personality and fills the gap of negativity with positivity of life. She makes us alert against the onslaught of anger on our total well-being-
The anger is our demon
Fury is its fuel
Poking, prodding
Using us as tools.
She exhorts us to fight against it till we have triumph over the demonic forces of our inner world-
Do not let it win
For anger is the troll
Conspiring, committing
Mistakes big or small.
"Untangling the Starlight" is another charming and appealing poem with a juxtaposition between hope and despair, reminiscences and oblivion, dawn and dusk, ebb and flow, dream and reality, existential reality and temporal duality. It mirrors obvious mood swings of a person disillusioned in the waste land. She encourages us to hold our heart in the hope of light and follow the path of humanity, getting connected with one and all in the cosmic family. She advocates-
Let's become humans
As we intended to be
Even if once swayed by
Our dreams were we.
Let's be together
You, I and the earth
Walking down the same lane
Surrealistic approach to life is another beautiful dimension of her poetry. Concrete themes aside, subtle and abstract ideas find fantastic articulation in some of her poems. The poem "Broken" mirrors such a rare presentation of self, soul, and the dreams shattered. Delving deep into human psyche - 'dark depth'-, she conjures up a picturesque tapestry of poetic manifestation suffused with 'penumbra of joy' She concludes the poem with effortless ease-
The mirror that showed
My dreams with delight
Was in itself a dream
Showing the luminescence light.

The dream that I saw as a part of me,
Was a projection of mine.
Identity, besmeared and sluttish
Indubitably through time.
Her poetic roller coaster ride takes us to the realm of the unexplored, dark and dungeon to demystify the fear of the unknown. She does her best inside her to kindle the light to see the reality to overcome the gripping awe of unreality. To her, living life means coping with the dark for floods of light till the last moment. This philosophy, very unique in its own way, gets reflected in her poem "Shadows of Darkness". She herself asks the question and concludes with a very significant, introspective reply.
And so I fear the unknown
Because each time I peep in darkness
I see…
Nothing
But maybe in nothingness there lies life.
Emptiness
But maybe in emptiness what i sense is existence
And maybe what I fear is not unknown,
It is just the shadows of darkness
That covers
And blinds my courage
To face the known
And creates
The unknown.
Enthusiasm is indispensable in life to live each and every moment. Zeal for living and zest for life plays an important role in the inner progression of an individual. Many of her poems are optimistic and ebullient in content and intent.. She believes in constant struggle to achieve success in life- the success hued in all colours. With a great vision in her mind, she, through "Your Wings", suggests the people to-
Spread your wings
Look at sky
Ready to fly with
Mystified myriad of magical feathers
She goes on exhorting -
So stand up to your wings
Accept them
Hold them
For they will take you to your highest top
Destiny, luck, misfortune, tragedy do recur in her poetry as subtle themes. Sometimes she takes side of all of them and sometimes she stands upright to cope with the unexpected events of life. So unpredictability as a theme comes spontaneously, subconsciously or subconsciously in some of her poems. For instance, in the poem "A Sinking Tragedy" dealing with this theme she reveals the state of reality of her mind that seems to be assertive. She suggests compromise and moving ahead rather than repenting and showing remorse-
Why did it happen is a not a question to be asked,
Maybe we were to be warned about our position.
Or maybe it just wanted to show our mistakes masked.
Or to play it was maybe nature's turn.
Some poems are reflective of her love for the nation. She weaves the paean on the country's glorious past and thus evokes in us a deep sense of nationalism through her stirring lines. The "End Of A Nonpareil Tale" is one such a poem highlighting the pristine past of India with APJ Abdul Kalam, a humble person of undeniable eminence in the background.
The country, it shrieks,
With pain, glum and dolefulness,
Deep in the heart,
Knowing the gem it lost forever,
The soul into open air.

And yet a hope is born,
To be bred by the stories
Tales of undefeated afloat one,
The one famous one,
The legend of India.
Her sense of Indianness finds an appealing articulation in the poem "India at Zenith" which also sings the glory of India. She exhibits Indian pride in even more beautiful words. She wants the whole world to be alive to the pristine glory, rich cultural heritages of India-
World! Are you aware of its riches
Its accomplishments
Its love for another
And its redolent radiance.
So listen I am the child of the nation greatest
I am the outcome of civilisation beautiful
I am the life of a struggle long known
I am the first remnant of India at Zenith.
However, the poet is saddened to see the poverty of common people all around. Her realistic description of hunger and hungry strata of society is heart-touching and pathetic. Her eyes see the blood oozing out from the living skeletons that can sensitivitise even a ruthless person. " Unknown Hunger" brings out tears-
Boney chains/Dangling limbs/Shattered heart/Broken mind.Swollen eyes/Numb with tears/Twitching hand/ Filled with fear/ Dumbstruck glance/ Hungry hunger/ Stained face/Figure is slender

India, a land of cultivation, depends mostly on the agricultural produce. However, the plight of Indian peasants is pitiable. Her "Imperfect Shade" gives a realistic account of the poverty of Indian farmers.

With befitting tributes to great men of India such as APJ Abdul Kalam and Gandhi, and the world, she also weaves floral homage to her family members."On Mom's Birthday" is a fine poem expressing her love and respect for her mother-
If I am an eagle flying above
With my wings high and warm
Then I understood dear mother
That you were the wind all along.

Through my maladroit acts of life
And my silly works of teenage.
You became my inspiration
My strength through troubles and rage.
In addition to experience of day to day life, idealism and social realism, her poetry also contains her profound sense of philosophy of life in abundance. Though she has courage to face the hard realities of life, yet some of her poems reveal that she turns philosophic when she has no control over the intricate and mystical ways of life. She doesn't bemoan or repent, rather she turns introspective and like a philosopher she comes up with profound thoughts. Her contemplative musings are resonant with realistic affirmation in her poetry. "Stony Memory" is a testament of this hard reality-
People smile and say that life goes on,
But most of the times it stops with halt,
The soil has covered a chapter incomplete,
Waiting to stay afloat with the drowning Time.

Not every tombstone is a tragedy,
Some are the cover pages of bliss and fine,
Some change into the well known tales,
And some get forgotten with passing time.
Her narrative poem "A Game of Chess" contains the overstatement of an Italian proverb that says after the game is over, the king and the pawn go into the same box. It has been given a story to bring home her point. On the other hand, "Room of Truth" reflects her distinct insightful capability of distinguishing between the truth and falsehood.

Nature is yet another important theme of her poetry. Her fascination with nature leads her to search for a perfect communion with the divine. She regards nature as a interconnecting link between life and God. This is the reason why she wants to regale herself in the lap of nature. People have 'imperfect' 'wandering Lives'. They move around 'Through the vestige of green valleys/And the penumbra of hills,'...'The myriad of green/With the plethora of sights' 'From the roots to origin deep' just to seek the perfection. The following lines from the poem "The Search For Perfect Destiny" are a great illustration-
I want to lie here,
In the nature's beautiful valley,
I want to feel the falling mustard's sound,
As I lie still on the ground.

I, a sinless leaf of enormous tree,
I, a simple child of nature's heart
I, the sleepy hollow of changing pain.
I, the Mystified silence of
Unlike other poems, "The Raven And The Traveller' is a descriptive poem with a moral lesson. The dialogues and tone used in the poem are very didactic. All other poems are equally important and deserve to be enjoyed to a considerable extent.

This is how thematic subject-matter, impressive felicity of style and evocative diction exemplify her natural talent as a poet. She has creative spark and sparkling beauty of outstanding expression. Her poetry is marked with profundity of thoughts, maturity of the execution, her vision and perception, imagination and expression, and aesthetic and technical excellence. Her perspective on life and death, love and hatred, dream and reality, destiny and tragedy, socialism and nationalism, reverence for great men of inspiration and motivation is manifested in her poetry with elegance. Structure and superstructure of her poems are brilliant. Imagery, metaphors, symbols are the significant tropes that carry outstanding tenor that evokes in the readers sense of mixed feelings. Barring a few, her poems, as showcased in this collection, are the finest fruits of her matured musing. Though "Life is like dandelion seeds/"Fragile and hard to grasp", yet she gives a beautiful message to her readers in the poem "To The One Reading" :
And I want to remind you
That through all days
Good or bad
There are people
Who find you beautiful,
That know you
People who care.
So Stranger,
Darling
Take care.
In short, Akanksha's debut anthology The Symphony of A Soul as her outward journey of inward exploration is an experiential pilgrimage on the earth with soulful symphony, undertaken with great zeal, gliding out the dark dungeon of disillusionment to the beautiful world of inner illumination.

I wish her all the best for treading the path of poetry!
(Written as Foreword to Akanksha Krishnatre's debut anthology The Symphony of A Soul)