Bhanumati Mishra is a writer, poet from Varanasi, India. Her book of poems, The Crimson Dot has been published and I believe in the present era where creativity is synonymous with the ocean and vast skies, we are fortunate to grasp footholds of many such relevance, many such births in the cosmic playstorm.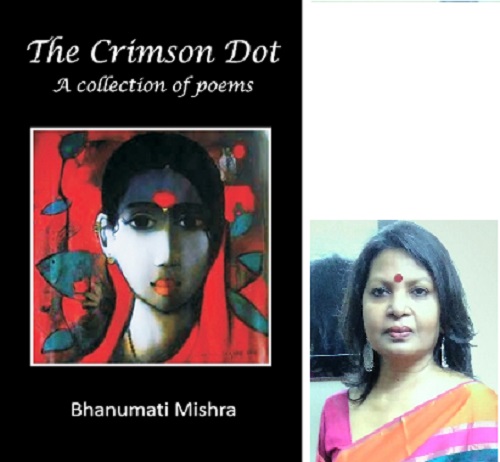 The Indo-English poetry scene in India has changed. I have delved, grey unilateral fixtures with remarkable congruency to mind and soul to Peter Max pop art colours, unreasonably flavoured to its extreme richness, Indian poetry in English, zigzagged into foregone non conclusions. Words stopped suddenly in auditory hues. The Malhar seems restrained at times.

The late seventies were great years, Eunice de Souza, Kamala Das, Imtiaz Dharkar and Gauri Deshpande chose to explode in words and images bringing feminism, culture and social transformation in poems, the liberal conceiving of thoughts shrouded in luminescence made way to writings in newer forms of vocabulary and grammar.

Bhanumati belongs to these new terrains, contemporary Indian writings in a neo sustenance where culture and life, breathes simultaneously questions and answers. The Crimson Dot is all Indian but India itself runs on a fine balance of all religions and even extreme ideologies. The fractured sun immersing in the Ganges at Varanasi is a life within many such lives.
No conch shells herald
her emergence,
no pundits chant or greet her,
no drum-beats rejoice
her resurrection,
no Gods stir to invocation.
No customs kept; no rituals mark,
no time to ink this realization.
She's but a piece of driftwood;
floating aimlessly
over unknown seas,
a breath inhaled
another exhaled,
each wave pushing her closer
to her destined mortality.
Love is a pixilated memory. Did we ever die, loving… Bhanumati writes :
Then one day, we lost each other.
Not for some grand circumstance,
but for our silly stance.
We drifted into indifference
we tore down many nights
shred to bits –we let it fall
Gently on the floor
To be swept the next morning
and become one with dust.
It had to happen someday.
How did we last so many years?
I can't handle a perfect moon
Nor you a perfect mood.
Ready to bear the weight
of loneliness or call it death
Neither of us will ever
fall in love again.
how can we,
when the first has been in vain.
Fusing spirituality to cognizance, poems of Bhanumati Mishra traverses hithero unchartered territories of Indian poetry.