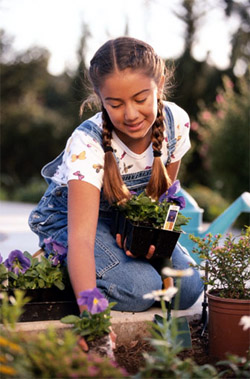 New Delhi
Pallavi Gulati learnt about environmental conservation when she was in class eight. Ten years later, she remains committed to the cause - thanks to her school that helped her imbibe eco-friendly values.

"I am not an environmentalist, but I am careful that I don't harm the creation in any way," says Gulati, who studied in the Carmel Convent here and graduated from Delhi University last year.

"I don't litter, I care for animals and whenever I get an opportunity to do my bit, I avail it," she added.

At least 18 schools in Delhi are sensitizing their students to green concerns through the Programme for Environmental Awareness in Schools (PEAS), a nationwide network aimed at motivating students into action for the protection of nature.
"The key to environmental conservation is to make young students committed to fostering an eco-culture. Given that the commitment comes from a conviction, the best way is to integrate awareness into school education," educationalist Sanaya Nariman, who is the chairperson of the Delhi chapter of PEAS, told IANS.

Environment, she added, should not be just a separate subject in schools, but it must be integrated into all relevant subjects like sciences, social sciences and even languages.

Active members of PEAS in Delhi include the Carmel Convent, St. Columba's, Hamdard Public School, and Tagore International School. Four schools located in slum clusters are also among the participants.

"Environment affects the child's everyday life, and the response in the schools has been extraordinary," says Nariman, daughter of legal luminary Fali S. Nariman.

PEAS believes youngsters have a great potential to respond to the challenge provided the issues are made real to them.

"We should talk about where the shoe pinches. We need to explain to the students that if the glaciers in the North Pole or the South Pole melt, there can be floods in Kolkata and Mumbai, where their relatives and favorite Bollywood actors will have a lot of trouble," Nariman stressed.

Young students take keen interest in the environmental issues facing India, like the desertification, rising levels of pollutions, dumping of wastes into the rivers, and so on.

"The students show a deep concern when you tell them that the Yamuna is clean when it enters Delhi, but when it reaches at Okhla, it is level-5 dirty - the highest level of pollution," she pointed out.

Through PEAS' activities, students learn some practical ways to help the cause, like segregation of waste at home and reuse, recycle and careful use of resources.

The schools in the PEAS network receive a quarterly magazine on environmental issues, which also carries articles, poems and short stories written by the students. Besides, these schools participate in annual regional students' conferences, regular workshops for students and teachers, and a national students' conference once in two years.

The PEAS schools are now preparing for the 7th National Students' Conference, focused on pollution and health concerns and scheduled for November 16-18 at the Tagore International School in Gurgaon.

Ken Gnanakan, an educationist and environmentalist from Bangalore founded the PEAS network and is its national chairman. The board members of the Delhi chapter include former principals of some of the schools in the network.