A Hundred Little Flames; Preeti Shenoy, Westland, pp.368, Rs. 299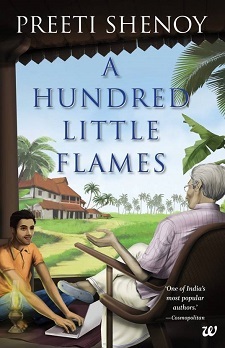 There are novels dealing with human emotions in a variety of combinations. We almost happened to read love stories most of the times when it comes to relationships and emotions. But, here is a new novel, written by popular writer Preeti Shenoy on the unanticipated emotional connect developing between the grandson, a new gen youth and his old grandfather who lives in a remote village of Kerala.

Unquestionably, the theme is fresh, new and fascinating. It speaks about the generation gap and also the sensitive parts of any relationship.

Two unconnected events start the story; an old man falling and breaking his limb in a remote Kerala village and a twenty six year old youth working in a IT firm in Pune is sacked from his job for weird reasons. Do we have the logic or reason how two unknown persons get connected and happened to change their lives totally? That happens here. The authoritative father in Bahrain of the young man Ayan, sends his son to take care of his old father in the Kerala village as he plans to come soon and dispose the mansion like old home Thekke Madom and also to dispense with the old man.

However, events take a different turn. Once Ayan arrives in Poongavanam the village he is not quite pleased either with his grandpa Gopal Sankar who seems to be a cantankerous old man or the idyllic ambiance. But, slowly he gets attracted to both; his grandfather and the village. By that time, his father Jeyaraj from Bahrain makes his appearance and changes things. He leaves his old man in an unknown mental asylum and leaves without a word to his son. Ayan by then had become close to his grandpa and with the help of his young friends in the village he tries to trace the whereabouts of the missing old man. In this process, he is exposed to the past life of his grandfather, his love lost, his miserable life with his wife and ungrateful children through his diaries. Now, it turned out to be mission for Ayan to unite his grandpa with his lost love Rohini whose address is unknown and lost the connection before nearly 26 years.

Preeti Shenoy takes the readers through a roller coaster ride of genuine emotions, love, misunderstandings, hatred, affection, greed for money and the significance of any true emotional connect between the souls. Love is there, sex is there even gay love also gets a passing reference. However, one cannot but feel sorrow and happiness on reaching the end. At the same time we have to wonder how life could be unfair to some persons and how the so called close relationships are very fragile.

The description of Kerala's natural beauty and bounty will bound to make any nature lover to take a trip to God's Own Country after reading 'A Hundred Little Flames'.The novel also reiterates that age is no bar for understanding genuine love and affection and it is only the human greed and ruthlessness spoil any relationship.

'A Hundred Little Flames' is different but a good read.