Man has used bamboo since time immemorial in various ways. This plant, belonging to the grass variety (tribe Bambusidae, of which there are 50 general and 700 species) is one of the fastest growing species of plants. Scientists rank bamboo as one of the most primitive of grasses. It grows best in tropical climates or in the warm regions of temperate climates. It grows all over India, but is thickly concentrated in the eastern and northeastern parts of the country.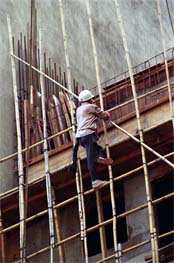 Earlier synonymous with temporary constructions like shamiana or barricades, bamboo today is high fashion material. It has quietly made inroads into our lives in ways that both surprise and intrigue. From construction sites to our living rooms, kitchens and even our wardrobes, the invasion of our lives by this humble grass is complete. Bamboo is carving a niche for itself in interior decoration, furniture and fashion accessories and is here to stay.

Bamboo has always been versatile. Quick – maturing, hardy, flexible and strong, bamboo offers advantages over conventional building materials. Its high-density strength on some ways makes it stronger than steel.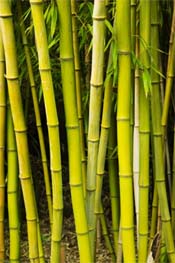 Though bamboo has had a rather unglamorous image, being largely associated with rural settings, this myth is being slowly removed and it is proving to be an asset to a smart, chic and urban lifestyle. The Centre for Bamboo Initiatives at NID is trying to develop sleek, attractive and high end products out of the humble bamboo.

The Institute has started by designing practical home and office furniture – lounge chairs, rocking chairs, tube stools and sofa sets. Not only is it lightweight and low maintenance, it has the ethnic, earthy look that is so 'in' these days .The Institute is also designing a host of other products, including clothes hangers, rocking horses, tricycles with rubber wheels, playpens and baby chairs and is in the process of popularizing them.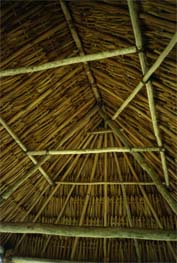 From being used to craft flutes and screens, bamboo has now found its way into home interiors as an inexpensive alternative to hardwoods. Modern designers are using bamboo to give an upmarket and contemporary look to homes. It is being innovatively used as flooring, paneling and in stairways. Its aesthetic appeal makes it a hot favorite among those who want to give a neat and elegant touch to their homes and offices. A large number of hotels and restaurants are also using bamboo in their décor to give an elegant look. Designers note that bamboo is gaining popularity as it comes with the advantage of stability, strength and elegance – and in soft, natural colors. A bamboo piece mixes well with other furniture, adding color, texture and depth to a room's décor.

Bamboo furniture is often mistaken for that made of cane, for the finished product may look similar. But while bamboo is essentially a grass, cane or rattan is obtained from long slender stems of certain trailing or climbing palms. While cane furniture has been around for quite some time, upmarket furniture stores are stocking up on different varieties of bamboo furniture that are fast gaining popularity. Furniture made of woven bamboo are much in demand, especially low stools, light chairs etc. Strewn with brightly colored cushions they can liven up the balcony, terrace or veranda.

This humble grass is also being used for other household purposes. One can choose between a bamboo bed, a bamboo dining table set, bamboo sofas and knick-knacks. It can be utilized to make anything- from furniture to washable curtains and mats. Glass topped bamboo coffee tables look very chic. Household items like trays, mugs, flower vases, wall hangings, photo frames and tablemats made of bamboo are also fast disappearing off the shop shelves. These are also great gift ideas and the emporia of Assam and Nagaland offer a wide variety of such items.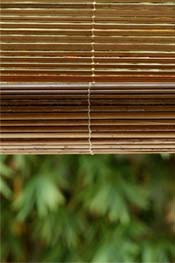 Bamboo curtains, screens or room dividers lend an ethnic touch to the décor and also help to bring the outdoors in. They are ideal for balconies, terraces, studies or dens. The partitions are made by holding fine bamboo stems together by an intricate weave and interspersing them with sturdy threads in bright colors.

The graceful lines and lightweight portable aspects of bamboo furniture injects an informal and airy look in the décor, which appeals to most people. Also, bamboo is quite inexpensive and one can furnish one's entire house with bamboo furniture at a reasonable price. Bamboo has become a vital structure element in modern homes. This sturdy grass fits in with the sparseness of modern minimalism and even with ornate interiors.

Apart from furniture items made of bamboo, the market today is flooded with other bamboo products including lampshades, place mats, coasters, flower pots, shopping bags, baskets, boxes, pen stands etc. Bamboo-framed mirrors add aesthetic appeal to a collection of other wood framed mirrors. A friend of mine has an eye-catching bamboo chest of drawers that she has made to order. Bottle holders, clocks and vases combined with glass, metal or other materials are also the rage and high on the fashion list. They are also excellent gift ideas. Bamboo handbags are currently the rage in metros, providing an eco-friendly option to leather and a smarter alternative to cloth jholas. Bamboo hair clips and hair accessories are also high on the fashion list.

Internationally, composites, boards, panels and laminates made out of this 'poor man's timber' are being used to make doors, windows, frames and floorings, walls, ceilings, partitions and cupboards. Bamboo mat corrugated sheets, too, are replacing asbestos cement corrugated sheets at construction sites. With its large reserves of bamboo, it won't be long before India discovers these uses also.

What is the secret of the versatility of bamboo? In the first place, its stability, hardness, flexibility and strength make it a remarkable material. What's more, it is light, strong, stiff, elastic, anti-combustion, pest resistant and high gloss. It is widely used by construction engineers. Experts who compared the strength of laminated (layered) bamboo with soft steel found that the bamboo's breaking point nearly equaled that of the steel. The strong, lightweight bamboo makes an excellent reinforcement for concrete.

Also, bamboo is stable, does not shrink or swell like other hardwoods which makes it comparable to teak as a sturdy indoor and outdoor furniture material. And unlike hardwoods, which may take decades to mature, bamboo can be harvested in 3 to 5 years, for it regenerates without need for replanting and requires minimal fertilization or pesticides.

Besides being aesthetically pleasing, bamboo makes for safe building material and is appropriate for an earthquake prone region. Houses in Japan make extensive use of bamboo in construction to reduce fatalities in an earthquake. Bamboo being strong and flexible, protects the house from falling down even in the most violent earthquakes and storms.

Further, bamboo is eco-friendly. Cutting wood for furniture is now frowned upon. Bamboo can easily replace wood in many areas. Multi-ply bamboo boards provide a sustainable substitute for timber-based natural wood and plywood products. To add to this, they are economically priced. Bamboo is stronger than hardwoods and is much better able to withstand moisture due to its tropical characteristics. Contrary to popular belief, bamboo is strong and stiff. It can be cut and split with simple tools. Its surface is hard and clean. It can be grown on a small scale.

Bamboo furniture is easy to care for. It can be dusted, polished, waxed or painted to change its look or character. Bamboo pieces suit rooms painted in white, shades of green, brown and neutral colors as well as rooms with black accents. Bamboo comes with innumerable advantages, as it is waterproof, durable and easy to clean. A bamboo clump can be planted in your garden to give a sense of privacy.

Adding a new dimension to the story of bamboo is a brand new innovation-bamboo fabric. It is said to be as smooth as silk, as sturdy as cotton and as soft as linen. Several recent fashion shows showcased clothes made out of this fabric, including saris, skirts, tops, blouses and dresses for women and bandh-galas and churidar kurtas with uttariyas for men. When blended with other materials such as cotton or silk, it takes on the attributes of the other fabric. This makes it a 'dream fabric' to work with.

Bamboo is widely used in rural life and has an overwhelming importance in the economy of these parts. It provides many essential articles for people who live in tropical countries, specially Asia. Farmers live in bamboo houses, sit on bamboo chatais (mats), and eat food prepared in bamboo containers. Their beds and covers may be bamboo mats. They wear footwear woven from bamboo strips. Bamboo cages hold chickens and pigs, and a bamboo fence may enclose a yard. Those for whom the bamboo is a plant that grows in their backyard have traditionally woven strips of bamboo into mats, baskets and hats. Bamboo provides shade and tender young bamboo shoots are eaten as vegetables. Rafts, sails, rope, paper and tools are also made from this humble grass. It probably has more uses than any other substance in tropical countries. The closely matted roots of the plant help control soil erosion.

A recent experiment of aerial seeding in the Western Ghats revealed that out of the random mix of available seed of ecologically suitable species, bamboo particularly gave good results. Though dropped in the hilly terrain at random, its germination was profuse. Scientists are now toying with the idea of collecting surplus bamboo seed by involving tribal communities, and dropping them aerially in other ecologically suitable areas, which will result in a substantial quantity of new bamboo being established on a countrywide basis within a reasonable span of time.

Bamboo is considered the poor man's timber, a shortage of which is felt acutely in many parts of the country. Increase in the area under bamboo cultivation in the countryside will be a boon to the rural poor and help stem the rapid ecological degradation of the country.

Thus, bamboo is rightly called the 'wonder grass'. Far from looking old fashioned and fusty, today it is fresh and appealing. It is high on the list of fashionable home décor. From furniture to fabric, it has come a long way indeed.
All images under license with Gettyimages.com