Metaphysical Love : In the framework of Shah jo Risalo
By: Dr. Kazi Abdul Shakoor
"The best and most beautiful things in the world cannot be seen or even touched. They must be felt with the heart." – Helen Keller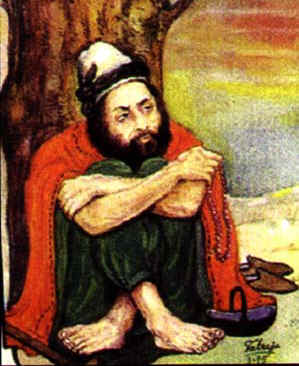 Such a graceful silky feeling is Love, which is felt by the heart, well expressed by Pluto who says "when the soul starts to sing, the flowers of your life bloom on their own." And when one puts the heart, mind and soul in the sincere aim of attaining something, it becomes a unique success. It applies to all spheres pertaining to all passions, aspirations, and so to love-as is referred in Shah jo Risalo. The metaphysical love that Dr. Kazi Abdul Shakoor has focused in, is to draw the attention to the heights where the lover forgets his very being and remembers only the Lover.

Love is universal, and is undefined when it comes to spiritual Love. And Life has given everyone a chance to find oneself, and in fact to establish a relation with the creator as does a lover with the beloved. It is an inbuilt truth that grows to create a bond as we read in the preface- "Human beings, in the eyes of the poet, are blessed with a capacity to delve beyond the physical and to experience the metaphysical as a living force".

Pertaining to Love, Karen Armstrong, has quoted famous prayer of Rabia Basri who was love personified : "O' God! If I worship Thee in fear of Hell, burn me in Hell; and if I worship Thee in hope of Paradise, exclude me from Paradise; but if I worship Thee for Thine own sake, withhold not Thine Everlasting Beauty!" In other words, the quest to perceive God (through Metaphysical Love and Oneness) is the hallmark of Mysticism.

The underlying Love in the verses of Metaphysical Love are the ones of Nirakaar Love and all descriptions and definations in words fail to express or verbalize that spiritual love. In other words insufficiency of vocabulary to replicate the experience of love In words itself shows the uniqueness of the passion of love that is to be felt by pulse with a touch of ecstasy.

Love and spirituality cannot be segregated, for there can be no love without a selfish spirit. When spirituality grows, the capability of Love grows too. For he who is filled with Love is filled with God, and it is here that the Path of Love becomes a spiritual destiny.

An ardent pilgrim of this path of Love, Shah Latif, the soul of Sindh, had a unique message for his disciples and ascetics, singers and artists, who gathered around to sing passages from his Risalo, a poetic compendium of famous Sindhi Qalams sung in the praise of one and only one Allah! The most profound fact that forms the foundation for faith is that:
"What you consider as mere poems, are in fact verses
They link the soul with your beloved (Lord)"
The Risalo is a Unique compilation of Ten suras-sur kalyan, yaman kalyaan, khambhat, samondhi, suhani, sasai aabri, mayzoori, desi, kohyaari…! All sing the glory of Amighty, that has been addressed differently as God, Allah, Satnaam, Wahaguru, Karim, Khuda, Jesus and Lord! Singing the glory of the almighty saying:
"Read the 'A' of Allah, forget all pages.
Kindle self within, how much would you read?"
Shah Latif spent the last eight years of his life, praying and meditating in a sand-hill at Bhittshah. A few days before his death, he retired to his cave-shaped room and spent all his time in prayers and fasting. Munawar Arbab has beautifully translated and represented the verses along with the Arabic original quotes Of Shah Latif In the book: " Spiritualism in the poetry of Shah Abdul Latif Bhittai" : Edited by Dr. Fahmida Hussain.
Wind blew! The sand,
Eneveloped the body
Whatever little life left,
is to see the beloved.
The infinite ocean of Love, that shah has expressed in verses with his exceptional spiritual insight, creativity and powerful expression, goes unparalleled. I have used some quotes here to give essence to the well chosen Topic 'Metaphysical Love':
Those who have a cupful of love in the souls
They are burning in such a fire
That they endure endless grief
The destitutes move in wilderness
Here there is no limit to it
They are always in the mid-stream of love
Yet they die of thirst.
--
My heart is not at rest
It can't rest without the Beloved?
He has knotted my heart
With a strong thread of love
My heart, body and the property
Now belong to the Beloved.-216
--
Beloved! Learn to love from the kiln
It burns for the entire day
Yet no vapour comes out of it.-238
"Poetry is a rhythm of words and music." Shah Abdul Latif Bhittai's Shah Jo Risalo is a poetic content. His poetry in Arabic and Persian carries depth of his personal experiences about truth the manifests Love. Altering one word is to alter the entire theme of the melody.

The Risalo is a treasure to be availed, and it has been translated by Scholars to discard the multilingual barriers giving the message- That the path to be trodden is the same for all and that is to know oneself and through the same realize the supremacy of The Lord. Yet Rumi has beautifully put forth the fact pertaining to lingual translation: "Silence is the language of God, all else is poor translation."

The Main purpose of Creation is to achieve personal perfection and getting closer to god through worship. Rumi Highlights to identify the spiritual man in the state of silence wherein he experiences God through the unwritten and unspoken language, which is the language of LOVE. In the depths of our heart there is a room for self or for God. When we pray we ask God for something, and during meditation God speaks to us. And when God speaks, the wise listen to HIM, in the state of nothingness. Here the subconscious state of mind takes the lover in meditation, a state of thoughtlessness, and soundlessness. It is then that God speaks to the disciple or a true seeker.
The literature of Shah Latif shows that he was well versed in Arabic and Persian. He drenched himself in the underlying truth of Quran, read The Masnavi of Maulana Jalaluddin Rumi and his deepest knowledge and attainment was acknowledged by his contemporaries.

In Dr. Shakoor's opinion, Shah Abdul Latif Bhitai's poetry is essentially metaphysical; he believes in love that is transcendental in his character; and he sees reality through the mystical lens of Sufi tradition. This book presents the great poet of Sind in a metaphysical framework. Love is the Prime Pivoting Point in Metaphysical Love.

According to the Lovers of The Lord the beloved is like a candle, and the seeker is a moth, who respite all the agony that hurts, like a true lover revolves restlessly and ceaselessly around the light of God. The translated verses of Shah's Risalo in English by Elsa Kazi have related topics that magnetize the attention of Lovers of poetry. Here are some verses from the same book:
"If you have learnt to long, by pain, be not distressed
Secret of love's sorrow must never be confessed
Suffering is by the heart caressed, and there it is preserved."-14
"If you call yourself a moth,
then come,
put out the fires sway,
Passion, has so many baked but you roast passion's 'Self' today
Passion's flame with knowledge slay
of this to base folk give no hint." 15
The Lovers don't live to die but die to live in self-realization and ultimately God-Realization. The fire that is more profoundly talked of is undergone by the lover in the course of attaining the goal.

Shah Latif always used to say: 'The true Faqeers are my true sons, whose hearts are wounded by love ..!'

Yet there is more to explore about this unique masterpiece work of Bhitai on www.bhurgri.com/bhurgri/sd_editor.php.

Majid Bhurgri, a versatile literary lighthouse of sindhi literature has dedicated contribution to Sindhi writing in MB Lateefi - as on a slate, and his site has Shah jo Risala and much more to drench oneself deep, where the physical sense is lost and diffused in the Love of Lord. A drop in the ocean dare not call itself the ocean, yet the essence of the entire ocean is in every drop. The Drop becomes the ocean. In reference to such Love Iqbal says:
"When the lover fails to possess any love-fire
He is like a bird without wings and desire."
And finally with a beautiful quote of Rumi on Love:
"This is love: to fly
Towards a secret sky
To cause a hundred veils to fall each moment,
First to let go to life,
Finally to take a step without feet."
And my heart too throbs to feel and express:
"If Life is a Journey,
Let us take the first step today,
Yet another tomorrow,
Then one more and then the next…
If life is music in rhythm, Let us dance to it's tune !"