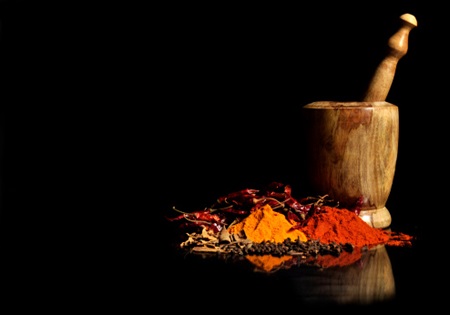 India is called the 'land of spices'. Since time immemorial India has been famous all over the world for its exotic spices. The term 'spices' refers to aromatic or pungent vegetable substances used for flavoring foods. Once considered a luxury, spices have today become an integral part of our daily diet. No Indian food is complete without a dash of spices.

The fame of Indian spices is older than recorded history. Centuries ago Greek and Roman traders carried Indian spices to Egypt, Arabia and Mesopotamia and sold them at exorbitant prices. Many foreign travelers and historians including Hieun Tsang have recorded the use and importance of Indian spices in their works.

The historic voyage of Vasco da Gama, who successfully established Calicut port as the gateway to the spice-land of Asia led later to an international power struggle to control the lucrative spice trade. For several centuries Western European nations like Portugal, France, Spain and Great Britain remained major players in this field.

Though the most common use of spices is to enhance the flavor of a dish, they are also widely used for meat preservation, medicinal preparations, cosmetics, perfumery, bakery goods and various other products. Down the ages spices have been recognized as having curative properties by Ayurvedic and Unani practitioners to treat a variety of ailments. Grandmother's Pandora's Box of remedies also made use of spices. Though consumed in small quantities they enrich our sources of minerals and other food components. Besides, spices play a significant role in the national economy and help to earn precious foreign exchange.

Though there are many varieties of spices, some of the very common spices used in India include coriander (dhania), cumin (jeera), clove (laung), cardamom (elaichi) and pepper (kali mirch).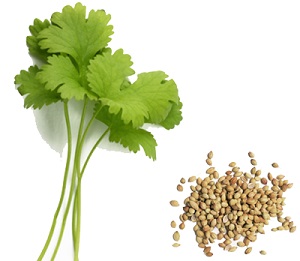 Coriander or 'hot dog spice' is a herb widely used in cooking. Warm and spicy, coriander has been used as a herbal digestive for thousands of years. A native of the Mediterranean region, it is now grown in a number of countries including India. The bible mentions that when God fed the Hebrews manna from Heaven it tasted like coriander. The Egyptians used coriander as a spice, perfume and a digestive aid. The entire plant of the young coriander is used to make 'chutneys' and sauces and the leaves are used for flavoring curries and soup as well as for garnishing. Coriander seeds are used for flavoring liquor, particularly gin. The Greeks considered coriander as a medicinal plant. It was recommended by Hippocrates (400 B.C) as a general tonic, digestive aid and gas remedy. In the USA it is commonly used today in the manufacture of sausages.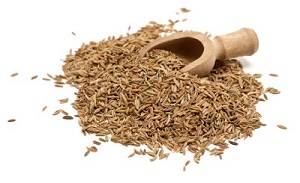 Cumin is one of the oldest spices known to man. It is believed to be a native of Egypt and Syria but is now grown throughout the world. It has found several mentions in the Bible. The Egyptians used it in the mix of spices to mummify a body. The two great Greek physicians, Hippocrates and Dioscorides wrote about cumin. Cumin seeds have an aromatic fragrance and are largely used as condiments for flavoring vegetables, soups, pickles etc. and for seasoning bakery items. It has been used since time immemorial in healing jaundice, indigestion and headaches. The aromatic oil of cumin seeds is also used in perfumery industries.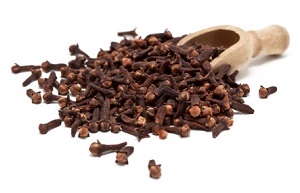 Clove is considered to be one of the world's most aromatic healing herbs. It is one of the spices of the Indian 'garam masala' and is used as a culinary spice to flavor both sweet as well as savory dishes. It is used for flavoring curries, pickles, sauces etc. Clove is the bud of the highly aromatic tropical evergreen tree, native to certain islands of the East Indies. The word clove is probably derived from the French word "clou" and the Spanish word "clavo" both of which mean "nail" (it resembles a nail). Cloves are said to mask bad breath and bring relief from toothache. It is also said to cure indigestion and dyspepsia. Clove oil is used in the manufacture of perfumes, dental care products, soaps etc. A mixture of clove oil and sesame oil is said to relieve aching feet and soothes sore areas. For hiccups put 5 drops of clove oil on a sugar lump. Hold it in your mouth until it dissolves, then slowly swallow. A few drops of clove oil added to boiling water makes a soothing inhalant. Several folklore and superstitions are also woven round this aromatic spice. A famous Hindi film song says "mera laung gavacha" (my nose pin is lost).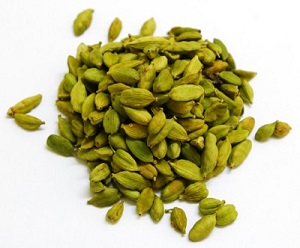 Cardamom (elaichi) is another important spice in India and is often called the "Queen of Spices". This spice is known from ancient times and its sweet aroma has been praised in Indian literature by Kalidas. Cardamom is of two main varieties - small and big. It is mainly used for flavoring various vegetables and meat preparations and as a flavoring agent in confectionery, pickles, kheer etc. In addition small cardamom is used as a powerful aromatic stimulant and is helpful in treating digestive ailments. It is also used to flavor tea and its seeds are chewed to prevent bad breath. To dispense flatulence chew a few cardamom seeds as they are, or simmer 6 pods with a pinch of ground ginger or grated nutmeg in 2 cups of water. Cardamom seeds crushed and kept with fresh coffee will also reduce the chances of indigestion. The seeds of the large cardamom are considered as a tonic astringent, appetizer etc. and are useful for treatment of liver ailments.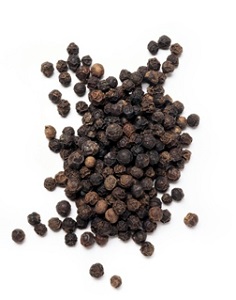 Another common spice is pepper which is often referred to as the "King of Spices". It is said to be the most important spice known to man both past and present. Native to the East Coast (Malabar) its cultivation has now spread to many parts of the world. Pepper has a pungent flavor and is used for seasoning eggs, soups, stews and other things. It is said "salt and pepper are married" and one goes with the other. Dining etiquette demands that both should be passed, not one of them. Pepper powder is also used in sprays as pesticides and to stun a possible attacker if sprayed into his eyes.

Thus Indian food and Indian lifestyle are incomplete without spices. Since time immemorial India has been called the Land of Spices and they are a part and parcel of our culture.
Images (c) gettyimages.com