"Keep your hands off Khandoba's women
You old lecher
Let's see the color of your money first."
- Arun Kolatkar's in 'Jejuri'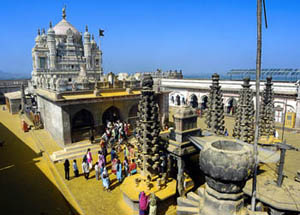 In Maharashtra, Karnataka and Andhra Pradesh - all big names on India's information technology map - an ancient and bizarre practice still prevails. Young girls are married to male deities in some temples, and then left there to fend for themselves for the rest of their lives. This 'Devdasi' (literally, servant of the Lord) system is, in fact nothing short of religion-sanctioned prostitution. A fact that the Government of Maharashtra has finally woken up to.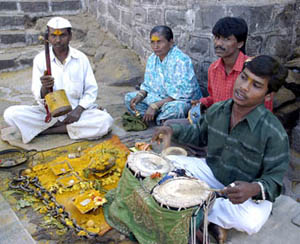 In 2004, the state government appointed a study committee to take stock of the Devdasi system in Maharashtra. Based on the committee's recommendations, the Maharashtra government recently passed the Anti-Devdasi Bill to "provide for a comprehensive law to abolish the practice of dedication of women as Devdasis to Hindu deities, idols, objects of worship, temples for religious institutions and to protect the women so dedicated against exploitation". The Bill will abolish the Devdasi system; penalize perpetrators of the crime with a fine of Rs 10,000-50,000; and rehabilitate Devdasis through alternate employment and homes. There is also a provision for the formation of district-level and state-level Devdasi control groups, consisting of persons from civil society organizations. These groups will have the power to make recommendations to the government towards abolishing the Devdasi system.
According to Minister of Women and Child Welfare Harshavardhan Patil, "We found that despite the 1934 Devdasi Security Act, the tradition is still prevalent...Therefore, we have passed a more stringent Bill, which will soon come into force." The government is yet to give a firm commitment on exactly when the Act will come into force.
Dr Neelam Gorhe, an MLA who has worked closely with Devdasis through her NGO, the Stree Adhar Kendra, is skeptical: "The state government's intention might be good but it does not have any specific measures for eradication and rehabilitation. It has not even found out just how many Devdasis there are in the state; so how are they going to go about the rehabilitation? Without specific numbers, what kind of funds will they allocate?' According to her, in the south Maharashtra districts of Kolhapur and Sangli alone, there at least 200 Devdasis, who live in poverty and have taken to prostitution in the name of God.
There are no exclusive remand homes for Devdasis in the state. When they are rescued, they are placed in general remand homes, where they are taken care of until they turn 18. The older women are generally given vocational training. They usually find employment in cottage industries or as domestic help after this.
In Jejuri - a small temple shrine on a hill, made famous by poet Arun Kolatkar's collection of poems 'Jejuri' - Devdasis are known as 'Muralis'. Here, there are also the male counterparts of the Devdasis, known as 'Waghyas' - dedicated to a lifetime of service to Lord Khandoba when they were still little boys. Often, a Waghya shelters a Murali, and many form relationships. The result of this is that several Muralis give birth to children, which further stigmatizes these women and girls because they are expected to remain faithful to God.
A visit to Jejuri gives an insight into how the Devdasi system works. Today, there are about seven groups of Muralis and Waghyas living in Jejuri. Most of them live in shanties around the temple, often in groups of two or three. They spend most of their days in the temple premises, retiring to their homes only to sleep.
A majority of them are middle-aged; they are poor; and they express anguish that their 'pure calling' should have been tarnished. Says Ratnamala Jadhav, now in her 50s, who has been a Murali ever since she can remember, "We earn about Rs 3,000 a month through dance performances on auspicious occasions."
Their status as servants of the Lord also makes rehabilitation difficult.
An eight-year-old Murali is living in a remand home in Pune after she was rescued from Jejuri last year. Locals say that when she was just a few months old, she was found under a bamboo basket in one of the corners of the temple, with a garland around her neck, turmeric on her forehead, and her hands and legs tied with a rope. Members of a local labor organization took her into their custody; but because the child was 'offered' to Lord Khandoba already, they did not dare bring her up in any other way. A 60-year-old woman living near the temple voluntarily offered to look after her. However, since last year, she began harassing the little girl, by forcing her to beg and goading her to encourage male attention.
A local journalist got to know her story and sought the intervention of advocate Varsha Madgulkar, a local social activist. Both of them whisked the girl away from the clutches of her foster mother and registered a police complaint. The journalist, Vijaykumar Harishchandre, says, "Even the police were hesitant to initiate any action because she was a 'Murali' and they feared the wrath of Lord Khandoba. However, with the intervention of the officers of the women and child welfare department, she was finally rehabilitated in a remand home in Pune." The entire exercise took one month. Comments Madgulkar, "Due to superstition and in the name of religion, hundreds of such innocent girls lead a hellish life."
Traditionally, Muralis or Devdasis were wedded to the Lord through a religious ceremony akin to marriage. Their seniors taught them the nuances of dancing in front of the Lord and singing praises of Him. At Jejuri, Waghyas and Muralis formed religious troupes together. Besides performing in temples, they were called by individuals to bring in good omen during big occasions like a marriage, a thread ceremony or the birth of a child.
Now, however, says Prasad Atre, a priest at the Lord Khandoba Temple, "These troupes dance to cheap and raunchy Hindi film numbers for the locals, followed by prostitution, thus completely defacing what began as a purely spiritual tradition. Earlier, Waghyas and Muralis were respected. Today, they are looked down upon."
Not everyone agrees. Says a young Waghya: "We are born to serve Lord Khandoba. By this we are doing a great service to the Lord and society. Just because some people have abused the tradition, it does not mean that we should forget the true history of it. I am 16 years old and I have been chosen by my parents to be in the service of the Lord. I believe it would be good if one child from each family continues this tradition."
The one bright spot on the scenario is that the number of infants being offered to Lord Khandoba is falling drastically - thanks to NGOs like Stree Adhar Kendra. Says Atre, "It is the other way round now. Often, a professional prostitute poses as a 'Murali' because she is thrown out of the brothel, takes shelter as a 'Murali' and continues her profession."