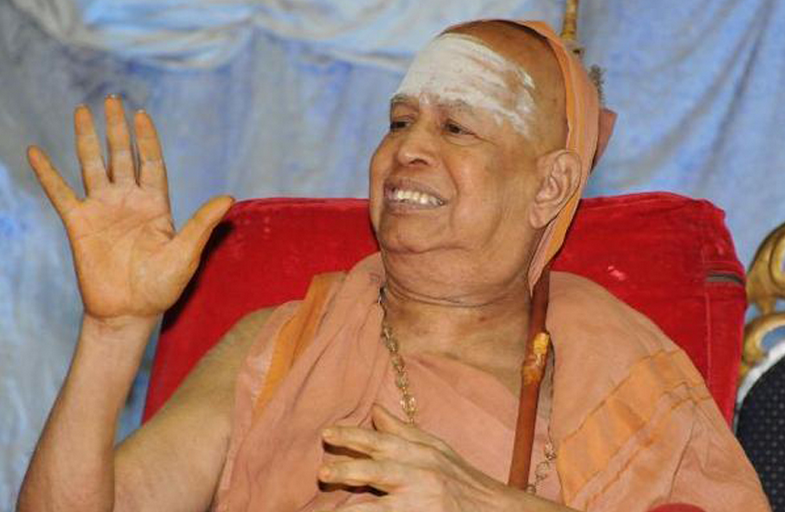 The Shankaracharya of Kanchi Kamakoti Peetam, Sri Jeyandra Saraswathi Swamigal, attained siddhi on 28th February 2018 at the age of 82. He had earlier complained of breathlessness and was taken to the hospital where he attained siddhi. Millions of Hindus as well as his followers in India and around the world mourn his loss.

In 1954, the nineteen year old M. Subramanyam was anointed as the 69th pontiff of the Kanchi Kamakoti Peetam by his guru, the revered Sri Chandrashekara Saraswathi Swamigal. After the siddhi of his guru, he became the head of the Matam in 1994 and had since provided a unique combination of social and religious leadership that had endeared him to millions of his followers. The seer, well versed in traditional vedic scholarship, was also keenly aware of the fast changing socio-religious ecosystem in a developing India and swiftly adapted himself to the changes. He displayed from early on, a multi-faceted personality that went well beyond his traditional religious callings at the Matam.

Pudhu Periyava, as he was reverentially addressed by his followers, had shown keen interest in spreading the teachings of Adi Shankara to every section of the society. In this effort, the Kanchi Matam, like many other venerable Hindu religious institutions in India, has a glorious tradition of unmatched service to the community. His followers came from every walk of life. They included the rich and the famous, powerful politicians of every shade, the poor, Muslims, Christians, destitute folks and people abandoned by society.

Jeyandra Saraswathi Swamigal was always acutely aware of the sufferings as well as the worldly pressures on large sections of Indian society. For him, India's true progress lay in uplifting these sections and he did his bit silently, often working below the radar. As a Sanyasi, he was a pillar of support and succor to all of them. His demise, naturally, has saddened millions of people in India and all over the world.

During his lifetime, Sri Jeyandra Saraswathi Swamigal did not shy away from speaking out on issues that affected India at large. Obviously, this did stir up a lot of controversy. Following the footsteps of his guru, the Kanchi Seer too decided to meet these controversies headlong. But all along, he was laser-focused on serving the poor and underprivileged and did not allow the criticisms to deter him from his path of service.

Today it may be fashionable to speak of "inclusive growth", but this Kanchi Seer had actually been practicing this for at least forty years. He had personally walked into housing communities of Dalits, fishermen, scheduled caste folks etc. in every nook and cranny of not only Tamil Nadu, but all over India. For instance his visits to the slums of Dharavi in Mumbai was well received by the residents there so much so that even today many have a picture of this great seer in their humble homes. This proved that in reality he was not just a religious leader to a small section of society as portrayed by many politicians and liberal media, but was the guru who had a pan Indian following.

The Shankaracharya was instrumental in opening innumerable free schools for children of the poor, irrespective of religion. Many of these schools also provide free food to the children. He had also established several hospitals for their welfare. Many of the super specialty hospitals he had set up now offer advanced treatments on a non-profit basis.

As mentioned, he was not a stranger to controversy. He had briefly left the Mutt in 1987, but returned shortly thereafter. Later in 2004, much to the anguish of Hindus at large, he was arrested by the Tamil Nadu government on trumped up charges of murder. The case had dragged on, but the then state government headed by J Jayalalithaa could not prove the charges it had bought on in the court of law. Needless to say, the charges were dropped and the Seer and his disciple were acquitted.

It must be mentioned here that years later, Shri Pranab Mukherjee, the former President of India, in his memoir, has pointed fingers at the erstwhile UPA government, hinting that it was instrumental in framing the Shankaracharya for apparent political reasons. He has also written that in a subsequent Cabinet meeting he had vehemently opposed the arrest and disrespectful treatment of the seer. The Seer's arrest had left a deep scar in the minds of the Hindus since they perceived this as a wanton affront to their religious rights and freedom to practice their religion. Not surprisingly, the mainstream media in India had never raised a hue and cry about religious freedom or tolerance then.

The Seer was also instrumental in bringing together the leaders of Muslim and Hindu organizations to the discussion table to arrive at a negotiated settlement of the vexed Ayodhya Ram Temple dispute. Both Hindus and Muslims alike had admired the Seer's pacifist approach and vowed to continue the discussions. It is indeed sad that the Seer did not have an opportunity to see the dispute settled in his lifetime.

Hindus at large have lost a true pillar of support , a sage who did not shy away from speaking up for them – be it conversion, Ram Janma Bhoomi , their right to manage their own temples or for that matter anything that encroached on the freedom of religion in India.

For the Dalits and the neglected sections of society – Hindus as well as non-Hindus, whom the politicians fashionably profess to court and serve - he was like a banyan tree - praying, caring and doing his bit for their welfare in every small way. For them the banyan tree of support has fallen and is indeed a colossal loss. Yet, life has to carry on and they will miss their beloved Swamiji.

The mantle at the Kanchi Matam now passes on to Sri Vijayendra Saraswathi Swamigal, the 70th pontiff. But the memory of Sri Jeyandra Saraswathi Swamigal, the 69th Shankaracharya of Kanchi Kamakoti Peetam, will linger on for ages to come. A widely admired and revered Swami is no more.