At the crack of dawn as people woke up for the Sunday morning chores, they were greeted with a rude shock: "Sridevi is no more … succumbed to a massive heart attack in a Dubai hotel room." Nobody was ready to believe it, for they were perhaps still not out of their weekend slumber … or hoping that broadcasters will express their regret for the wrong reporting … Alas, nothing of that sort happened, and as the reality slowly creeped in a pall of gloom descended over many households across the country. And if what my colleague said is right … the wait for morning tea became a long drawn affair for men folk as many women saddened by the news lost their way to kitchen …

Sitting in that all-pervading silence, wondering at the mourning sort of atmosphere all around, pondered over how this little girl called Sridevi Kapoor Ayappan from Sivakasi, down the South, could hold such a sway over pan India to throw it into a state of undeclared mourning?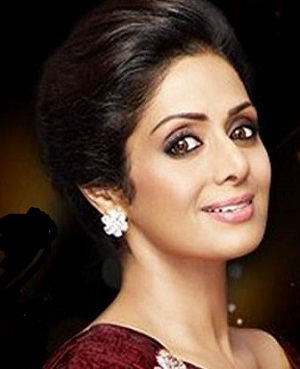 But then, isn't it true that it's not for a year or two, but for 50 long years, her movies enthralled cine lovers? Making her debut in cinema as a child artist at the age of four in the Tamil film Thunaivan, she acted as a child artist in all the four South Indian language films; then graduating to adult role at the age of 13 opposite Kamal Haasan and Rajinikanth in the film Moondru Mudichu in 1976, she ruled the roost over the entire South Indian film world. Then entering Hindi cinema with Solva Sawan, a remake of her superhit Tamil film in 1979, she went on to become a heartthrob of millions of cine lovers, pan India, acting in as many as 300 films. But more than the numbers, it is the quality and variety of the roles and the multitude of emotions that she portrayed had made her dearer to the audience. In this long course of her journey, she even earned the reputation of: 'Female Superstar.'

Obviously, people are unable to stomach the death of such a versatile actress watching whose dances and antics the current generation has grown up with. Why, sitting in that silence, even I could not but recall watching the film, Meendum Kokila, way back in 80s on the DD channel. Those scenes are still fresh in my memory. How could I forget her awesome performance in that Ponn Paarkkal (bride-viewing ceremony) scene. Sridevi, looking pretty innocent and demure, walks in and sits on the carpet in front of the prospective bridegroom. As is the ritual of those days, she was asked to sing a song. Promptly, a veena is placed in her lap. Her brother sits ready with his mrudangam to accompany her. Sitting with an obvious bundle of emotions: anxiety about the performance, longing for getting accepted, fear of failure, or rejection, perhaps … Oh! What a tension—a stress which is greater than that is faced at visa interview in the US Consulate by today's girls—and, remember, all this she conveys without speaking a single word … yet so effectively through her mesmerizing eyes. Sitting amidst strangers under the duress of such overriding emotions, she, closing her eyes, strumming veena begins slowly with an alaap and as the going picks up right tal she lands on the lyrics "chinnanchiru vayathil …" and as the going sounds good, she, glancing sideways at the groom, pats herself with a flash of a confident smile, of course, all very cautiously. But half the way, she gets stuck, for she forgot the lyrics … and, only the girls of my generation could understand the discomfort of that moment. The trauma of that moment which gets further accentuated by the sudden silence, has been portrayed by Sridevi so powerfully through the contractions of her lips, face, squirming in the seat with eyes downcast, and that's not the ultimate. As Kamal Haasan joins in the song, perhaps, to save her from the discomfiture, a sweet smile slowly creeps onto her face from a corner which is absolutely breathtaking! Indeed through her side glances, and the accompanying restrained smiles she very much reveals how charmed she is by the knightly gesture of the groom. In a way, she endorses her acceptance of him as her knight indeed. An awesome performance!

In that flood of recollections, another film flashed in mind: Vasantha Kokila (Sadma), Telugu version of the Tamil film, Moondram Pirai. Here again she astonishes us with her brilliant performance, and mind you, sans glamor. In playing the role of a mentally retarded woman there is a very thin line between acting and overacting and she ensured to always remain on the right side of the line. For instance, recall the brothel house scene where the fear she expresses seeing Kamal coming closer to her, the anger she exhibits when he rebukes and the innocent giggle that she throws out when he makes her laugh, every expression thereof is no action, only a natural reaction to the events and no wonder if it had captivated audience. Equally mesmerizing are the scenes where Sridevi as a woman regressed to the state of a child caressing the cute little puppy calling it in a child's tone—"Chubramanyam… Chubramanyam (Hariprasad… Hariprasad)" — riding on a donkey bindas, and the mannerisms she exhibits while Kamal Haasan sings that lullaby Kathagaa kalpanaga kanipinchenu naakoka dorasani (Surmayee ankhiyon mein nanha munna ek sapna de ja re …)—particularly, her thumb sucking as she falls asleep and you must watch carefully for as Kamal tries to shift her head from his lap onto bed the thumb slips out of her mouth and like any other child she hurriedly tries to put it back in the mouth and in that anxiety it strikes at her cheek for she is still in her slumber … eyes closed … my god, what a performance! It is no exaggeration to say that her sprightly spontaneous performance dominates every frame wherever she appeared.

There is yet another Telugu film of her that I watched on DD, Kshna Kshanam, in which this effervescent heroine while attempting to climb down from a high-rise apartment sliding by drain pipes and overridden by fear that is writ large on her face, she so spontaneously mutters 'Devuda' (Oh!god) 'Devuda' in quick phrases … in that shaky-voice accompanied by mercurially anxiety-driven facial expressions—all that leaves audience wonder-struck at its originality.

Entering Hindi films, she carved an everlasting space for herself demonstrating amazing versatility in the roles ranging from a clown to femme fatale in films such as Nagina (1986), Mr. India (1987), Chandni (1989), ChaalBaaz (1989) and Lamhe (1991) besides many blockbuster masala films. Her performance as a half-woman and half-snake in Nagina with such seductive aplomb just speaks about her potential as an actress.

In Mr. India, she turned out brilliant performance as a scatter-brained reporter: her giggling in phrases, that squeaky-voice, tripping and flailing her arms in Chaplinesque style, her hitting an unsuspecting villain that were all carried out in her signature style gay abandon made audience burst into laughter, indeed thrown them out of their cushions. When people talk about her mesmerizing dance, they must be referring to her performance as a sensual diva in wet blue sari in the song "Kaate Nahi Kat-te" but with trifling skin show. In this song her brilliance as a dancer reflects in enjoying herself the romance with the invisible man rather much more than man himself, but less explicitly, indeed more as a suggestive. And, perhaps it is that brilliance which made Sridevi a rage in the Hindi heartland. Above all, the scene in which she brings in snacks for the kids in the house is a tearjerker. That is her versatility.

Transforming herself into Yash Chopra's trademark sensuous heroine, she, even while enacting the role of a titular character, gave a memorable performance in Chandni as the woman who loses her first love and almost gets coupled with another man before fate steps in. For her ardent fans she looked no less a goddess of beauty! Her other film with Yash Chopra, Lamhe—a sort of 'incest-themed' drama—though a failure at box office is perhaps the one film that showcases her as a brilliant actress. Playing duel role as mother and daughter, of course in different time periods, she simply morphs into Pallavi, the mother, grace personified, and Pooja, a vibrant daughter, a bundle of joy. As a mother she is angelic in her waiting for the man she loved while treating Viren like a boy of the neighboring house … all with poise, maturity. As daughter, she is giggling, immature and fondly loving a man twice or thrice of her age, of course, unmindful of the man's feelings, becoming desolate in her yearning for his love and could shift from her immature giggling to mature and cold hard stares so seamlessly and confesses her love for him more in a matter-of-fact style. Both the characters are so strong and self-willed and know pretty well what they want and Sridevi is completely spot-on. Suffice to say that with Lamhe Sridevi proved herself as an actress unparalleled in beauty, dancing and acting. It is such power-packed performance of Sridevi that perhaps made Yash Chopra to include Lamhe in his two of the best films that he had directed.

Then came English Vnglish her comeback film after a hiatus of 15 years performing as a homemaker and also an entrepreneur, reminded her fans that "age cannot wither her." Teaching herself English for a trip to see her sister and visiting America as a diffident, middle-aged woman with her limited knowledge of English and beset by English spoken in accents that is least comprehensible, and overcoming the inadequacies delivering a speech at her niece's wedding—all those scenes were packed with just quantum of requisite emotions revealing her ability to balance her hallmark playfulness with subtlety and judgement.

In the course of this legendry journey of 50 years, she could pack 300 films besides acquiring the reputation as a highly professional and disciplined actress with spontaneity calling for very few takes to deliver the desired performance. At the core of her prowess that enabled her to enthrall the audience across the country lies her natural attributes: elfin smile with which she could floor even abstruse; twinkling eyes that could reflect any emotion; amazing sense of comic-timing; incredible ability to dance in gay abandon; and over and above all her versatility with which she could metamorphose into any role in no time as though the switch for action is pressed. That being Sridevi, no wonder, if her sudden and untimely demise had thrown millions of movie buffs who simply owned her up into a state of undeclared mourning!