The Poet of Musical Words that whet Appetite…
Fans of Sahir Ludhianvi, the Urdu poet and lyricist, who said, "Ashkon mein jo paya hai, woh geeton me diya hai" (what I got in tears, gave it back in songs), had celebrated his 97th birthday on March 8.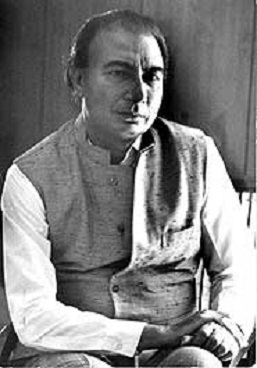 Evenly measured lines with easy rhymes are what we read carefully pausing at punctuation marks and even loading certain words with emotion in our younger days as poetry. We even learnt to quote a few stanzas so passionately. But entering college as I dipped into science of cells, cytoplasm; mitochondria, chloroplasts; chromosomes, chromatids; RNA, DNA; haploid, diploid; compatibility, sterility, poetry had lost its mind space. Thank god, it hasn't been lost totally, for by then, I was drawn towards 'poetry' aired by radio Ceylon and Vividh Bharati. It's the music—the flight of the tune, the drive of the percussion, violin phrases, waltz beats, mandolin breaks —that have indeed drawn me towards Hindi songs. If the music is good, it hardly mattered whether I know the language the lyrics are in or not, for I could still experience an emotional pleasure listening to it.

This may sound too much of exaggeration, but a recent publication in Current Biology by Samuel Mehr and Manvir Singh of Harvard University argued that "music does indeed permit communication of simple ideas between people even when they have no language in common" , of course duly supported by experimental data. This paper perhaps explains my experiencing pleasure when I first heard the song, "Yeh raat yeh chaandini phir kahaan / sun ja dil ki dastan …" ('Jaal', 1952) penned by Sahir Ludhianviset to music by Burmanda.

Of course, it's an altogether different kind of a pleasure listening to a song the language of which you know, for you can see how beautifully music is flowing around the lyrics and how lyrics are locked into the music, which ultimately doubles your pleasure. But then, you may question: are lyrics really poetry? May be in strict sense, "lyrics, even poetic ones, are not poems. … poetry is an art of concision, lyrics expansion … poems depend on packed images, on resonance and juxtaposition, on density … every reader absorbs a poem at his own pace, inflicting it with his own rhythms, stresses, and tone …"

All this may be true but with a clear understanding of the language when I listened to the lyrics, "Woh subah kabhi toh aayegi … (that morning will dawn one day) / jis subah ki khaatir jug jug se, ham sab mar mar kar jite hain (that morning, for which since many epochs, we are all passionately dying to live …) … / Woh subah kabhi toh aayegi …" ('Phir Subah Hogi', 1958) for the first time, I experienced a similar effect, indeed, the mood and image produced by the sublime music of violins in harmony and double base for rhythm and the voice behind the lyrics … that ennui as well as the notes of hope for a better, more just and equitable tomorrow … simply put me off from this prosaic world for a while. It no longer mattered whether it is a song or a poem but I got instantly connected to Sahir Ludhianvi, the poet who belonged to that narrow intellectual stratum of Hindi film world which is conscious of the social contradictions.

Sahir, announcing his arrival in Hindi cinema world in a breezy style with the song, "Thandi hawaaein lehera ke aayein, rut hai jawaan, tum ho yahan, kaise bulayein… (cool breeze waft in as waves, everything around is young, how do I call you here)" that was set to music by SD Burman for the film 'Naujawan' (1951), strode his way regally for over three decades, claiming a place in the hearts of cinegoers as people's poet. This Sahir-SD Burman combination, taking a distinct shape with the film 'Baazi' (1951), in which we could see Sahir's flair for injecting depth into his lyrics as he asks the protagonist to make himself accountable for his future in the song, "Tadbeer se bigadi hui takdeer bana le" — get the ruined future back on track by deliberation, in short directing the protagonist to take reins in his hand and move forward—had taken firm roots with Sahir writing lyrics for about 15 films at a stretch making them the most successful duo of the 50s.

Love for Sahir existed always entwined with nature. See, how romantic his poetry sounds in the backdrop of silent moon and stars in the film, 'House No. 44' (1955): "chup hai dharti, chup hain chaand sitaare (The world is silent and so are the moon and stars) / mere dil ki dhadkan tujhko pukaare (My heart beat is calling you). As the mysticism of night—khoye khoye se yeh mast nazaare (these so mesmerizing sights) / thhehare thhehare se yeh rang ke dhaare (these streams of colors that stood still) / dhoondh rahe hain tujh ko saath hamare (searching for you along with me)"—evokes longing for the love, Hemantda's voice oozes a soft warbling, "a jaa meri tanahaai ke sahaare (come to the rescue of my loneliness)." Wow! What a lyrical romance, the hallmark of Dev Anand. Sahir, SD Burman, Hemant Kumar and Dev Anand, all coming together simply beautified the edifice of romance.

Sahir's romantic songs always stand out as distinctly different from what we hear in Hindi films. For instance, look at this apparently sad and poignant song: "Teri duniya mein jeene se to behtar hai ke mar jayen (to live in your world, I should die rather)" from the film, 'House No. 44'. But if you look at the picturization of the song keenly, you would observe Kalpana Kartik going about her chores in her bedroom, apparently unconcerned, but humming the tune of this very song, which suggests an obvious romantic association between them. And picking up the tune, Dev Anand wonders in the melodious voice of Hemant Kumar, "Koi to aisaa ghar hota, jahaan se pyaar mil jaataa (At least, a heart may exist where love may be found) / vohi begaane chehre hain, jahaan pahunche jidhar jaaein" (Same unknown faces, wherever I reach, wherever I go). In the same vein, he coolly challenges God, "Arey o aasmaan vaale bataa, ismein buraa kya hai khushi ke chaar jhokein gar, idhar se bhi guzar jaaye (Arey o Lord of skies, tell me what's wrong, a couple of waves of joy may pass even from here, if ever)." As he finishes his singing, Kalpna Kartik looks at Dev Anand with enigmatic smile. When viewed from this perspective, this pathos-laden song that expresses the anguish of a lost heart ruing the absence of love in the most heart-wrenching lyrics is not after all what it all literally sounds but suggestive of something else. That is the greatness of Sahir's craft.

No one had perhaps described the lamentations of an anguished heart of a hurt love better than what Sahir wrote for 'Taxi Driver' (1954): "Jaaye to jaaye kahaaan (If I must go, where could I go?)/ samajhegaa kaun yahaaan dardabare dil ki jubaan (who here will understand the words of a heart full of pain?)." So going on with whispering of his own misfortunes, the hero, as though suddenly remembered of his love, confesses, "Un kaa bhi gam hai apna bhi gam hai (She has her sorrows, I have my own)" and obviously this double whammy makes him lose all the hope as is reflected in his cooing, "ab dil ke bachne ki ummid kam hai (now there is little hope of saving my heart)." A sweet pain but a pleasure to listen! And that is the fair (feminist?) heart of the poet, Sahir.

Distancing himself from the run of the mill vocabulary—husun, shamma, parvana, etc.—Sahir attempted in his lyrics to peek into the minds of lovers and effectively articulated their state of mind—the suffering that they are undergoing at the non-fulfilment of love without of course, explaining it away. Having established himself as a poet to be reckoned with at a very young age with his publication, 'Talkhiyan' (bitterness), Sahir used to portray in his lyrics an intense, and deeply emotional state of mind of a lover-dejected that is steeped in melancholic reality as in the song, "Kis ko khabar thi kis ko yaqeen Thaa aise bhi din aayege haay (who had the information, who had the belief that such a day will dawn)" from 'Devadas' (1955) that was set to tune by SD Burman. Incidentally my refrain from this song is the verse that defines the haplessness of the protagonist so pithily: "Ham jaise barbaad dilo ka / Jina kya aur marna kya (For a man like me with a ruined heart what is living and what is death)." A perfect sad song—lyrics, music and Talat's soft and sombre voice—simply strikes the mind making me involuntarily hum the line "Kis ko khabar thi … whenever I am alone and sad."

Sahir, the man, for whom love does not exist in vacuum—away from the sufferings of the society—has even written lyrics for a number of films from this stance, the stance of universal love. For instance in the film, 'Didi' (1959), the heroine sings, "Tum mujhe bhool bhi jao to yeh haq hai tumko / meri baat aur hai maine toh mohabbat ki hai (If you wish to forget me, you have every right to, but I can't be expected to since I have loved you)." Listening her, the hero elucidates: "Love is not the only thing in life, there is something else too / in a world besieged by hunger and poverty / love cannot be the only reality / if you wish to shut your eyes to this, so be it / my heart goes out to others too—"Zindagi sirf mohabbat nahin kuchh aur bhi hai / Bhook aur pyaas ki maari huyi iss duniya mein / ishq hi ek haqeeqat nahin, kuch aur bhi hai / tum agar aankh churao to yeh haq hai tumko / maine tumse hi nahin sabse mohabbat ki hai". That is his love and its shades.

As we move on to his next phase of lyrics writing, we, of course, tumble upon Pyaasa (1957), the film made by Guru Dutt for which he wrote all the 9 songs—where that Sahir-SD Burman combination reached its zenith making the songs the very vibe and verve of the movie—a movie that was included in the list of 100 most influential films by the Time magazine. Every song of this film is a gem by itself, and their beauty is that they carry forward the plot as though songs were in a poetic dialog with the protagonist's spoken words.

Look at the wisdom of words that Sahir put in the mouth of the protagonist—a poet, who being abandoned by the heroine in favour of a wealthy man, and having he got an opportunity to air his tragedy, drawls his dejected and worn-out heart thus: "Jaane woh kaise log the jinke pyaar ko pyaar mila (I wonder what kind of people are they who find their love reciprocated) / Humne to jab kaliyaa maangii kaanton kaa haar milaa (Whenever I asked for flowers, I received a garland of thorns) / Khushiyon ki manzil dhoondi to gham ki gard mili (I searched for a destination of joy, but I found a circle of sadness) / Chaahat ke naghme chaahe to aahen sard mili (I desired tales of love, but I received only the coldness of sighs)." He goes on to air the inevitable frustration that a love turned tragic inflicts: "Bichhad gayaa har saathi dekar pal do pal kaa saath (Every companion gave me a few moments of company, and left) / Kisko fursat hai jo thaame deewanon ka haath (After all, who has the free time to hold a crazy man's hand?) / Humko apnaa saayaa tak aksar bezaar milaa (Even my own shadow is often weary of me)."

There is yet another heart-wrenching song in this very film that depicts his sorrow at the falling social values, growing materialism and the indifference of independent-India towards the marginalized gender by making the protagonist of the film, Guru Dutt, ponder thus while walking down a red light street: "Yeh kooche yeh neelam-ghar dilkashi ke (These lanes, these houses of auctioned pleasure) / Ye lutte hue karvaan zindagi ke (These ravaged caravans of life) / Kahan hai kahan hai muhafiz khudi ke (Where are the guardians of dignity?) Jinhe naaz hai hind par wo kahan hai (Where are they who claim to be proud of India?)." Continuing with his utter frustration thus, "yahaan peer bhi aa chuke hain jawaan bhi (The aged comes here, also the young) / tanomand bete bhi, ha ha abbaa miyaan bhi (also the lusty sons, even their father!) / ye biwi bhi hai ye biwi bhi hai aur behan bhi hai maa bhi (These are the wives too as well as sisters and even mothers) …" the poet commands: "zaraa mulk ke rahbaron ko bulaao (just send for the guides of the nation) / ye kooche ye galiyaan ye manzhar dikhaao (show them these alleys, these lanes and the view)" and staring straight into the faces of the so- called self-appointed guardians of the society and the religion, questions: "kahaan hain, kahaan hain, kahaan hain (Where, O where are they?) / jinhe naaz hai Hind par wo kahaan hain? (Where are they who claim to be proud of India?)."

I find it very difficult to move away from Pyaasa without talking about the musical climax of the picture and the haunting lyrics of the last song in which Sahir perhaps, enjoyed enough opportunity to express his bitter, cynical feelings about a world that is ruled by bizarre wealth and lust thus: "Ye mehlon ye takhton ye tajon ki duniya (this world of palaces, thrones, and crowns), ye insaan ke dushman samaajon ki duniya (this world of societies that resent humanity), ye daulat ke bhooke riwaajon ki duniya (this world of those hungry for material wealth) / ye duniya agar mil bhi jaae to kya hai ... (What it is to me even if I can have it)." As the song nears the end, even the composer, as though exhorted by the lyrics, made the singer to raise his voice while singing—"Jala do ise phoonk daalo yeh duniya (burn this world, set it on fire), mere saamne se hata lo ye duniya (Remove this world from my sight), Tumhari hai tum hi sambalo ye duniya (This world is yours, you take care of it),Ye duniya agar mil bhi jae to kya hai…"—which indeed heightened the listeners' emotions too and the result is: everyone glued to the poet. It is the unrequited love of Sahir and his disenchantment with the world that reflects in these lyrics, and obviously, it is the felt experiences that gave such a fort to these songs. And the music of Burmanda and the mesmerizing voices of Hemant Kumar and Rafi simply made them a dear delight to listen.

Unfortunately, after this film Burmanda and Sahir fell apart and never worked together. After this separation, Sahir wrote one beautiful song (Chandrakanta, 1956) for N Dutta, once, the Asst to Burman da, to compose, which I relish to listen for ever. It runs thus: a melancholic prelude … 'finger picking' of Sitar's string in a separated fashion … … but progressing with cadence ...followed by Rafi's voice… badii udaasi full of pathos ... Maine chand aur sitaro ki tamanna ki (I'd longed for the moon and the stars) / Mujhko rato ki syahi ke siva kuch na mila (But for the darkness of the night, I got nothing). The refrain of this song is: Mai vo nagamaa hu Jise pyar ki mehfil na mili (I am that melody which found no assembly of love). No wonder, if his fans often called him as a poet of Chand and sitarra.

Lyrics of Sahir, a poet known for his leanings towards Marxist ideology, obviously portrayed profound ideological link to Marxism. It is this ideology that perhaps enabled him to not only perceive the trauma of the subaltern but also narrate their persecution so vividly as in this song: "Aurat ne janam diya mardon ko / Mardon ne use bazaar diya (Woman gave birth to men / And men gave her the marketplace)" from film, Sadhana (1958). The portrait he has drawn of a woman 50 years back—"Tulti hai kahin dinaaron mein (She is weighed somewhere in dinars) / Bikti hai kahin bazaaron mein (And sold somewhere in bazaars)/ Nangi nachvaayi jaati hai (She is made to dance naked) / Ayyashon ke darbaaron mein (In the courts of the debauched) /… / Sansar ki har ek besharmi (Every disgrace in this world) / Gurbat ki god mein palti hai (Is nurtured in the lap of hardship) / Chaklon hi mein aakar rukti hai (inevitably ends up at brothel) / Faaqon se jo raah nikalti hai (The path that begins in hunger) / Mardon ki hawas hai jo aksar (It is often the lust of men) / Aurat ke paap mein dhalti hai (That takes shape in the sin of women)"—is so heart-wrenching to stay up with its listening. And ironically, did anything of it changed in even today's India?

Taking forward his social consciousness, Sahir, looking at the growing menace of religious-hegemony and perhaps, its ill-effects on society, he penned another gem of a song for the film, Dhool Ka Phool (1959), which is an eye-opener to every Indian: "Tu hindu banega na Musalaman banegaa (Neither you will become Hindu nor Muslim) / Insaan ki aulad hai / Insaan banega (you are the child of man, you will only become a human being)." His anguish at the hatred being spread under the name of religion well reflects when this atheist says: "ye deen ke tajar ye watan bechne waale (These traders of religion and sellers of nation) / insaano ki laashon ke kafan bechne waale (these sellers of shroud off of the corpses) / ye mehel mein baithe hue qaatil ye lootere (these murderers and thieves sitting in the palaces) / … / tu in ke liye maut ka elaan banega (you will become their death kneel) / insaan ki aulaad hai, insaan banega."

That is Sahir's faith in humanism and secularism! In fact, this spirit of Sahir shines better in another song from the film, Chitralekha (1964), where he questions the 'sin-virtue' concept being pushed forward by the evangelists of organized religion: "sansaar se bhaage phirte ho, bhagvaan ko tum kyaa paaoge? (As you flee from society, how will you find God?)." Incidentally, Sahir, the poet steeped in chaste Urdu, for the first time wrote in pure Hindi to enable a haughty courtesan, who of course, later turns into a humble ascetic challenge a holy man: "ye paap hai kyaa, ye punya hai kyaa? riiton par dharm kii mohare hai (What is sin and what is virtue? Religion uses such traditions as mere facades) / har yug mein badalte dharmon ko kaise aadarsh banaaoge? (How will you idealize the changing religion of every age?)". And going a step further, as the Vesya cooing, "yeh bhog bhii ek tapsaya hai, tum tyaag ke maare kyaa jaano? (this pleasure too, a penance; what you know about renunciation?)" challenges the holy man uttering: "apaman rachetaa kaa hogaa, rachnaa ko agar thukraaoge (it will be an insult to the creator himself, if you reject the act of creation)"—one wonders if Sahir is advocating a philosophy of universal hedonism! Aside of these judgments, his lyrics indeed raise certain questions that call for not only mere listening but also pondering over …

Sahir Ludhianvi, a gifted poet with an analytical eye and perhaps, an innate cynicism and disillusionment towards society at large, wrote a song for Gumrah (1963) that reflects a great deal of emotional complexity and maturity, and yet reflecting lots of rationalism. The context was: societal circumstances prevent the love of two individuals flowering into marriage. Later, the heroine gets married to another. One day the protagonist happens to visit them and in that context, he suggests: "chalo ek baar phir se, ajnabii ban jaayen ham dono (Come, let us become strangers once again)", for he believes that emotional separation makes it easier for their pain—"taalluq bojh ban jaaye to usko todnaa achhaa (Should a relationship become a burden, then it is best to end it)" to heal, perhaps.

For me, the refrain of this song is the last stanza: "voh afsaana jise anjaam tak laanaa na ho mumkin (For that tale which cannot culminate in a conclusion), / use ek khuubsuurat mod de kar chhodna achhaa (it is best to give it a beautiful turn and leave it be)." It is with his eloquence and nuanced use of language and importantly, sans praising love as an ideal, he—positing that it is counter-productive to invest energy into doomed romantic relationships— suggests that in the interest of everyone, it is sensible to put an early end to the love stories that simply cannot have happy endings.

Often times, his lyrics exhibit a romantic association with philosophy. Look at this simple song written for Hum Dono (1961)—"Main jindagi kaa saath nibhaataa chalaa gayaa (I just kept going with the flow of life), / Har fikr ko dhuein mein udaataa chalaa gayaa (Kept blowing away every worry like smoke) / Barbadiyon ka sog manaanaa fijul thaa (it was useless to be sad about whatever gone wrong) / Jo mil gayaa usi ko muqaddar samajh liyaa (Whatever I got, I considered that as my fate) / jo kho gayaa main us ko bhulaataa chalaa gayaa (whatever I lost, I kept going, forgetting it..) / Gam aur khushi mein fark na mehasoos ho jahaan (where no difference is felt between sorrow and joy) / Main dil ko us makaam pe laataa chalaa gayaa (I kept bringing myself to that point [of no difference])". This song at once gives us an extemporaneous insight of life. Tells us that the protagonist, having taken stock of his life, cheerfully accepted it as given and instead of celebrating tragedies of life, learning to move forward with an eye on tomorrow, perhaps, kept going. Whenever I felt let down in life I used to hum the verse, "Har fikr ko dhuein mein udaataa chalaa gayaa."

A similar marriage of philosophy with poetry can be seen in the song, "Mann re tu kaahe na dheer dhare (my heart, why don't you take courage?)" from the film, Chitralekha (1964) that addresses itself ostensibly to the mind, but is really appealing to the heart to be patient, to reconcile with its fate—doesn't matter, even if it meant going unloved by the one loved, for ("is jiwan ki chadhti dhalati dhup ko kis ne baandhaa") the rising and receding sunlight of this life, who had tied up? There is pain in the lyrics, in the singer's voice and of course, in the accompanying music too, but as the poet tries to explain that beauty is ephemeral and the protagonist is best off alone, "janam-maran kaa mel hai sapnaa, ye sapnaa bisaraa de (togetherness through life and death, it's a dream, forget this dream) / koi na sang mare man re …" (no one accompanies you in death) for no one can die with another, what we, the listeners perceive is: 'Stoicism'—to be indifferent to pain and pleasure. But the big question is: will the heart accept it that easily? If cultivated consciously, perhaps, "yes".

There is yet another song from film Waqt, "Aage bhii jaane na tu, piiche bhii jaane na tu (you may not know what lies ahead of you, nor do you know what lies behind you)/ jo bhi hai bas yahii ek pal hai (what is here now is only this very moment) … jeenevaale, soch le yahii waqt hai kar le purii aarzuu (O living soul, think fast: this is the time to fulfil all your desires)" that so passionately suggests to grab every moment of life, for who knows what lies next and so suggesting fatalism, advocates no letting of life slip through fingers.

Now I must invite you to listen that soothing number of 1963, "jo vaadaa kiyaa woh nibhaanaa padegaa (You must fulfill the promise that you made) / roke zamaanaa chaahe, roke khudaayii (Should society or divinity attempt to stop you) / tum ko aanaa padegaa (you must still come to me)" from the film, Taj Mahal that fetched him his first Filmfare Award as the "Best Lyricist" in 1964. In a way, this song of everlasting romance—"yah maanaa hamen jaan se jaanaa padegaa (I accept that I must leave this life) / par yah samajh lo tum ne jab bhii pukaaraa (But understand this: whenever you call out to me) / ham ko aanaa padegaa (I must come to you)"—reflects the Sufi-poets belief that love with the beloved is same as the love with God.

How I could move away from this film without referring to that unusual song of Hindi-cinema-world, where Sahir questions "khuda-e-bartar" Superior Lord thus: "terii zameen par zameen ki khaatir, yeh jang kyon hai?—Why is there this war over land in your world?" In his anxiety to express his aversion for wars as also highlight the futility of wars, he goes on questioning: "This land is yours, we are yours. Then what is this question of ownership and possession? (zameen bhi teri hain ham bhi tere, yeh milkiyat ka sawaal kya hai?); Why these traditions of bloody murder? (yeh qatl-o-khuun ka rivaaj kyon hai?); in this world, instead of celebration of love, why celebration of arrows and rifles? (jahaan men jashn-e-vafaa ke badle, yeh jashn-e-tiir-o-tafang kyon hai?). He won't stop there; he prays to khudaa-e-bartar: "ghariib maaon shariif bahnon ko aman-o-izzat kii zindagii de—grant poor mothers and noble sisters a life of peace and respect", and so on … for universal happiness.

Sahir, the atheist, and the poet of hope—"Wo subah hamii se aayegi"—had penned a beautiful bhajan set to music by Ravi based on the raga, Darbari in the film, Kaajal—"tora man darpan kehalaaye (Your mind is said to be the mirror) / bhale bure saare karmon ko dekhe aur dikhaaye (deeds good and bad, it watches and shows all!) / … man hee devataa, man hee eeshwar / man se badaa naa koee (mind is celestial, mind is God / None there is greater than mind) …", which Asha Bhosle sang so elegantly—which needs to be heard for enjoying its spiritual rationalism.

Now, before concluding I wish to invite you to that classic qawwali from the film, Barsat ki Raat to fully appreciate Sahir Ludhviani's perception about religion, romanticism, literary aesthete and the very philosophy of life: "Na to caaravaan ki talaash hai (I am not in search of a caravan) / Na to humsafar ki talaash hai (I am not in search of a fellow traveler)." For him love means: "Dil ishq, jism ishq hai, aur jaan ishq hai (My heart is love, my body is love, and my life is love) / Imaan ki jo poochho to imaan ishq hai (If you ask for faith, then that is love too)." Love, for Sahir is free, love is neither Hindu nor Muslim (Ishq aazad hai, Hindu Na Musalmaan hai ishq). Religion for him is: Ishq, love. The commands of God and Mohammed are love (Allah rasool ka farmaan ishq hai), the teachings of Mohammed are love, the Quraan is love (Yaanii Hadith ishq hai, Quraan ishq hai), the wishes of Buddha and Christ are love (Gautam kaa aur Maseehaa kaa armaan ishq hai). He perceives love as the one that turns clay into idols and idols into Gods (Khaaq ko but, aur but ko devtaa karta hai ishq). And reaching the pinnacle of his visualization, Sahir proclaims: God loves his created beings—"bande ko khuda karta hai ishq"—for that is love, Haann yeh ishq ishq hai…

It is in the late 70s that he got his second Best Lyricist Filmfare Award for the lyrics that he penned for Chopra's film, Kabhi Kabhi, a simple adoration of a woman: "Kabhi kabhi mere dil mein khayaal aataa hai (Sometimes this thought enters my heart) / Ki jaise tujhko banaayaa gaya hai mere liye (That you were created only for me)."

But the best pick of mine from this film would be: "Main pal do pal ka shaayar huan (I am but a poet for a moment or two), pal do pal meri kahaani hai (My story is of a moment or two) / Pal do pal meri hasti hai (My image is for a moment or two), pal do pal meri jawaani hai (My youth, for a moment or two)." As the song advances and as I listen him saying, "Kal tumse juda ho jaaoonga (Tomorrow I will depart from you) / Woh aaj tumhaara hissa hoon (But for today, I'm a part of you)" I wonder if Sahir Ludhianvi is reciting it as though it is his signing off gift to fans and that thought inevitably makes me choked. And as he comes to the lines, "Kyun koi mujhko yaad kare (But why should anyone remember me) / … / Kyun waqt apna barbad kare (Why waste its precious time)", I wish I were able to tell him: "No", you will be remembered, for you gave us poetry, poetry smeared with musicality. Through your poetry, you have shown us: "Zindagi sirf mohabbat nahin kuchh aur bhi hai". Your poetry in cinemas is timeless, which is why you are forever.

Khuda Hafiz ….