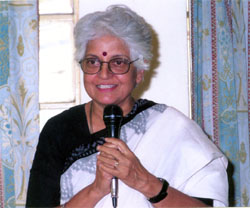 As a child, Vasanth Kannabiran (born 1939) was taught to question and assert herself, and it is a habit that has stayed with her. Born into a family of first-generation Communist leaders in the southern Indian state of Andhra Pradesh, Vasanth was an indifferent student but a voracious reader. She secured an M. Litt. in English Literature from the Central Institute of English and Foreign Languages in Hyderabad, and went on to teach English at a woman's college from 1961 to 1985.
But Vasanth, who is married to K G Kannabiran, a lawyer and leading civil and democratic rights activist, was no ordinary teacher. Since the mid-1970s, she has worked alongside her husband to fight for the rights of political dissidents, often at great risk to herself and her family. When she began to work on issues of human rights, the Emergency had just been declared, and all civil liberties stood suspended. There were many cases of disappearances, arbitrary arrests, detentions and deaths in custody. While her husband set out to defend the rights of political activists in the courts, Vasanth shouldered the responsibility of sheltering these activists, providing them with emotional support and care in traumatic circumstances and at great personal risk. This element of her work continues in some form today, since there is a confrontation going on in the region between the State and militant Left groups.
During the 1970s, Vasanth also became a member of one of the earliest women's collectives in India, the Stree Shakti Sangathana, and eventually moved from college teaching to development work. Ten years ago, she set up a radical women's collective in Andhra Pradesh called Asmita, which brings diverse groups of women into networks that address a range of issues spanning conflict, peace, survival, women's rights and secularism. Vasanth is also a founding member of Hyderabad Ekta, the first anti-communal front in Hyderabad, which began its work in an atmosphere of worsening communal polarization.
She was also founder of the women's programme at the Deccan Development Society, working with rural women on issues of development and human rights in the 1980s. Even before her involvement in feminist networking, she was elected president of the largest network of college teachers in Andhra Pradesh, the Telengana Affiliated Colleges Teachers Association. Dissatisfied with the political apathy and social indifference that mark an average college teacher's life, she led protests and direct action that has not just secured service advantages for teachers, but also dignity and recognition.
For over 30 years now, Vasanth has been closely involved with the questions of armed militancy, civil liberties and the meaning of peace for women in Andhra Pradesh.
At the national level, Vasanth has been an advisor to several government initiatives on bringing gender into governance, especially with the police and judiciary. Her longstanding contribution has been to networks like the National Alliance of Women and the Indian National Social Action Forum, of which she was president. She has worked on capacity-building, especially in Tamil Nadu and Andhra Pradesh, in the NGO sectors, training, working with and encouraging successive generations of development workers, especially women, and making tools of feminist praxis accessible for grassroots mobilization.
Vasanth works internationally with networks like the Asia South Pacific Bureau of Adult Education, as well as in pre- and post-Beijing networks of women on issues of violence and human rights. She is a consultant at the international level, bringing gender concerns into development work. Moreover, she is part of widely-recognized feminist historiography initiatives like the documenting of women's participation in the Telangana armed struggle.
Vasanth has played an invaluable role in initiating, sustaining and supporting campaigns for a democratic order by offering her services, shelter, critiques, resources, advocacy efforts and creative energies. What is unique about her is her capacity to train leaders and build alliances. She has been able to straddle the local and the international, addressing questions of inequality, discrimination and diversity in every sphere of her work.
Her other special quality is that she is not afraid to either question or assert herself. She is often deeply critical of undemocratic trends in Left movements, and has worked hard to bring a gender approach to the work of the Left, even to the extent of alienating some of her coworkers.
For example, she carried out research that resurrected women's history in Left movements at a time when the radical Left was unwilling to recognize the importance of women's perspectives. Since she was located within the Left both in terms of her family background and civil rights work, the consequences of this research were far from comfortable for her. She faced personalized attacks on her and other members of the feminist collective. However, by bringing women's concerns into radical political struggles, and actively encouraging the formation of networks of women from diverse backgrounds, her work has led to an understanding that women's perspectives are indispensable to any form of struggle.
Even while coping with the insecurities of a disgruntled State for over two decades, she never questioned the imperative to carry on with her work. Relationships were built around political work, which became central to the identity of the whole family.