I admit that I am not very spiritual; was once but not now, I am sure. I look for logic and science in everything. However, many times I could see neither. Please don't get angry. The problem should be with me, I know. Nevertheless, sometime back I saw an eye-catching advertisement on a novel publication of The Bhagavad Gita. I am sure many of you also might have seen it.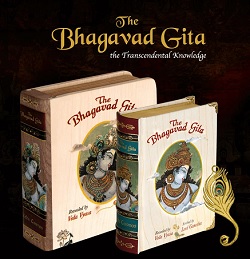 A voluminous book with hundreds of pages, but all pages with colorful pictures on one side and the other side the verses and explanations. The price was also q whopping Rs.38,750. OMG! Though I was impressed with the special paper, and printing of exquisite paintings, I found it too expensive and also undoubtedly unweildly to keep and handle; that too to read and understand the obscure philosophy!

But, quite recently, the publishers should have realized the limitations of the readers and interested public and brought out three different size versions now: A6, A7 and hold your breath, Miniature versions! I have gone through all of them which are cozily nestled in an aesthetic wooden container with a dicreet opening with a slide door. The prices vary from Rs.5850 (A6), Rs. 3450 (A7) and Rs. 2450 (miniature). Believe me, all of them are beautiful, colorful, and readable with bold letters in English (the meaning) and the sloka and its transliteration in smaller letters but with clarity!

I have bought the A7 version and it is cute, cozy, handy and readable. One can easily carry the box to anywhere without damaging the book.

Now the contents: most of the time I invariably put off by the exhaustive and baffling explanations for every verse with cross references and extra discourses! Fortunately, this edition doesn't carry that torture. It just presents the meaning and makes the reader to think and comprehend according to his/her intelligence or wisdom. I like it…Started reading and the chapters are just moving interestingly and after every verse I hold for a few minutes to digest and convince myself of the content!

If not for anything, I am happy in this case with the creativity, workmanship, simplicity, exquisite artwork and the excellent printing on a special paper with special colors! Kudos to Vedic Cosmos!

I personally and honestly feel the youngsters could give a try to buy and read it! Because I feel they should get the direct feel of the Great Indian Philosophy and its contribution to the whole world!

3K or 4K are no big money for them! Their spending on entertainment definitely exceeds this! This, in my opinion, is a 'One Time Investment' and 'Life Time Benefit'.