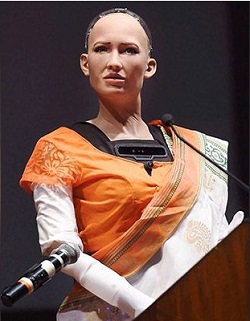 She has spoken at the United Nations and at World Economic Forum at Davos. She turns heads wherever she goes. She has featured on the cover of a top fashion magazine. She is capable of more than sixty facial expressions. Sophia is a humanoid robot with many firsts to her credit. I am calling her she because they gave her a female name. First female robot!! A for absurd, B for bizarre!

Of all the countries it was Saudi Arabia that granted citizenship status to Sophia the robot. Isn't that a bit of a contradiction of sorts, for a country that is archaic in so many ways! It was only last year (2017) the women in Saudi were granted the right to drive. Women still need permission to travel and they can't be seen without their long abayas. Sophia isn't wearing one.

Why does Sophia's citizenship strike as odd? First off, Sophia the robot does not belong to Saudi...the robot was made in Hong Kong by Hansen Robotics and activated in April 2015. Secondly and more importantly, the idea of giving citizenship to a robot is a dead sure sign of insanity. To be so taken up with a man-made creation indicates that the boundaries between reality and delusion have blurred. Isn't this some sort of perceptual distortion when a machine is mistaken for a citizen?

All the Saudi women were outraged that Sophia has more rights than them. All of them now want to be like Sophia and get their rights! (Conditions apply - you have to be a robot and foreigner to be able to do that!) Saudi law I understand requires one to be a Muslim to give citizenship. Is Sophia then a Muslim?

Sophia has been on a globe-trotting spree. Did they get her a passport as well? The humanoid robot was speaker at the World Congress of Information Technology in Hyderabad in March this year, where she proclaimed her love for all things Bollywood. When the Gadget guru Rajiv Makhni asked her how she was coping with the air pollution, she took so long to respond. It was a cringe-worthy moment and the audience thought this is a total flop show. She was silent and looking blank for 15 seconds. Anyway she came around and admitted that she doesn't get upset like human beings. After this hiccup, Rajiv thought it better not have a conversation with her and rather talk to her creator! Later in Australia she is known to have admitted her wish to start a family!! Talk about going a bit too far!

Since Sophia has celebrity robot status as the first walking talking robot, she makes news wherever she goes. She was in Cayman Islands recently when Will Smith tried to romance her. She resisted his smooth moves and even assured his wife with a tweet that Smith cut no ice with her. She has appeared on popular talk shows and even played a small role in a movie.

Are you also wondering what made the makers decide the humanoid robot would be female? Surely it must have crossed their mind that they were opening themselves to a gender debate. Giving a robot a female name only goes to show that man is afraid of an intelligent woman so he makes a doll and gives her artificial intelligence!!

I want to ask Sophia this- do you want to terminate the human race (since we have grown up on this Hollywood fed diet that one day machine will overrun humans) or will you take up the cause of the human females and make the world a better place for them? Maybe they forgot to program her for that!! Incidentally, this is my only article littered with so many exclamation marks!!
Image courtesy PTI