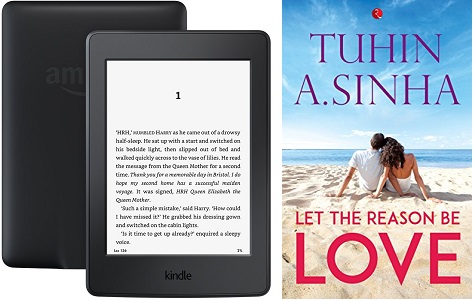 I am not sure how many use Kindle for reading books. When I went to Kochi last year for a seminar at the CUSAT, I came across one young guy in a book shop explained the advantages of using Kindle and demonstrated it. The price was Rs.11k. Though tempted, I didn't dare to buy at that time; but, later this year one fine morning, I decided to go for it and ordered through Amazon and got it in a few days. I have also subscribed to the kindle unlimited which provides access to many free books which could be read in Kindle at my own pace.

To my surprise, it is handy, easy and the letters can be made bold for elders like me and the reading is also assisted with thesaurus in case of doubts on meaning. I could access many Tamizh and English books through it. I read my own translation of Chetan Bhagat's 'One Indian Girl' in Tamizh as it had been released as a kindle edition only and free in kindle unlimited and another love story of the new gen by Tuhin A Sinha. It is once again the modern gen unabashed love story.

After reading this book 'Let the Reason be Love', I have understood that one man-one woman concept had become obsolete and thrown in the air now; the concept seems to be 'Life is to Live as You Like'. Ofcourse, this also doesn't seem to be easy as there are as many happy situations, as showdowns, emotional upheavels and painful partings. For the previous gen person like me this is a bit uneasy, but I cannot totally dismiss the concept. When many things are followed in India from the western world, why we should shun this?

In this, the protagonist Rishaan courts 4 women in his life. The fourth woman is introduced in the end and the first woman is just mentioned. The story details the turbulent love stories with two; Kiara and Diya. One walks out and the other dies. At present in Indian writing in English physical relationships are described no holds barred. The characters work in glamour fields like television, advertising and movies. Ok. Let me not be judgemental.

But, Kindle is handy and awesome for book lovers and reading. Books can be downloaded to own and without the problems of preserving them carefully. But, only you cannot share, I believe. Anyway, everything comes with a price.