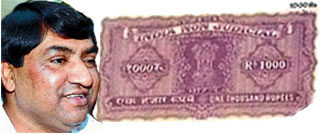 Currently CNN-IBN is telecasting taped conversations between Abdul Karim Telgi and compatriots. Mr. Telgi is the public face of the hidden mafia behind the nationwide fake stamp papers scam. It is India's biggest ever scam. CNN-IBN said Mr. Telgi made Rs 30,000 crore. He did not. He generated Rs 30,000 crore. This scam makes a mockery of national security. It exposes a dangerously compromised political class and a soft state incapable of containing terrorism. To get the whole picture, let us begin at the beginning.
It was the fake currency scam that gave birth evidently to the fake stamp paper scam. The mysterious roles of the government and the Reserve Bank of India (RBI) in the fake currency scam have never been explained. On July 14, 1995 RBI signed through its subsidiary the contract for printing Indian currency notes with a Japanese firm, Komori. This firm's earlier contract with Russia to print Russian currency had ended in disaster. Russia had to stop use of Komori machines to print currency because counterfeiters had a field day. India had been using Giori printing machines for over a hundred years. Giori is owned by Swiss, German and British interests. It serves ninety per cent of the world's nations for printing currency.
The government's decision to switch from Giori to Komori alarmed many MPs. They warned the government to desist. Mr. Somnath Chatterjee and Mr. Tarit Barun Topdar of the CPI (M), and Mr. Chetan Chauhan of the BJP, wrote letters of strong protest to both Prime Minister Narasimha Rao and Finance Minister Dr. Manmohan Singh. The government ignored their warnings.
Public interest litigation was filed against the RBI in the High Court of Judicature in Mumbai to prevent use of Komori machines for printing currency notes. It was feared that hostile foreign powers could deluge thereby the nation with fake currency notes. Earlier, the sub-committee of the RBI Board headed by Mr. SS Marathe had stated:
'The Gioris have a proven technology. India has a long experience of using their machines and our experience has been satisfactory. On the other hand, Giori have monopoly power and there could be scope of their using such power for hiking prices.'
Giori's offer was competitively superior. But RBI expressed worry about a future threat ' of which there was no visible sign.
In court the RBI defence was pathetic. The verdict was astounding. The RBI admitted:
'The Committee recognized that there could be teething troubles in adopting such a course and it was not easy to quantify the extent of such teething troubles. The Board had all along been aware that some of Komori's equipment was not fully proven.'
Despite this, the court rejected the petition. RBI signed the contract.
The anticipated escalation of fake notes did occur. The banks failed to distinguish fake notes from genuine notes. RBI had even to cancel certain series of notes because fake notes with the duplicate serial numbers flooded the markets. In one police investigation neither RBI nor the government's bank-note printing press could distinguish between genuine and fake notes. In other words, there was no effective legal tender in the country! On October 22, 2002, the government signed a fresh contract with Giori to contain the damage.
Meanwhile, terrorism got a tremendous boost. Fake currency was manufactured by terrorists to fund their operations. On December 21, 2003, government sources told media that fake currency of high quality was being printed by ISI in the territory occupied by Al Qaeda on the Pakistan-Afghanistan border. Government sources also told media that a similar operation was under way on the Nepal-China border. Will Prime Minister Manmohan Singh and RBI enlighten the public now about the precise reasons that impelled the government then to undertake this currency misadventure?
Access to indistinguishable fake currency has obvious advantage over the narcotics trade which has traditionally funded terrorism. The technique of using identical machines for printing fake currency was unbeatable. Once the Komori deal gained notoriety, the mafia shifted operations to fake stamp papers. As early as 1995 Mr. Telgi was arrested for selling fake stamp paper which was found, on examination, to be as good as genuine by the Indian Security Press. That was a trial run which suggested official complicity at a low level. Two years later in 1997 the real fake stamp paper scam began.
In a public auction the government security press in Nashik sold to Mr. Telgi a dozen presses without dismantling them and without removing the dyes. This was illegal. It enabled printing of authentic stamp paper. The official responsible for the auction was promoted. Mr. Ram Jethmalani, as cabinet minister, recommended his promotion. Mr. Yashwant Sinha, as finance minister, ordered it. Later the police arrested the official. But the government did not dismiss him. The Committee of Secretaries and senior officials of the finance ministry defended him.
Investigators were amazed at the sophistication of Mr. Telgi's operation. He had employed MBA graduates to prepare his project report. Mr. Telgi's clientele included 52 builders, 48 banks, and 61 top companies. Did government audit the accounts of these companies to find out whether Mr. Telgi sold them stamp paper at a discount? Leading politicians whose names cropped up during the Telgi probe included MLAs Mr. Anil Gote, Mr. Roshan Baig and Mr. Krishna Yadav. They were all arrested. Other names that figured in police leaks to media included former Karnataka CM and current Maharashtra Governor, Mr. SM Krishna, former Maharashtra CM, Mr. Narayan Rane, former deputy CM, Mr. Chhagan Bhujbal, and the current CM, Mr. Vilasrao Deshmukh. From the BJP, apart from Mr. Jethmalani and Mr. Yashwant Sinha, the name of Mr. Gopinath Munde figured. Apparently Mr. Telgi's polygraph test revealed the biggest political names.
As deputy PM and home minister Mr. LK Advani met Mr. Telgi's lawyer in his office. Earlier, Karnataka CM Mr. SM Krishna had strenuously opposed CBI's probing the Telgi case. After the lawyer's meeting with Mr. Advani he somersaulted. Recently, Mr. Telgi offered to make a full confession. According to press reports, the CBI was not interested.
During a police raid a Nashik press employee was caught with large stacks of brand new foreign currency notes. This suggested links to terrorist activities. If even one third of the Rs 30,000 crore generated by the fake stamp papers scam had reached terrorists, an entire army could have been financed. Are there not insurgent armies in India?
The government should appoint a high-powered judicial commission aided by a special investigative team to unravel the whole truth. What is the point in just continuing helplessly to whine about terrorism?