Soothing Serenades: Straight from the Heart ( A Collection of Love Poems),Bhaskaranand Jha Bhaskar, Authorspress, New Delhi, 2018, Pages 114, Price Rs. 250/- $12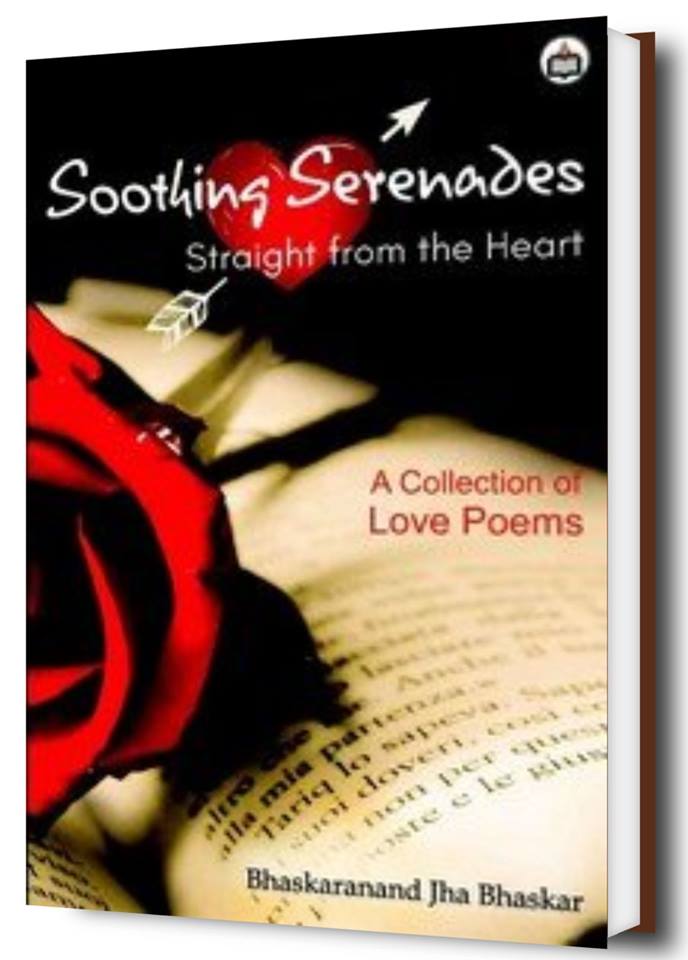 Bhaskaranand Jha Bhaskar's "Soothing Serenades: Straight from the Heart" depicts the multitudinous thoughts and feelings which pass through the heart. It renders the flow of myriad impressions- visual, auditory, physical, associative and subliminal that impinges on the consciousness of an individual.

Bhaskar Jha through his "Soothing Serenades" has made an eminent presence in the poetic world. His poems encompass a variety of emotional and mental states, ranging from the deepest interpersonal affection to the simplest pleasure, from the sensuous to the aesthetic.

Love is the essence of all his poems but has vivid shades. It keeps on moving, being stronger from physical to eternal. His rhythmic words written in free verse engross love which reminds the words of an Irish poet, James Joyce :
"Love loves to love love."
His love doesn't talk only about an intense feeling of deep affection but also defines the ultimate truth of reality and tells us that love is also about great interest and pleasure in something. Thus, this profound belief of his compels him to write about 'platonic love' and 'cosmic world' where love meets and become one.
"And her debonair demeanour
Explores a new vista
Of Platonic relationship
Unfolding an eternal dimension:
Metaphysical rendezvous with souls." - (She Gleefully Greets Love In Me; page-85)
"Our heart, desperate and impatient
Will be madly missing each other forever
Till the time we may or may not
Meet, greet, respect, feel and touch
The far-stretched pinnacle of the Platonic love
And enjoy to the brim the infinite elixir of life...." - (Elixir Of Love; page-95)
Bhaskar Jha further talks about the four 'purusharthas ' and finds the path towards the metaphysical through the physical world.
"Let's rather celebrate it
Each and every moment
Throughout our life "
...............................
"Since time immemorial,
Of eternal procreation,
A rudimentary plinth
Of the four 'purusharthas'
Set as the goals of human life." - (Celebration Of Love; page-98)
He further talks about "Happy moments of togetherness":
"Wedding bells tolled long back,
Their sweet sounds still echo
Our fervent, earnest love
With moments of togetherness"
.......................
.......................

"The bedspread in life yet smells
Of our mutual love and respect,
Of fragrance of happy togetherness...." - (Happy Moments of Togetherness; page-97)
The poet evokes the imaginative world of readers with various terminologies and figure of speeches. His poetry is his expression with emotive imagery drawn from the world of nature too. He has a unique style of his own. His words convey deep meanings underlying in them which comes from the depth of his heart.

Metaphorical use in "She" is an excellent example which sketches the glimpse of his love in the mind of the readers and gives the aesthetic pleasure while reading. The poet dwells in the beauty of his love through "Ocean of Love" and then says "Restless I Am For You". His intense love with 'fluttering feelings ' finds 'soothing solace' and 'soothing warmth' in 'soothing cocoon' and 'soothing canopy' through 'soothing glimpse' of his "her".

He takes body as a play :
"Like beauteous beads
trickling down
your neck and nape " - (Page-42)

"Was kissing your fingers
The lanky pointers with polished nails,
As if teasing my envious eyes
You were in full glee" - (Page- 49)

"Love blooms as blossoms boom
Yearning in beautiful bowers
Well planted, grown in the body
Sweet fragrance oozes out" - (Page-71)

"I fall asleep at last
Clasped
Into Your arms
Stretched far and wide" - (Page-96)
The words depict sensuousness and at the same time present imaginative calibre of the poet. But the love is pure and meant to be forever. The poet feels love of his love even from a distance and further implies strong belief that love remains unaffected in all conditions. He gets that soothing pleasure even when he watches her doing any work. He becomes a "Voyeur" :
"The sweet countenance
Seems bubbling
With soothing beauty
Spaced between
The lines of the distance
Yet my eyes get a vision,
Thoughts their essence
Mind enlightened;
Heart dances heartened." - (Revealed To Be Concealed; page-70)

"Like a vernal wind
You gently caress me
From afar" - (Vernal Breeze; page-38)
The poet feels his love so deep that even in his thought if she appears alone, he becomes sad.
"The white-washed ceiling stares still
At her loneliness, her mute sufferings
The alienated bedspread crinkles blue
Sensing her insomniac encircled self" - (Sad Saga of Love; page-82)
Bhaskar Jha is definitely a love poet but his love hails in the biggest sphere being philosophical and spiritual. When in grief, the imaginative feel of his love soothes mind and soul. His love embraces his soul in the world of violence, hatred and jealousy. He finds love as an eternal source of joy which is more ecstatic than being desirous. He calls love the "Ventilation" through which he breathes new life.
"You are to me a ventilation;
I am to you a ventilation:
We are breathing
new life into us
Loving mingled souls
all the time...each moment...." - (Ventilation; page-74)
Bhaskar Jha pours his heart through the words whose rhythm and melody compels the readers to get mesmerized and dive into the pond of aesthetic pleasure. Charles Dickens says , "A loving heart is the truest wisdom". His heart is a loving heart indeed and has the poetic sensibilities as well. He reveals this himself in his one poetic note :
"I am a man of heart"
...............
................
"A man with poetic sensibilities" - (I Am; page-31)
His lines in "I Am" even reminds of Wordsworth's quote:
"Fill your paper with the breathings of your heart."
When he says,
"With me is blank a sheet of life
To be filled in with poetry ahoy!" - (I Am; page-31)
And again,
"A sunken pool I have within,
To fill it to the brim" - (Splashes Of Love In Summer Of Life; page-41)
Bhaskar Jha's love is pure essence of agape love. His "Definition Of Love" is not stuck with suppressed or repressed emoticons, rather is a bliss which dwells in the union divine. It is clear in these lines:
"Love is life, philosophy, art and religion
A discipline with transformative power
That ennobles us and elevates our souls;
Love is poetry: the abstract of bliss" - (Definition Of Love; page-33)
The same reflection can be seen when we go through these lines:
"Let's love our heart -
The fountainhead of love" - (Fountainhead Of Love; page-35)
Bhaskar Jha further says:
"Love never stops at one station" - (Page-45)
He shows his 'unflinching faith' for his 'her' in eternity of love that he has between the obstinate thoughts and undying feelings. He then turns towards 'Eternal Love' calling his love as Venus, Cupid, Aphrodite, Eros, Aurora whose 'pristine beauty' glows on spiritual throne and is as divine as Christ.
"O Goddess of love!
Pristine beauty
Glowing on spiritual throne"
..............
..............
"O Opulent Love!
Muse of hearts
As divine as Christ " - (To Goddess Of Love; page-29)
He sometimes feels suffocated, frustrated, neglected and dejected in the earthly sheath of monotonous moments. He then calls his eternal Love for the ultimate peace in metaphysical existence:
"Of perennial peace
Of metaphysical existence,
That soothes
My soul" - (Oh, Eternal Love; page-30)
Bhaskar Jha's love can never meet its end as it is beyond the horizon of territorial desert. He is highly imaginative and thinks beyond time and space. His love is not for a short period of time. It is beyond the earthly lust that's why he considers being a metaphysical lover.
"You are not, nor am I
A dweller of this earthly world,
We are invisible beings
Living in the abode of Love" - (Metaphysical Lovers; page-51)
The poet reaches to the point where he admits the truth that his Valentine exists in him only.
"My sweet Valentine exists in me,
Irrigating my sterile soul
In torrid times of life;
I feel in her soothing embrace -
Peace of heart, mind and soul...." - (My Valentine; page-66)
Thus it can be well said that Bhaskar Jha is a man with extraordinary insights and creates fusion with effortless ease. His images are striking and evocative which creates a world for readers to feel the ecstatic experience of divine pleasure. His vocabulary speaks high of his mastery over diction. The poetic journey with Mr. Jha through his well articulated vision will definitely give the warmth of love to readers. The book is a treasure of excellent poems, an unconventional take on love straight from the heart.
Soothing Serenades perhaps is
"A living poetry of the vivid essence......" - (Page- 67)
The book is recommended for all the common readers, students and those who wish to learn writing love poetry. Happy reading..!
Abridged version published in LangLit, 2018