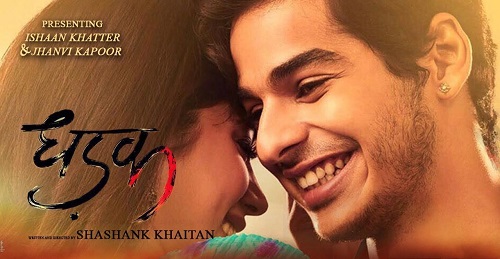 Comparisons may be odious; since I haven't watched the much celebrated 'Sairat' the original Marathi movie, I can pen my comments based only on the Hindi remake 'Dhadak'.

Overtly seeing 'Dhadak' is another stale love story partly imbecile and partly serious and finally tragic. The final card claiming that this movie is inspired by the numerous honor killings in the 'sacred' nation is a bit superfluous. It looked more like a class division than a caste divide in this remake. Both the hero Madhukar Bagla (Ishaan) and the heroine Parthavi Singh (Jhanvi) look well fed, affluent and gay. From the first scene it looks it is Parthavi who keeps enticing Madhu to come and love her. Having watched numerous love stories like this, Dhadak has nothing special to offer. The caste divide is mentioned in only one place. Parthavi's father is shown as a ruthless politician (long since villains are invariably politicians in all Indian movies) who soft peddles the love affair till the elections and once he wins he indulges in violence.

As usual the lead pair runs away from Udaipur to Kolkata for a living. I really do not understand how long we will keep showing the younger generation falling in love and runaway without even an iota of commonsense of how to lead a life without proper education or financial support!

Anyway, some Samaritan comes in and safeguards these love birds and in five years the couple not only gets a kid but also buys a house! These are possible only in our movies and not in real life. By that time, the politician loses his position in the elections and his anger turns towards his estranged daughter. He sends his son with some goons to terminate the daughter's family successfully.

If the opening scene of kachori and overeating contest makes one feel nauseous (Remember, India is a poor country and 60% live below poverty line without food!) the concluding scene of the dead body of the boy and the kid falling in front of the heroine is disgusting. But, that is the only scene where a little interest is sustained from the lead to the climax and the sudden thud in front of Jhanvi, the slow moving following frames of shocking assembly of the the public around the girl sans any rerecording.

Of the two new much publicized entrants Ishaan and Jhanvi, Ishaan has a pleasant disposition with a mobile face and an infectious smile. Jhanvi is definitely a letdown in comparison to her mom Sridevi. Again, comparisons are detestable, I apologize.