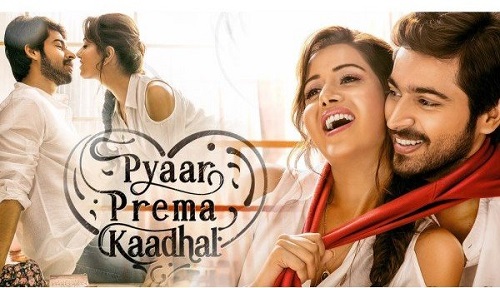 Believe me, I was the only 'super senior citizen' in the packed house of new-gen in the age group of 18 to 30 in the movie theatre of the new Tamizh film 'Pyaar Prema Kaadhal'. I went to this film out of sheer curiosity after reading the reviews which said that the movie deals with 'living-in' relationship of the new gen.

Well, it is. Though the western culture making fast inroads into the sacred Indian culture in recent times, the concept and the respect given to 'marriage' has not withered even a wee bit in the society; that too arranged one; also to please and make the parents happy.

While 'OK Kanmani' dealt with this subject in a different plane, PPK tries to integrate 'infatuation', 'sex' (again the hero shouts at his lady love for her promiscuous act but avoids this word), love, dreams of future and marriage and children from the Indian angle.

Debutant director Elan brings in arguments from all directions quite convincingly but finally crashes down everything into the mud of culture and tradition that 'marriage and family' are most important than one's 'professional ambition' especially for a woman. What a shame!

Any IT guy in the present gen is so shy to go and talk to a girl? Really? The hero doesn't seem to have any objective in his life except to please his mom, a typical mama's boy. (But bold enough to ogle, smooch and have sex with his lady love!). The girl's modern outlook father towards the climax pushes a tear jerking tale of his indifference to his dead wife! The hero's traditional mom realizes in the end and mouths the importance of understanding between a man and a woman in marriage. When Tamizh movies will get rid of hero's ugly idiotic side kick and having a lowly man as his advisor irrespective of the hero's position? There are scenes which make you laugh out loud (LOL!) and there are love scenes too repetitive without purpose.

Harish Kalyan and Raiza Wilson of 'Big Boss' fame (I didn't know them as I haven't watched BB!) play the protagonists and they have done their job well. The movie is definitely a career shot for them. The movie is produced by Yuvan Shankar Raja and so we have a dozen songs move along the story. Since Yuvan's music had never been my cup of tea, no comments on them.

Tamizh films need to grow definitely in tackling the new-gen topics. But, yes, if someone tries to project something practical and sensible our belligerent moral custodians immediately scream on the murder of our ethos; as if all the other activities in the country follows our hallowed 'culture'.