Archaeoastronomy is the study on how the ancient people understood and utilised various phenomena in the skies. The astronomical practices, the celestial lore, mythologies, religions and world-views of all ancient cultures that were left behind, reverberates with the roles the skies played in their cultures. Astronomical alignment of many a monument and ceremonial constructions of early civilizations, linked also with agriculture, bear testimony to this thereby combining religion with architecture.

The point where the sun crosses the celestial equator northwards, called the 'first point of Aries,' is marked by the symbol

that stands for ram's horn, the first sign of the zodiac. Modern astronomers often read this ancient symbol as 'V' that stands for vernal. The way the seasonal festival Vishu is observed in Kerala both in the past as well as in the present will give an insight on the question under discussion.

In springtime, seed sprouts and leaves on deciduous trees reappear, which agriculturally marks the beginning of the year. By performing a ritual called chaalu keeruka (rend a trench by the plough), farmers commenced rice farming, auspiciously, on the morning of Vishu. Subsequently, the first ten days of Medam are considered auspicious for sowing seeds. These rituals and beliefs the ones that the elderly generation learned by experience from the soil, rain and their produce, are hence tralatitious.

The time personified

The time at noon, when the sun is in meridian, is called uchcha (midday). The planet in its ascendant is ucchan. The exalted position of a planet, the apex of the orbit of a planet is uchcharaasi. It is Medam for the sun, whose tenancy of the 10th degree of Aries is known as medappath, when the sun is in a state of highest exaltation (athithungam/ athiuchcham/ paramochcham). Its sojourn of the tenth degree of Libra is known as thulappath, when the latter, is in a state of deep debilitation (athi neecha). The days, when the suns' longitude becomes 10 or 190, are marked as the end of Meda Vishu or Thula Vishu and are called patham udayam and thulappath respectively. These days fall this year (2018), on 23 April and on 26 Oct respectively.

The sun attaining the most powerful (athi uccha) is celebrated everywhere in Kerala as patham udayam, when the traditional oil lamps with 10 wicks are lit in every home, and symbolises the tenth rising of the sun from Vishu. On these specific occasions, markets in Kerala display agricultural produce (like yam, colocasia, turmeric, ginger) as well as the traditional crafts and utensils (hand-woven umbrellas, baskets, trays etc.) for sale as part of the celebrations. Considered to be one of the most auspicious days of the year, the people on that day seek out to initiate ventures new.

Patham udayam observed in an ilankam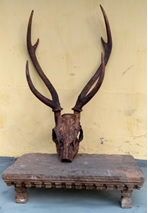 The Kundarathala Bhagavathi kshetram adjacent to the College of Agriculture, Vellayani, is one among the Bhagavathi temples with the rare consecration of Saptamathrikkal. The two-day festivities in this Palappore Kavu Bhagavathi temple begin with the carrying of the deity in a solemn procession on an antler, worshipped in the ilankam Paradevata Bhadrakali kshetram situated near Kundarathala Tarawad, a furlong away from the main temple.

A kanyaka (virgin) is expected to carry the antler. In her absence, the role is delegated to the karanavar or to an elderly member of the family. The belief is that the goddess Parvathi is riding on an antelope.

As one carried by a stag, Durga is known as kalaiyurthi, kalaiyaanathi as seen in the images of the goddess in the Mukteswar temple of Bhubaneshwar upon a black buck and Kottavai, with a black buck at Mamallapuram. The image of Hindu Devi from Thanjavur dating back to the ninth century shows an antelope behind the idol of the goddess. Devi ascended on a lion is referred as Simhastha or Aliyurthi in Tamil. Transition on the use of lion as her vehicle shows the progression in the prospects in agriculture. This underlines the fact that the practice of mounting Devi on an antler belongs to the old world.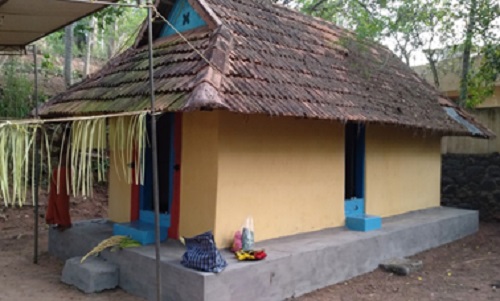 Ilankam Paradevta Temple




Palappore Kavu Bhagavathi Temple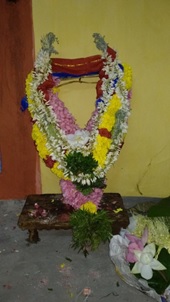 The Malayalam word angam means, bone and head. When added with the pronoun iralai for stag, it becomes iralaiangam and means bone, the siras of an antelope that is antler. (The Malayalam word maanthala rhymes with antler). Through metathesis iralai became ilar. As such iralai angam becomes ilar angam, which finally became ilankam, a shrine where the antler is worshipped.

A family deity is ucha devata

The entrances of the ilankam, the one oriented to the east and the other towards the north, are opened only on the eve of patham udayam to facilitate the annual ceremonial offering-puja and ponkala, to the Palappore Kavu Bhagavathi temple. Thereafter the ilankam remains closed during the rest of the year. The word pozhuth has several meanings such as period, sun, auspicious day or time. Keeping the ilankam opened for a particular period to mark an auspicious day made it an 'embodiment of time'. The passing of the sun into Aries at the vernal equinox, a solar event, is believed to be an appropriate time (pozhuth), for commencing rice cultivation. This made the paradevata to be considered as ucha devata.

Pozhuthu muti is a ritual of sowing three handfuls of seeds in the corner of the field at an auspicious time. It is on this day; farmers ploughed a few yards and sowed a pinch of paddy seeds in the field furrow that marked the beginning of the agricultural year. In the rain that may intervene unfailingly, the seeds sprout and rice plant flourishes in the seasonal monsoon that breaks out without fail.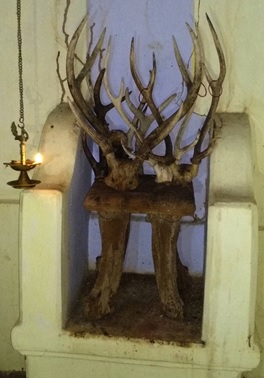 The sun's entry into the constellation of Aries marked the beginning of the advent of the glorious sun up the starry vault of heaven towards His golden throne in the constellation of Leo. By the end of karkkidakam or beginning of chingam (Aug-Sept.), the rice is harvested, paving the way for a sumptuous Onam. The carrying of the paradevata mounted on an antler on the patham udayam, was to see Parvathi mounted on the Lion during the harvest season, in the month of Leo (chingam).

Worship through symbols

Prior to the advent of image-worship, Indians used to worship various objects. This was known as worship through symbols or symbolism. In some ancient cultures, stag symbolised the waxing year whose time began on the Spring Equinox. Worshipped as symbols of the cyclic processes of life-death and rebirth, deer also physically share the natural rhythms of vegetation growth. An association between the remarkable growth of deer antlers in the late spring and the growth of vegetation has been established.

According to the Malayalam era, Medam (April-May) is the ninth month. Its corresponding month in Tamil is Chitthira, the first month of the Tamil year. Meda Vishu is the festival of vernal equinox observed on first of Medam. Ancestor worship is prevalent amongst Bengalee Buddhists, on the day of Chaitra Sankranti (equinox). Worship of an antler in the family shrine as paradevata or as the mount of the paradevata on patham udayam call us to investigate the potential of the antler for such a mission.

Antlers: a natural clock

The antlers (deer) and the horns (sheep) serve as a natural clock. The three-year-old deer commences horning followed by an additional horn every year which thereafter spans its life as a clock and shows three seasons each year: The development and elongation of new antlers that are covered by a skin layer called velvet in the summer help build the antler bone structure in summer/fall. Aries arrives when antlers are sprouting and the males begin eyeing each other with discomfort and pawing the ground. The velvet is shed from the antlers in late summer. Finally, the hard, dead, bony antler is shed after the autumn breeding season. During January the deer's body prepares to grow new antlers.

A photo-periodic response

A variety of complex hormonal interactions controlled the antler growth, between the spring equinox and summer solstice. The pineal gland, sensitive to photoperiod that triggers antler growth, also trigger, in turn, the release of testosterone, the hormone that augments antler growth.

Apart from several biological and environmental factors, the timing of the antler cycle controlled by the change in the relative number of daylight hours to hours of darkness with the passing of the season influenced antler growth. The daily length of light exposure or "photoperiod" increases with the northward advance of the sun's arc across the sky from the first day of winter in December (winter solstice) to the first day of summer in June (summer solstice).

Symbolism of antler

Photo-sensitivity, equally important in adapting plants to marginal light regimes, can determine the onset of most plant growth stages, from flowering to growth cessation, defoliation and dormancy. Initiation of flowering in annuals is largely under photoperiodic control. Plants moving from shorter to longer days tend to grow vegetative and often the onset of flowering may be, partially or even completely eliminated.

Rainfall, temperature and light, have played their effects on the 'growth profile' of the plant that is the timing of the growth initiation and cessation, and relative speed of growth at different stages during the growing period.

Nature signals the rice farmer through the antler growth to know the exact seasons, especially spring and autumn, the time to break the ground for sowing as well as to reap rice for processing. The focal point of beliefs involving the life cycle of the deer like birth of fawns, development of antlers, melting of deer's coat and its thickening in anticipation of winter and mating season, shedding of antlers, coinciding with the growing cycle of rice, have guided the farmers to achieve prosperity by the stag antler which signifies the beauty of nature. The simplicity of rice stands in great contrast to the bright gold that represents wealth and richness. No wonder, it had found out a niche for worship in the ilankam of the traditional houses of Travancore.

(The author extensively discusses this theme in his book: History: Straight from the Horse's Mouth, published by the Bhasha Institute, Trivandrum).

Photo credits: Praveen Panikker