We had read a lot about Genting Highlands from the travel brochures and the internet but nothing had prepared us for the actual sight when we landed there in the afternoon of 22 Aug 2011. My daughter Neha and I were on a week long holiday to Malaysia and Singapore and after staying at the elegant Novotel Hotel at Kualalumpur for 2 nights we took a cab and drove to Genting.

During the two hour drive the first thing which struck us was the lush greenery all around as soon as we left the main capital. The air also became cooler as we drove up the hills in a zigzag road at top speed.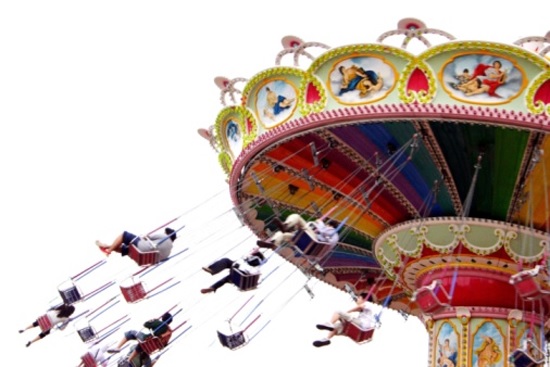 The Genting Theme Park is a sprawling, multi-million Ringgit theme park with over 40 rides that are either indoor or outdoor. Located 2,000 metres above sea-level on Genting Highlands it is a man made huge amusement park with every possible form of rides, entertainment and shopping arcades.

We were booked in Hotel First World which is the world's biggest hotel having 6118 rooms.

There are over 25 reception kiosks at the huge lobby and guests are checking in round the clock. When we entered the lobby area we were directed to a desk which gave us a number. When that number was displayed on the computer screen we were to go with the printout of their email confirming our reservation. We were given a room on the 12th floor in Tower 2. The lobby has sign boards everywhere and its easy to find one's way around though the area is huge.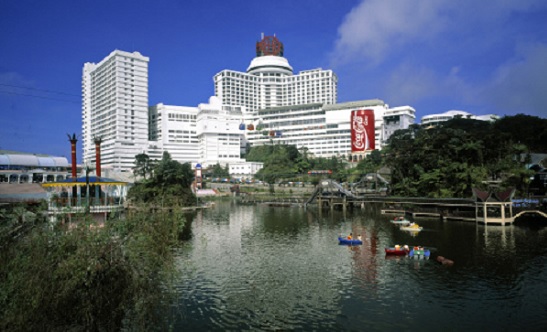 The rooms are rather spartan but very clean. The dining area is amazing, the dining hall can cater to 5000 people at one time. When we went for breakfast the next morning we were overwhelmed to see mountains of bread, eggs, fruits, ham, chicken etc as well as huge vats of milk, tea, coffee etc. There is a vegetarian section which is separate where they also make dosas, upma etc. The management of the breakfast at the peak time (around 9 AM) is to be seen to be believed. One can have a fill of the many items on offer and top it up with tea, coffee or milk. The area is self service and one has to follow the directions to various counters.

Inside the indoor theme park one is transported to a glitzy fairyland world with twinkling lights, moving cable cars, clowns, robots, boat rides, shopping arcades, food joints, overhead cable cars and hundreds of tourists from all over the world ambling around. There is loud pop music going on and everywhere people are enjoying the various things on offer. There are so many things to see and so many rides to take that one is spoilt for choice.

After having coffee at Starbucks we decided to explore the place. We took a relaxing ferry ride on an automated ferry in the canal there with lifelike boatmen standing and "rowing". We also took a ride in the bird shaped garishly decorated cable cars overhead from where we had a bird's eye view of the entire area. The Ripley's Believe it or not Museum is a must see and we were enchanted at the various amazing exhibits and the details about them. It is home to one of the most astounding collections of oddities by Ripley. We were amazed to see the actual items Ripley collected during his travels around the globe. The bizarre, the unique, and the truly one of a kind exhibits left us fascinated and spell bound. A scary part of the visit was a bridge which starts swaying dangerously the moment you attempt to cross it!!!

Food from all over the world is available at the theme park. Right from McDonalds to Pizza Hut, Korean to Chinese, Italian to Indian, Chinese to Singaporean, apart from the local Malay food, almost every type of cuisine is available. Ice cream shops, candy shops and coffee kiosks are abundant. There are shops at all levels selling branded items to souvenirs, knick knacks etc to cosmetics, purses, clothes and jewellery.

A spa and massage centre is also there which offers various relaxing treatments. We had a rejuvenating foot massage done at 11 PM at night (the parlours are open till 3 AM) which was a boon after walking around the whole day. It also included a shoulder and back massage by the Thai masseurs which was a Godsent for us.

Genting has one of the world's biggest casinos which is frequented by hundreds of visitors at any given point of time. There is also a Bowling Alley which gives guests the unique experience of bowling 6000 feet above sea level. This 28 lane bowling centre has 2 facades, a casual bowling centre by day only to transform to a hip glow-in-the-dark bowling alley by nightfall. A Snow World with temperatures of minus 5 degrees and a freezing wind is also right there and one can have an invigorating snowball fight too.

A unique experience in Genting is a 30 minute ride in the cable car called Genting Skyway. Billed as one of the world's most popular family attractions, it is one of the world's fastest suspended ride over 3.4 Kilometers and is a unique scenic treetop experience over a 100 million year old rain forest. The cable car goes over the top of the tallest tress of the rain forest and one can see the dense canopy of forest below. The scene of many cable cars passing ours was a great feeling as we were suspended hundreds of meters above the ground.

We also witnessed a ticketed Glamour Entertainment show called Glitz at 9 PM in an indoor bowl shaped auditorium with a huge stage. It was an amazing show with magicians, dancers, singers, acrobatic performers and what not. Rehearsed to perfection, the foot tapping music, amazing acrobatics, energetic and graceful dances and jaw dropping magic tricks left the audience spell bound and asking for an encore.