Yes, that's what the title says: Don't chase your dreams.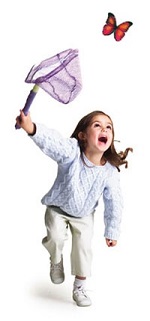 To chase means to run after something that is moving away from you. Like a butterfly, the further it will fly away, the more you run after it. So, then how do we fulfill our dreams? Do we just let them go? Not at all.

We have to attract our dreams, our goals, into our lives. For that we must create the right atmosphere. As a garden with beautiful, scented flowers attracts bees; as magnet attracts iron, so must we produce the right environment in our lives to draw our dreams towards us.

An important step would be to un-clutter our minds and lives of all negativity. Only an empty vessel can be filled with whatever we wish to fill in it. So let us remove all doubts and fears from our thoughts. We must believe in our dream and our worthiness to make it our own. Then we can powerfully visualize ourselves to become truly deserving of what we want to attract into our lives. We must make room for it with zeal, hard work and confidence. A proper ambience, a heart full of hope and belief, a mind ready to tackle whatever needs to be tackled to bring our dreams to us will build up a home in which the dreams will want to come alive and take permanent abode.

Problems will come in the form of disappointments, discouragement from elders / peers / failures. Remember, all failures come with a gift of their own. Sometimes the gift is so simply wrapped, so unobtrusive, we fail to notice it. As someone has said, we stand staring for so long at a door that has closed that we are blind to another one that has opened for us. It may be just ajar, or locked on the inside. It is for us to open it fully. Setbacks, hassles, letdowns are all another name for opportunity to him who dares to look for it in the eye of trouble.

Rather than chasing rainbows, let us enjoy them and know that they are evanescent. Instead let us fashion a reality for ourselves, let us become the persons we believe we would become if our dreams were realized. In becoming that already fulfilled, confident, happy person we will make our dreams come true. Give it a try.
Image (c) gettyimages.com