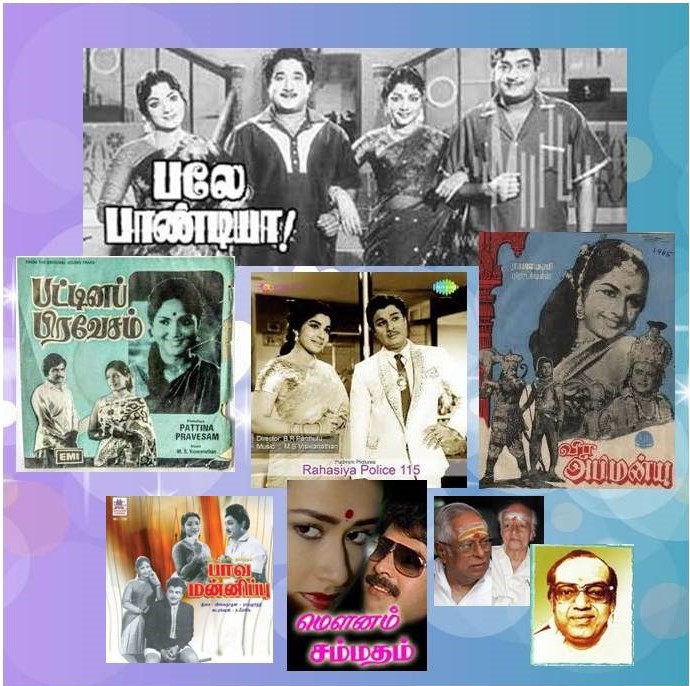 Notwithstanding its limitations, every language has its unique and distinctive nuances. Tamizh for that matter doesn't have phonetic and aspirate so the reader on his own understanding needs to pronounce the word. Yet, it has its own captivating shades also.

I am not trying to deliberate on Arunagirinathar's 'Muthaitharu' tongue twisting Thiruppugazh or Kalamega Pulavars 'Thathi thoothu theethu'; both are replete with the sound 'tha'. Of course the second one was cleverly modified rather simplified by Kannadasan in a song for his movie 'Vanambadi'.

In yesteryear Tamizh movie songs Kannadasan and Vali tried to pun and bring some speciality of the 'mozhi'. The first one which hit the screens and song arena was Kannadasan's 'Aththikkai kai kai' from the film 'Bale Pandiya' (1962). The song will be fully loaded with every word ending with 'kai. It was amusing. One popular Tamizh magazine even commented on the song as 'song of Kothwal Chavadi' because that was the popular Vegetable market at that time in Chennai. The song will figure 'aalangai', 'pavaikai', 'kovaikkai', 'avaraikkai','mathulankai', 'elakkai', 'jathikkai', 'vilankai', 'milakai', 'suraikkai', 'vellarikkai', 'kotravaraikkai' apart from many 'Kai', here referring to 'scorching' and 'direction'. The words were so intelligently interwoven to render meaning. Beautifully tuned by Viswanathan-Ramamurthy this is my favorite song even today.

Another one is 'Paarthaen sirithaen', a song from 'Veera Abhimanyu' (1965) where the word 'thaen' will be recurring like 'antha malaithaen ivar ena malaithaen' giving two different meaning to the word 'malaithaen'; one special honey from hills, and wonderstruck. This song also penned by Kannadasan was tuned by KV Mahadevan in the raga Sahana adding extra charm.

A touching melody of Kannadasan is 'Vaan nila nila alla' from the movie 'Pattina Pravesam' (1977). Sung as usual enticingly by SPB with prominent solo violin backing, the song's each word is punctuated with 'nila' or 'la'. Don't think that it carries just words. This is another beautiful love number expressing intense love. Music? MS Viswanathan. There is another 'Nila' song in 'Mounam Sammadam' (1990); written by Pulamai Pithan and sung by Yesudas and Chitra to the catchy music of Ilayaraja.

A song repeating 'Paal' in 'Ragasiya Police 115' (1978), is written by Vaali (I think, not sure) to the tune of Viswanathan again; another lilting number 'Aththan en atthan' with each line ending with the syllable 'atthan'! A song from 'Pava Mannippu' again by Kannadasan-Viswanathan Ramamurthy combine in the voice of Sushila!One another song with the recurring of 'kai' in some movie but that was not that popular, either the lyrics or the tune.

Why I recall these songs? We are invariably harangued by the media by the specialty of Tamizh in all possible ways. But, do the media both visual and written do justice to the language really?

I cringe when I hear some songs of recent Tamizh movies or absolutely embarrassed by their crudity or banality. ( courtesy: Ola, Uber trips!) Let Tamizh Thai save herself and her language from the clutches of Tamizh Gen-Y!

BTW, recently I listened and watched a song in Tamizh Palindrome 'Melathalame' via Whatsup; not bad; good tune by D Imman and lyrics by Madan Karky, I understand.