A motley bunch of youth rehearse for an upcoming stage production in a darkened auditorium. There is excitement and anticipation in the air. Some are rehearsing their lines animatedly, a few are in deep conversation with their multitasking director, while the rest are supervising the technicians who are priming the sound equipment. The routine is familiar, but there is an aspect that sets this troupe apart - all the artistes are disabled.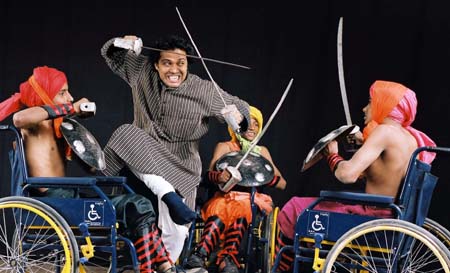 This unique Delhi-based troupe - Ability Unlimited - is the world's first professional dance-theatre that educates and employs people with disabilities. It imparts training in innovative choreographic techniques and therapeutic methods. After the disabled artistes are fully trained - which may take anything from a few months to over a year - they are provided with a platform for public performances that integrate arts with career opportunities and training. The group also holds workshops in slums, colonies and aided schools to include the economically disadvantaged groups in their activities.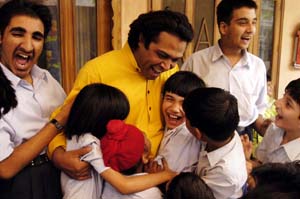 Ability Unlimited was founded in 1999 by disabled rights activist, dancer-choreographer and trained Bharatanatyam dancer Guru Syed Salauddin Pasha. With a bank of over 100 artistes - ranging in ages from five to 27, and differing vastly in their economic backgrounds - the group has given over 90 theatre performances across the globe. This summer, the troupe is off to the US, Canada and the UK, where they will perform at the House of Commons, British Parliament upon invitation.
"Our novel learning and performing experience elevates, enables and empowers these specially disadvantaged young people with the ability to go through life with dignity," says Pasha, who has also directed Europe's biggest therapeutic theatre project 'Ramayana On Wheels' with Finnish children and adults. The multi-faceted choreographer, once an international scholar at Cornell University (USA), Sutra Dance Theatre (Malaysia) and Dance Theatre Raatikko (Finland), has also orchestrated 'Durga' and 'Martial Arts on Wheels' with 200 differently-abled children and adults.
Pasha feels such performances are made possible through stringent training for the troupe in the techniques of 'Natya Shiksha' theatre. Apart from this, the younger performers - the youngest, Zuber is five and has no limbs - are also coached extensively in voice modulation, speech therapy and special choreographic movements.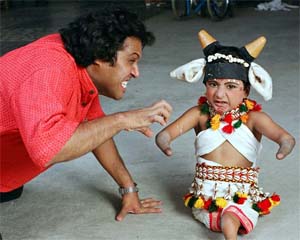 In fact, the trainers at Ability Unlimited are also physically challenged. This ensures that the training is thorough and takes into account the nuances of a particular handicap. "Everything from lighting to costume designing to stage setting is managed by these highly special people," explains Pasha.
Ability Unlimited regularly invites well-known dance gurus, choreographers, light designers, music composers, painters, costume designers and painters to conduct classes at their workshops. "This gives students a vital experiential opportunity, necessary to become professional artistes, choreographers and directors," adds Vishesh Aggarwal, a troupe artiste who suffers from muscular dystrophy.
The outfit believes in utilizing the arts as a vehicle to broaden thinking and resolve issues of inclusion that people with disabilities face. This is done through specially designed professional dance-theatre performances. "We are committed to changing the apathy and negativity that surrounds education, employment and inclusion of disabled persons into a positive, dynamic force by providing each of them equal access to the therapeutic values of theatre," asserts Pasha.
Towards this end, the organization has explored both traditional and contemporary dance-theatre, comprising dancers with all kinds of disabilities. Each production is researched, conceived, directed and choreographed with ancient Indian traditional techniques, and therapeutic music and movements. This creates an intimate interface with the audiences, thus providing for a performance rich in positive experiences.
With such inputs going into productions, they are naturally spectacular and entertaining. "The spinning speed of my troupe's wheelchairs is faster than an accomplished Kathak dancer's spins," smiles Pasha with pride.
Ability Unlimited also offers dance theatre classes, choreography classes, summer dance workshops, theatre art camps, teacher training workshops and specialized classes in Delhi as well as lectures, workshops, residencies and main stage performances, both in Delhi and across India. Explains a trainer, "Our focus is on the exploration of individual dance vocabulary, while also building confidence and cooperative skills." The organization's outreach programme reaches over 120,000 individuals throughout the country annually.
In fact, Ability Unlimited was the first Indian outfit to conduct therapeutic workshops for tsunami victims (Andaman, Nikobari, Katchal and Ranchi tribes) in the Andaman and Nicobar Islands with the help of UNESCO. As Pasha sums it up, "Theatre is an all-encompassing, universal vehicle for creative vision. It is not only a medium of entertainment but also therapy, empowerment and enrichment."
(Ability Unlimited can be contacted at abilityunlimited@gmail.com.)