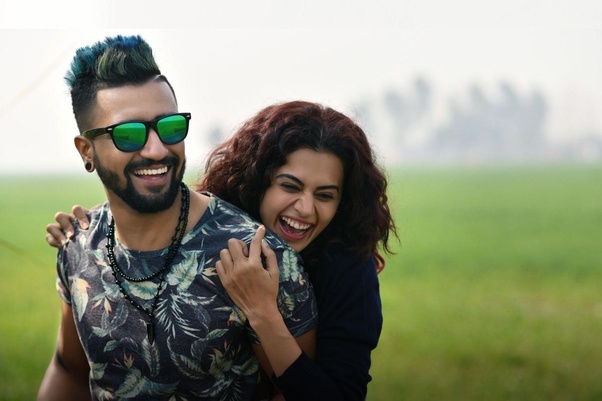 I honestly feel nowadays three things are done with full force; 1. The name of the director intimidates the critics to be liberal. 2. The gen-Y free sex with no strings attached is played too far. 3. The media and the reviewers are paid sumptuously for positive reviews while the movie fails in every department.

It is a story of two absolutely young wastrels and sex maniacs with supreme arrogance and no value for life; if this is the real or even partly real picture of present day younger generation, I really dread to think about the parents and these youth's life and future. The way Vicky (especially his bouffant) and Rumi dresses represent the bizarre and sick minds of the present generation.

Rumi (Taapsee Pannu) and Vicky (Vicky Kaushal) are madly in sex with least fear about their parents. He is a DJ and she is supposed to be a Hockey player. Well, after many instances of stealthy and open sex escapades, the parents of Rumi think of her getting married so that she need not have sex 'stealthily'. However, Vicky is not ready for the 'institution' or 'commitment' called 'marriage'. Anyways, Rumi being a head strong arrogant girl she pressurizes him to come home 'formally' to ask for her hand. (What nonsense!) But he isn't.

So through the local marriage broker, she was selected by a docile Punjabi guy Robbie who works in London. She agrees; but even before the marriage day she asks Vicky to come and pick her up. But, he doesn't. Frustrated, she marries Robbie. But, her heart is still with Vicky. The honeymoon is initially drab without coitus. But, the next night, Rumi allows Robbie to have sex and messages Vicky. He retaliate her with a whatsup video call with another girl in bed. Robbie realizes the predicament of Rumi and asks her to think over; but Rumi being Rumi she says she wants to live with Robbie. Nevertheless, she sneaks out to meet Vicky and again have sex. Following her Robbie found out that she sleeps with him thinking of Vicky. This made him opts for a divorce. Rumi again meets Vicky who is planning to go to Australia. She prefers now Robbie to Vicky. After legally divorced they keep walking and talking their early days and understands that they 'love' (ugh!) each other. There can never be more contradicting characterization and absolute dreary narration.

India tries to ape the west in all wrong aspects. Their concepts of free sex and our ideas of real love are confused as much as possible and crudely presented in 'Manmarziyaan'. After a point, even before intermission, the movie turns out to be a big yawn full of irrelevant, irreverent and irresponsible dialogues flavored with Punjabi slang. After interval, the film is nothing but a horror. Ironically, the movie is written by Kanika Dhillon and edited by Aarti Bajaj; two women. According to this movie, a new gen bold young woman is insolent, selfish, nymphomaniac, finicky and clueless.

This time I am really fooled by the superlative reviews for such a senseless and obscene film. Hereafter, I will take all the reviews by the media and 'intellectual critics' with a cartload of salt.