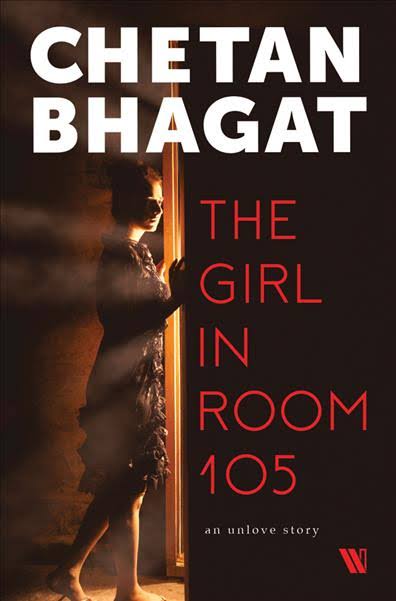 Let us be honest; Chetan Bhagat this time surprises the reader not only with a love story (he calls it unlove story) of different genre but involves you in a 'whodunnit?' murder mystery. His recent novel 'The Girl in Room 105' (well, he could have thought of a better title, I feel) veers from the basic, mushy romance and makes Keshav Rajpurohit, a rather unsuccessful IITian (as usual Delhi IIT) who works as a teacher in a IIT exam coaching centre as the hero. Impossible to believe, isn't it? But, he is lucky to develop a relationship (read love with sex) with the most beautiful, demure, cerebral and stinking rich Kashmiri Muslim girl Zara Lone for some time. But, Rajpurohit Hindu RSS family is just not ready to entertain an Islam 'bahu' in their traditional family. And Keshav, a true Hindu is also not ready to change his religion to marry his lady love as per Zara's father's demand.

Therefore, the 'brilliant' Zara drops Keshav, like a hot potato, decides and develops a relationship (again read L&S) with a successful multimillionaire (Delhi) IITian Raghu, a Southie. But, Keshav is someone who is not ready to dissociate himself from Zara. In the initial stages he behaves like a Devadas finding his solace in 'booze' till he is invited by Zara on her birth day night to Room 105 of Himadri (IIT) Women's Hostel and she is on the verge of completing her doctoral work. Keshav who jumps at the invite and flies to the Hostel to hit on the dead body of his lover.

The Delhi Police and the media makes the case as an easy 'open and shut' one by arresting the watchman of the hostel as the circumstances point him as the murderer. But, Keshav is not convinced. He starts his odyssey to nab the real killer of his lady love with the help of his plump buddy Saurab. Then enter lot of characters like her research guide, a terrorist step bro of Zara, the rich, powerful and arrogant father, and her family friend Faiz who works in Army in succession as possible criminals.

The book is racy no doubt. The story is also understandably about Gen Y which takes life according to their preferences, whims and fancies.
The question is whether Keshav successful in his mission?

Even if you are not a Bhagat fan, if you are a reader of present day novels of Indian authors in English, you are sure to find the story engaging. You are an old timer you will be educated on words like 'bae' and apps like 'Instagram', 'Tinder' apart from the most popular 'Whatsup', 'Twitter' and 'FB'.

Good Mr. Bhagat! You keep proving that your success is not just something 'a flash in the pan!'

The book has a trailer in the real filmi fashion. Whoa..India has come a long way!

This unlove story may not be oldies' choice!