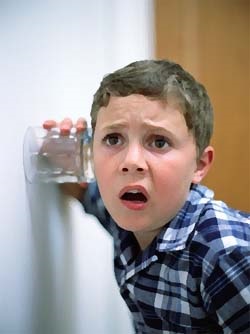 'Walls have ears'. If they had tongues, wow!! Their stories would revolutionize history with their moldering secrets.

The marble walls of the Taj Mahal resonate with the song of immortal love, but would they not shed a tear for their unhallowed artisans? Old forts would weep out legends of bloody battles; palace walls would wickedly whisper tales of treasons and intrigues. We would also hear epics extolling noble deeds. On the flip side, if Othello could have verified his lovely Desdemona's fidelity from the walls of her room, he would not have strangled her in a fit of jealous rage and then stabbed himself in remorse.

Walls, often the only witnesses to gory acts, would help exonerate many an innocent victim of law. They could delight by their melodies of romance and selfless love; move hearts by sagas of great courage or sad accounts of infidelity, broken marriages and wrecked homes. Tongue-wagging walls would wreak havoc and be bulldozed in turn.

Walls are erected not only to protect and safe-guard, but also to barricade and divide; particularly, metaphoric ones. Such walls are deeply entrenched in everyone's life – individual, social and international. Commerce and industry, the World Wide Web, international collaborations evolving almost daily, create a mythical oneness. There are constant, invisible, polarizing structures between us and others. We even incarcerate god within stone edifices and mental blocks, ridiculously trying to own and 'protect' Him!! And then there are those of us who adeptly entomb our lives, individuality, dreams and all, inside walls of fear and frustration. For some their dreams die a whimpering death, for a few luckier ones they return as ghosts seeking release. Fear, insecurity, basic mistrust, self interest, memories of past hurts and deceits...there are a hundred valid and not so valid reasons why we put up these partitions, unfortunately, even within the confines of one's own family and community.

Concrete walls are easier to raze than these, in which we imprison the freedom of souls; behind which we ostracize 'others' or ourselves and degrade humanity.

There are also those, who patiently hack away at such walls, brick by dividing brick, creating assailable avenues of friendship in place of barred private gardens with Trespassers Will Be Prosecuted sign boards. They tirelessly seek to create open spaces between hearts and minds. Spaces, wherein they grow evergreen trees of love, tolerance, kindness, truth and understanding. We need to strengthen this silent army sowing unity and peace. By joining their ranks, for every brick we topple from a disuniting rampart, we will imbed a seed of oneness and mutual love, thus repaying some of our dues to humanity at large.
Image under license with Gettyimages.com