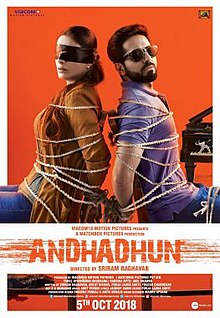 This time I was doubly careful before venturing into watching 'AndhaDhun' after reading the glorious reviews for the movie. I also kept watching how the movie fares in the theatres also. It was slowly picking up and the seats are almost filled up on all days which meant something; that the movie is watchable.

We rarely come across thrillers; that too in a different genre; yes. 'AndhaDhun' (Blind Melody) moves in a different manner. Inspiration to the movie is credited to a French short film 'L'accordeur'. If I narrate the story it would be a spoiler for those who are interested in watching the film. So I just would like to share some of the special features I enjoyed about it.

It is just a story of murder, subterfuge and crime binding some isolated persons like a blind pianist, his 'accidental' girl friend, an yesteryear actor, his pretty second wife, a corrupt police officer, an unscrupulous doctor, an auto driver, a lottery ticket seller, the greed for money and above all the human urge for life at any cost.

'Andha Dhun' doesn't unravel any mystery. The viewers just keep watching the proceedings moving at rapid pace with unexpected twists and turns and make them sit on the edge of their seats.

Writer – Director Sriram Raghavan keeps the happenings sprinkled with (dark) humor here and there. There is absolutely no monotony but the expectations run high on how the story is going to touch the climax. The dialogues are sharp and terse.

The opening scene which one likely to forget after sometime, surprisingly figures towards the climax definitely makes one jump with shock; in fact, the end too.

I am pleasantly surprised by the tuneful songs which also formed the integral part of the film like the piano music is alive as the background of the most vital scene in the movie.

Ayshmann Kurrana and Tabu play their titular roles with amazing understanding. The known faces (to me) other than these two are Radhika Apte and Anil Dhawan. However, the supporting artistes are efficient; even the cute and curious little boy who watches the hero.

With Anil Dhawan as the yesteryear star some of his melodious songs of 70s have been inserted aptly from 'Honeymoon', 'Annadata', 'Hawas' and 'Piya ka Ghar' apart from Amit Trivedi's slew of songs which includes Ayushmann Kurrana's melodious 'Apse milkar'. Well, he also sings well!

If you are a movie buff, please go and watch 'AndhaDhun' with your eyes and ears open with full attention.