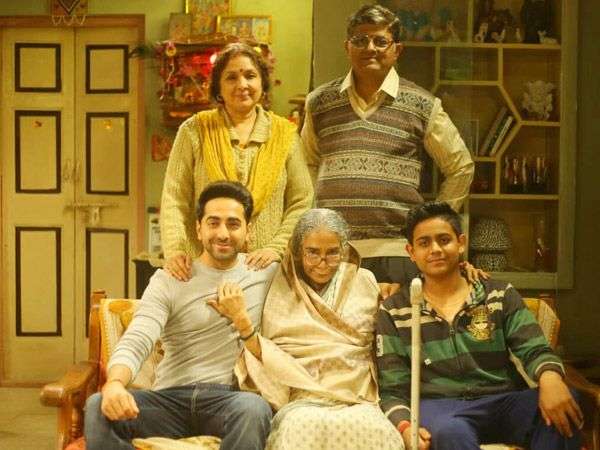 Oh my God! I was lucky enough to watch another interesting movie 'Badhaai Ho' this week! Thanks to the critics and the audience whose support for this movie is increasing as I read from the collection figures!

'Badhaai Ho', for a change, deals with the 'outcome' of a sudden romance between a middle aged couple with two grownup boys. What will happen when a lady who is supposed to be expecting grandchild has to expect her own baby due to unexpected pregnancy? How that middle class family comprising of a government employee (TT in railways) as the family head, nagging old mother in law with an acerbic tongue, a son working in IT with a rich girlfriend and a teenage boy take it?

Some hilarious, some heart-warming, some practical situations form the screenplay of 'Bhadaai Ho'. Mostly, the success of a movie relies on screenplay, dialogues and performance of the main artistes. Here, not only the main players but also the props like the neighbor, the three friends of the hero, the relatives and above all the affluent and uppity mother of the girlfriend execute their roles with eloquence.

The most emotional and vital scenes in the movie are poignant because of absence of any jarring re-recording and the dialogues are crisp and earthy. Special credit should be given to the dialogue writer Akshat Ghildial and director Amit Ravindernath Sharma

Neena Gupta, Gajraj Rao as the elderly couple and Surekha Sikri as the withered mom-in-law are simply superb in their dialogue delivery and expressions. Ayushmann Khurrana and Sanya Malhotra fit their roles perfectly.

How a matter of embarrassment and antipathy turns into a concern of one's family and care, love and affection in the case of the boys are beautifully brought out. That transformation changes the initial defiant tenor of the movie into an endearing family drama.

'Badhaai Ho' to the team!