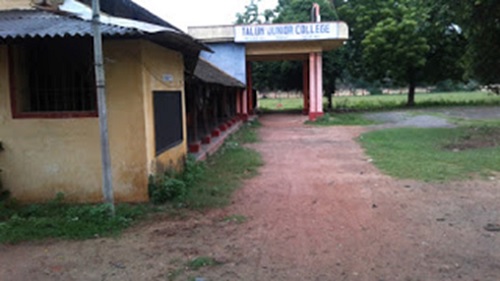 It's quite after a few decades that I happened to visit my school in Tenali. It was a Sunday. School gate was locked. There was an eerie silence all around. As I stood in front of that locked gate and peeked in…. a familiar touch ran all over …, a roller coaster ride of emotions overtook me. A tinge of nostalgia took me down the memory lane….

It was June 1954. Water was released into canals and farming-activities were in full swing. In one of those busy days, Naanna (Father), returning from the fields, commanded: "Radha, get the calendar." Staring at it thoughtfully, and being satisfied of the Tithi (a lunar day) and Varjyam (inauspicious time of the day), said: "Radha, go and get ready! I shall get you admitted in the school today." Dressed up nicely, as I came into veranda, he asked my amma (mother) to go out on to the road and walk back as I and naanna step out of the house. Accordingly, she went out and as she started walking back towards our house, my father stepped out and I gleefully followed him with some unknown joy or should I say, pride? With a smile writ large on her face, amma advised me, "Jagrattagaa velliraa" (Go and return watchfully!).

The school is hardly 15 minutes-away from our house. I was to, of course, walk briskly to keep pace with my naanna. As we entered the school, there at the centre of the Quad, a peon was ringing the bell. As my father climbed the stairs, the peon greeted him. Opening the wicket gate of the headmaster's room, he ushered him in. Asking me to wait in the corridor, naanna went inside. After a while, the peon came and took me inside. Nanna was sitting in front of the headmaster—a short but bulky person with gold-rimmed glasses draped in all whites—who is talking with a pleasant smile…

Turning to me, naanna said to headmaster, ("veedu maa rendovaadandi") "this is my second son who is to be admitted now in the First form." Then my father, giving me five rupees note, asked me to pay the admission fee. As the peon shown me the way, coming out of the headmaster's room I went to the window inside the quad and handed over the application form and five rupee note to the writer through the slit in the window. Giving me the receipt and also returning one and a half rupee, he told me to show the receipt to the teacher tomorrow morning in room no 10 and get my name entered in the attendance register.

Meanwhile, naanna came out of Headmaster's room. As I was returning the balance amount to him, someone with books in arm pit came to naanna enquiring, ("emiti Satyanarayana garu ila vahharu?") "What's up Satyanarayana garu?" "Oh! nothing particular, came to get my second son admitted in the school", replied naanna. While chatting with him in the corridor, he called somebody from the stores and said to that young man in pant and shirt: ("idigo Pantuloo maa vdiki first form books set ivvavayya… ne vastunna") "give my son Ist form books …shall come in a while and pay you…". The store man gave me a bundle of six new books. In the meanwhile, my father came and gave him ten rupee note towards payment. As the store in-charge returning the balance of three rupees and four anas, naanna said: "Eymayyaa Pantuloo (What my dear young man…),what you will do with all those thick… brown sheets, give one or two to the boy… he can use them to wrap his books". Smiling and muttering… "Satyanarayana garuuu…" he gave me two sheets, neatly folding them. We then walked out of the school.

Coming on to the road and standing in front of this very gate, my father enquired if I can go home alone. I just stood silently. Then pointing towards the road, he said, "go straight on this road without turning your head this or that side and you will reach our park gate and the tank. Reaching the tank turn left and walk along the tank bund till you reach our Venugopalswamy gudi (temple), then turn left and the rest you know, OK! Go straight home, I shall come after attending to some work in the market. Nodding my head, started walking back, of course, quite jubilantly. Half the way, I started running to reach home quickly and show my new books to everyone.

Next day, tucking all my new books into a bag, I went to school merrily. Entered the quad – that stone building with long columnated-corridors … class rooms with high ceilings… tall doors and wide slatted windows on both sides … doors with a spine to pry them open … benches along the walls … with plenty of light… a central yard with sand spread for the students to play, perhaps – in all awe! In that indefinable wonderment I, like in my past school, keeping my neatly-folded bag on a bench in one corner, came out to see the happenings in the corridor and the ground in the middle. As the 2nd bell rang, everybody rushed into class rooms. Seeing them, I also came back to my room.

And to my utter shock, I could not find my bag on the bench. Inadvertently, as I started crying, a boy, perhaps taking pity on me, enquired, "What happened?" Hearing about my missing bag, he, pointing to somebody in the corridor, said: "he took a khaki bag from here". At once, I ran to him, and holding my bag asked him to give it back. Pushing me aside, he refused to give. Indeed, he bullied me down. Becoming helpless, I cried. To my luck, seeing me crying, Veeraiaha, a senior to me in my previous school, came enquiring, "Entra Radha what happened?" Hearing my story, he gave the fellow a good thrash and took the bag back from him. Passing it on to me, he said: "Radha, it's not your past Basavsnakararao badi (school), here anything left to itself would be snatched away… you have to be careful with your belongings." At last, recovering from the shock, entered the class room and got my name entered in the register by the teacher and sat through that period. Once it was over, I ran home and keeping my books in the cupboard returned to school with a single note book and pencil.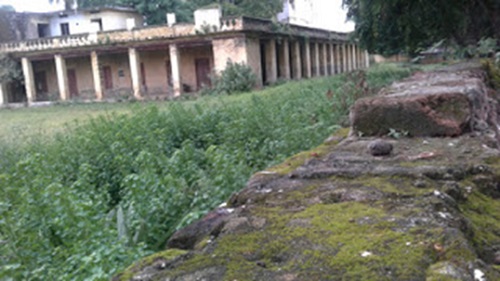 Everything in the life has changed since I left the school…nevertheless, the memories that this campus gave me are still fresh in mind… indeed, they are so many and are all still intact… and even at the slightest provocation they pop up unstoppably. I can recall how gleefully we used to run around this building… playing with friends—Sridhar, YSR, Laala, Inumpudi, Ramanamurthy, MVLN et al—playing pranks and laughing gleefully with them, our mastii (merriment) in the sprawling playground behind the quad ….all in gay abandon.

Amidst that stream of memories …. … eyes searched for all those places that mattered most in those days to me and they all came alive one after the other… the mid-day interval bell: the moment Ramulu rang the bell … droves of boys rushed out of the class rooms from all sides and like a stream flow out through the gate onto the road…and once out of gate… some will rush to Guravaiaha baddi—Guravaiaha in a khaki nikker and a white shirt with his mother on one side and wife on the other side, keeps himself ready to dole out aratikaya bajjis (banana snacks)… spiced with onion pieces, seasoned with red mirchi and a squeeze of lemon juice…or that Muntakinda pappu (Mixture of peanuts, pupped rice, lentils, onion slices, salt, mirchi powder… all seasoned with lemon juice) … and in no time the whole baddi will be devoured by the boys…Yutang was perhaps right when he said: "What is patriotism but the love of the food one ate as a child?", for even today, I fondly recall the taste of that bajji and its very atmospherics though I hardly ate once or twice. But that very thought always helps me discover a smile.

As I stood there in front of that gate in the same awe with which I entered it for the first time in 1954… the images of all those teachers who taught me so much rolled before my eyes…as a poet said, "Gone days return, I have a sense of wheels / in motion, turning and rumbling and coming / full circle"….

My first form teacher, Vishnubhotla Srreramachandramurthy garu who taught us with warmth all about science and maths; the drab teaching of Kaaja mastaru of II form, the love and affection of Kesavaraju pantulu garu of III form… his waiting for me in the teachers room, rather for the coffee that I am supposed to get from his home in a brass tumbler which I of course, used to bring with all bhakti (devotion); … the melodious narration of 'Sri Krishna Leelalu' by Mulukutla Sadasiva Sastry garu and the karuna rasa that he could generate in us by narrating how Garuda ate Jimutavahana… pecking with his beak bit by bit in a most tortuous manner, and yet Jimutavahana enjoying the torture, for his body could satiate somebody's hunger, all that in his mellifluous voice; … the curt teaching of 'BalaVyakarnam' (Telugu grammar ) in IVth form by Janaswamy Subrmanyam garu… incidentally, his rule for correcting an erring boy in quoting a wrong rule of grammar is: champaku cheyi parambinapudu kantiki neeraadesambagu… (As the palm reaches out to the cheek, tears swell-up in the eyes) is still ringing in the ears… …

The pleasure of carrying out science experiments in the laboratory under the guidance of Sreeramamurthy garu, of course, remained all through … similarly, the sessions spent with NHV garu over those lengthy exercises from Wren & Martin grammar and his hitting actively with duster on the fingers for wrong conversion of active voice into passive voice and vice versa had seen me through the later life more comfortably….

Aside of these pleasures… how can I forget …the nightmares that Vedantam Lakshmipati mastaru caused me with his equations in composite maths classes of Vth form? Oh, my god! … the very hint of those classes— his writing equations one after the other sans any explanation—makes me jump out of bed in horror even today…the very recall of his classes still sends chills down the spine; How can I ever forget Burra Subbarayasastry garu of School Final class, who used to aptly capture my bewilderment at solving some of those riders under Pythagoras theorem in his comment: "Talamunakalu … pukkilintalu?" (Drowning head, spurting mouthful of water?). Amidst all that trauma in maths classes, the only relief, if any I had was listening to Akkipeddi Radha Krishna garu teaching us algebra in his evening special classes, which not only gave me a soothing relief but also instilled a belief in me that all is not lost…

Recalling all those teachers who taught me so many things about life and its living besides routine books, as I stood in front of that temple gate in all reverence…. in that sweet storm of the past, among those teachers … Puligadda Sri Ramachandramurthy, Kota Subramanyam, Annadaanam, Vemuri Radha Krishna, et al Vishnubotla Hari prasad garu stood tall before me …who in one of our classes, saying in his ringing tone to that student who could not takedown the notes for he had come to class with no pen:"Kshurakarma cheyatanikochhinina mangali kattulapodi marchipothdaa! (A barber who came to dress the hair will ever forget his tool-box!) mahurtam pettatanikocchina pourohitudu panchagam marichipootaadaaa! (a priest who came to fix an auspicious time will ever forget his almanac!) Vidya aardhiki vocchina vidyardhi kalam marchipotaadaa! (a student who came to learn knowledge will ever forget pen!)", gave his pen to him…. such was his concern for making us educated. …Yes, some teachers had lulled us, some had of course, irritated us with their teaching but all had taught us well, guided us with concern and did their best in instilling in us a sense of being responsible in whatever we do...… They simply made me civilized…

When I look back at those six years of my formative phase in that quad … it became so very clear to me that how beautiful life used to be there… in it. Before leaving the gate, as I looked around the whole school for one more time, it suddenly dawned on me that this was the place where I lived my life to the fullest and I miss it like anything…. Saluting it in all reverence… slowly dragged my feet away from that iconic building… that utilitarian campus with aesthetics of its own….